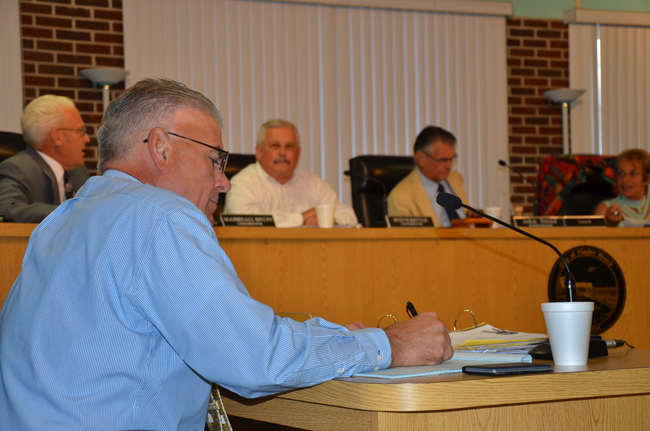 In Flagler Beach, they do the limbo.
It's been 15 months since Bernie Murphy, Flagler Beach's last manager, announced his resignation, and 10 since he left, after spending 1,500 days as the city's interim manager, in what was one of the city's more creative ways of flouting its own charter: the charter requires the manager to live in the city. Murphy lived in Ormond Beach. He didn't want to move. So the city commission moved his title.
The parody hasn't ended.
City Commissioner Steve Settle has been trying since last year to get Bruce Campbell appointed manager, as opposed to acting manager. So far nothing has worked. He tried again Thursday evening, and failed again in a 3-2 vote that rebuffed his attempt to change the city's ordinance controlling the appointment of managers by making it easier for the commission to make the executive appointment.
According to its ordinances, the commission needs a supermajority of four votes to appoint a manager, even though by charter, it only needs three to fire a manager. To Settle, the fact that the charter says three votes are needed to fire a manager but is silent on how many are needed to appoint creates "what seems to be an unintended ambiguity in city ordinance." In a two-page outline of his rationale for changing the controlling ordinance, he claimed the ordinance was in violation of the charter in an interpretive leap the city attorney, Drew Smith, didn't let stand quite as stated.
"I don't think they're in direct conflict with one another but I think they lead to the deadlock that's being discussed," Smith said.
Settle on Thursday evening tried to portray himself as a compromiser and consensus builder, though the record, if not his tendency to be the commission's most antagonistic member, contradicts him on both counts. Recalling the short-listing of finalists for the city manager's job last fall, Settle said: "A fellow named Janke got three votes, and I thought about who do I really wanted to vote for, because I was supporting Bruce very strongly. I voted for Mr. Janke, because there was a majority, and in my mind, if there's a majority, I believe that it's incumbent on me to support the majority, so I believe that a majority is not going to hurt us, there's nothing sacred about three votes."
Actually, Settle never voted for Janke: there never was a vote to hire him. After the finalists' interviews in September, each commissioner individually picked his or her top two choices on Sept. 13. Janke appeared on all four participating commissioners' short lists—twice in first place, twice in second place. Settle had him in second, behind Campbell. The fifth commissioner, Ron Vath, had not participated in the interviews (he was absent), and wasn't present when the ranking took place. Within days, Janke's problems—his wife had starred in porn flicks—exploded and he withdrew from contention.
Settle also mis-characterized his willingness to lend his vote to a majority, if a majority exists. On October 28, there was a three-vote majority to hire Gary Word, then town manager of Surfside and former manager of Islamorada. Settle would not lend his fourth vote, in essence ensuring a stalemate when he could have been the one to end it.
The election of two new commissioners in March—Kim Carney and Marshall Shupe—did not end the stalemate, either.
"I'm for simplicity and I think we should try this," Carney, a Campbell supporter, said of Settle's ordinance change, reducing the needed majority to hire a manager to three.
"I don't think this is a matter of trying something," Commissioner Jane Mealy said. "This is not something we try. This is a very serious thing. I think that hiring a city manager is, after the budget or before the budget even, one of the most important things that we do and I think a 4 to 1 vote is important. You don't like the word acting we can go back to the word interim or of record. I tried looking in the Thesaurus to come up with another word, because you're right, it says that an acting city manager is like if Bruce can't be in tomorrow and he appoints Libby [Kania] as acting."
"She's acting acting," Settle cut in.
"I didn't like the tone of your letter, so don't make it worse for me," Mealy cut back.
John Feind, the commission chairman, said the commission had agreed to delay the vote on a manager until after the budget process, which "would be a good indicator to me and satisfy my questions" about Campbell. He termed the 4-vote requirement a good application of checks and balances. "I base part of that on the history we had several years ago when three commissioners attempted to run the town and they were thwarted by the mayor, because he would not approve some of the actions that were taken, he would veto it, or she would veto it." He added: "It's a little bit of a stretch to say we haven't had a city manager in five years, or four years, whatever the case may be. It's semantics. The people that were in the position certainly got the job done, and that is including the present situation."
The most telling part of Feind's statement may not have been his opposition to Settle's proposal, but the implied endorsement of Campbell's worth: it's the first time Feind explicitly said that Campbell was "getting the job done."
After Settle upbraided Feind for using an "inappropriate" example to make his point about checks and balances—the ordinance Settle is trying to change, he said, pre-dates the three-commissioner cabal by years—and for implying that the commission as a whole had agreed to wait until after the budget process to make a decision, Settle made his central point: "We've gone seven months. There's not a credible management system in the world where somebody's put on probation longer than six months. That's when you either fish or cut bait. You know for sure whether somebody after six months whether somebody deserves to continue in the job or should leave. I mean, that's just sensible management. We just can't go on. And yes, it has been five years since we had a city manager. We've had interim, we've had acting, but we have not had a city manager in five years, and that to me is unthinkable."
Mealy reiterated that the budget process isn't over: "I haven't seen how we get to that number," she said, citing Campbell's budget bottom line, which recommends raising property tax rates enough to keep revenue even, making up for lost valuations.
The latest round of uncertainty, since Murphy's resignation, has gone on for 15 months.
After Murphy's announcement, the city published a casting call for its next chief executive. Some 140 applicants replied, many of them with stellar qualifications, only for the commissioners to reduce the field to a set of candidates the commission itself was predisposed not to hire with the required 4-vote majority. There were a few out-of-towners and a couple of in-towners, with a commission divided between those who wanted to hire out-of-towners, regardless of the in-towners' qualifications, and those who wanted to hire in-towners, regardless of the out-of-towners' qualifications. One out-of-towner looked like he might break the deadlock, but he turned out to have a tawdrily recent past.
The in-towner at least two commissioners, Ron Vath and Steve Settle, wanted, is Campbell, but Campbell's exclusively private-business background made Feind and Mealy uneasy. So did the politics that surrounded Campbell's candidacy, which had more in common with a political campaign than an attempt to win an executive job. If commissioners were looking at resumes without looking at names, they'd have had a wealth of candidates with the mix of experience and public leadership that they claimed to be seeking. But it was a given from the start of the campaign that Campbell's name would be in the final mix regardless, as it has been.