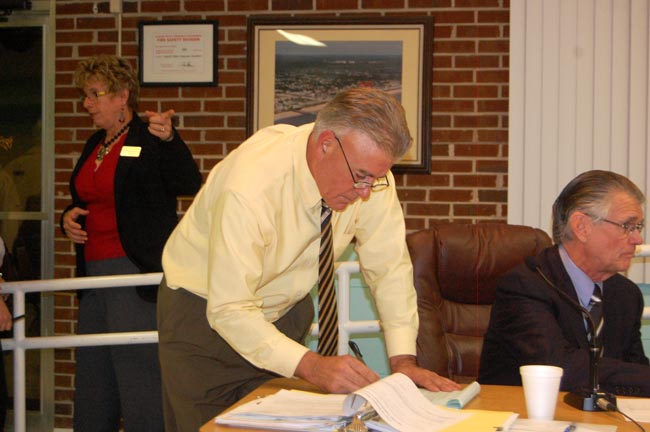 Bruce Campbell will be Flagler Beach's acting manager at least through the middle of the year. The city commission Thursday evening, with the kind of decisive inaction it's famous for, turned back an attempt by Commissioner Jane Mealy to stick by the commission's pledge late last year to bring the manager matter back to the fore in January.
Two commission members, Ron Vath and Joy McGrew, are not running again in the March election. The commission, including Mealy, agrees that it should wait until the new commission is seated before picking a permanent manager. Mealy was merely suggesting that this commission save the next one time and start the application process, so that by March the next commission has something to work with—and at least two months of time-wasting saved.
But it's less a question of timing than politics. Two members of the commission—Vath and Steve Settle—want to stick with Campbell regardless. They're hoping that the March election will give them the four-vote majority to hire him. That may prove difficult. Mealy isn't likely to change her vote in opposition to Campbell, and Commission Chairman has voted previously against Campbell. It would take both new members of the commission and Feind to throw their support to Campbell to seal a vote in his favor.
After Mealy made her proposal Thursday evening, commissioners and the mayor were left to retreading old ground. Every statement in Campbell's favor drew applause from what by then was a sparse crowd.
"We have six weeks to see two new commissioners," Feind said. "I would prefer to wait until they come aboard and then discuss this item and see where they want to go. It's a little unfair to people to make a decision like this at this time, and they're not going to have any input and they're going to have to live with it. I know we're famous for letting a lot of time pass without reaching decisions but six weeks isn't a lot of time to wait."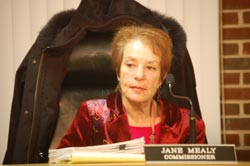 Baker, reading from a prepared text (as she often does), reminded commissioners that they'd been in no hurry to replace their last interim manager—Bernie Murphy—who was on the job four years. Manager-hunting would cost money and jar the immediate managerial agenda: budget season is ahead, Baker said. More uncertainty at the top, the mayor said, "puts turmoil on the city and the staff and makes us look unstable. Frankly I'm embarrassed to take a look at our history of hiring city managers, and I have. The city of Flagler beach deserves better."
Vath also came prepared—not with a statement, but with a copy of the petition bearing 485 signatures in support of keeping Campbell. It's the petition that circulated last year and proved convincing enough for McGrew to switch her vote and give Campbell the job, at least temporarily, even though his lack of managerial experience in government (as opposed to the private sector, where he's mostly worked) made her uneasy.   "He's doing a wonderful job," Vath says. "We should continue on as is."
The city is sending Campbell to Washington, D.C., next month to meet with U.S. Rep. John Mica, who represents Flagler in the House of Representatives, and possibly the state's two senators, along with the city's lobbyist.
Throughout the 10-minute discussion, Campbell sat at his now-usual spot, next to the city attorney, looking more uncomfortable than he had all evening. He didn't speak or take notes, but eagerly resumed doing both when the commission moved on to its remaining issues.
Campbell had no reason to be uncomfortable when he was again the matter of discussion later in the meeting, when the commission agreed to raise his pay in February. He is currently making $11.13 an hour. That's his salary as a building maintenance worker, his previous job with the city. He'll be paid $43.27 an hour come February, based on a $90,000 a year salary. That's the amount budgeted by the city for its manager this year. "I just want to make sure nobody questions Mr. Campbell's paycheck when he gets paid the new amount," Drew Smith, the attorney, said.
The non-decision on Thursday effectively means that should the new commission take on the manager's matter even in March, it's not likely to have a batch of resumes to whittle until two months later. Judging from the commission's previous exercise, it would be another two months before the interview are through. By then the commission will be thick into budget season. Making a change then is not likely. Campbell may well ride out the summer until at least September. A likelier outcome is an immediate decision by the commission in march to put an end to the uncertainty, with Feind providing the swing vote then, for the sake of what Feind prizes greatly–consensus.