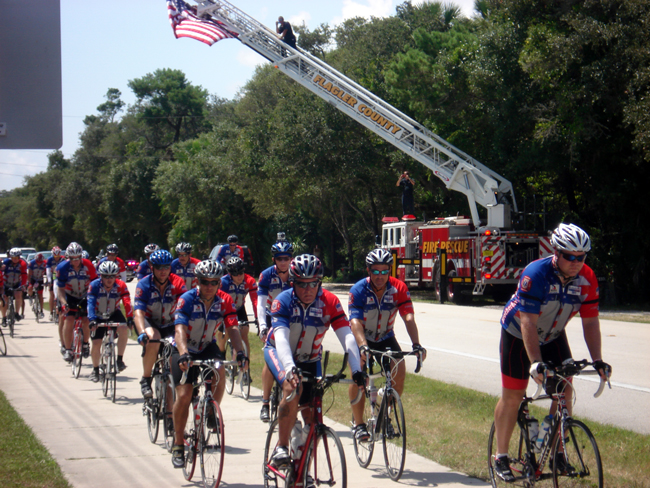 Forty first responders cycling to New York City in honor of those who died during the 9/11 terrorist attacks stopped at Flagler County Fire Rescue's Hammock Beach fire station on Wednesday, 270 miles into their 21-stop, 1,600-mile journey. They were honored by local firefighters and police with food, refreshments, a high-flying Stars and Stripes and plenty of cheer as fuel for the rest of their journey.
Known as the Brotherhood Ride, the firefighters, police and EMTs from all over the country started their journey on Aug. 20. They were to reach Jacksonville by Wednesday evening, where they'd spend the night (on air mattresses). They will reach Ground Zero just in time for the 10th anniversary of the 9/11 attacks.
On that day, 411 police and first responders lost their lives. The Brotherhood ride started four years ago to honor fallen brothers and their families. Aside from the cost of conducting the bike ride, all proceeds will be donated to Concerns of Police Survivors and the National Fallen Firefighters Foundation.
In the past four years, the Brotherhood Ride has traveled more than 2,085 miles and helped raise more than $68,000 according to www.brotherhoodride.com. The money helps support the families of fallen fire fighters and law enforcement.
After the ceremonies in New York City, Jet Blue Airlines will fly the responders back to their respective home towns and take their bikes back by truck.
Charlotte Marten reports:
---
40 Riders, 1,600 Miles[media id=237 width=500 height=400]