Allen David Adams and his girlfriend of two years, Brittany Lee Pitt, 26, were celebrating Adams's 28th birthday Friday (May 13). They were staying at a campground in Tomoka State Park. Friday night they went to a Devil Makes Three concert in Jacksonville, both riding on Adams's Harley Davidson motorcycle. Pitt had bought him new handlebars for the bike for his birthday.
According to a Florida Highway Patrol investigator, they had a few drinks in Jacksonville–Adams mentioned three mixed drinks to the investigator–then rode back. They arrived at the Old Dixie Highway exit off of I-95, going southbound, just after half past midnight.
Adams was not too familiar with the area: he was supposed to make a stop at the exit and make a left to go to the campground. Instead, he curved right, going westbound, and merged into the westbound lane of the two-lane highway–not realizing that he had merged too soon: he had violated the right of way of oncoming traffic, the FHP investigator said: Kenneth W. Tonak III, 31, of Hastings, was driving a 2012 Dodge with four passengers (his wife and in-laws, who had all just gotten some pizza and were driving a friend home).
Adams, the investigator said, "panicked."
"He got scared, because he didn't know how close that other car was, and went straight across, figuring he wouldn't get hit," the investigator said, describing how Adams opted to veer sharply left to get into the grass shoulder rather than keep going west. "He didn't want to lay his bike down in the middle of the road, so he went into the grass."
"Somehow she didn't hang on," the investigator said of Pitt, as Adams had veered sharply. "Somehow she fell off when he jerked his wheel or jerked his motorcycle."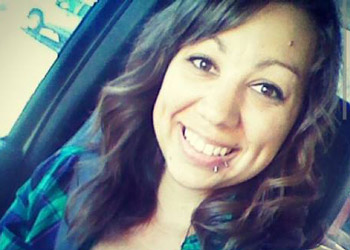 Pitt fell on the pavement near the yellow center lines and was struck by Tonak's Dodge. "Then she got dragged underneath the vehicle," the investigator said. She was taken to Florida Hospital Flagler, where she was pronounced dead. Pitt was the mother of a young boy.
Adams was able to steer the motorcycle several yards into the grass. The motorcycle was not damaged, neither was the Dodge, aside from some tear in the undercarriage: the Dodge never hit the motorcycle.
Adams and Tonak both volunteered blood samples. Charges are pending–but likely not against Tonak, the investigator said. Old Dixie Highway was closed in both directions for almost three hours. The Palm Coast Fire Department, Flagler County Fire Rescue, the Palm Coast Fire Police and the sheriff's office all responded, in addition to the Florida Highway Patrol.
Adams and Pitt are from Spring Hill, Fla. Saturday morning's incident represents the 10th fatality on Flagler roads this year, and the fifth in a week. On May 10, motorcyclist Thomas Dolan, 59, was struck and killed by a car at the intersection of another portion of Old Dixie Highway with U.S. 1. On May 7, four people, including a 4-year-old child, were killed in a wreck on I-95.
On his Facebook page earlier that evening, Adams had written: "Thank you for all well wishes for my birthday. I'm currently baking alive on the way to Jacksonville with Brittany to see my favorite band ever. So today has been good. I don't have many pearls of wisdom as I've passed yet another year. Only that they should really make better toilet bowls for dudes to pee in. That should be a thing. Cause sometimes you can't control anything. You can't. That's all I have to say about that."