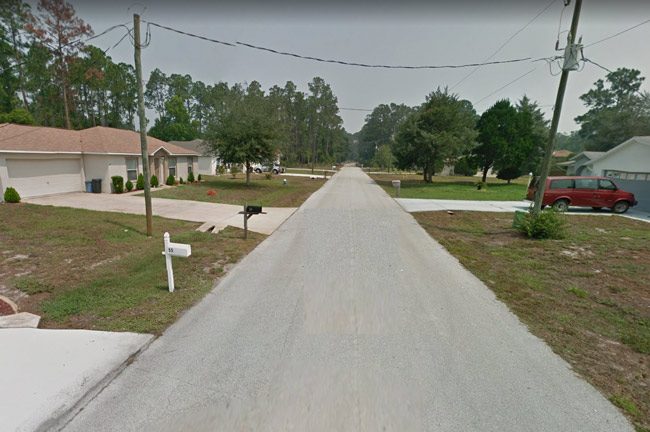 Last Updated: 7 p.m.
A possible burglary on Brewster Lane early this afternoon triggered a search of two young individuals by ground and air, and the delay of the release of walking students from Indian Trails Middle School.
The incident was unfolding since around 1:30 p.m.
By early evening, the Sheriff's Office confirmed that Trenton Nix, 17, and Eric Hayes, 18, were arrested and charged with burglary of an unoccupied conveyance, grand theft over $300, and resisting arrest without violence. Hayes was also arrested on an active warrant from another county. Both were booked at the county jail.
According to a sheriff's spokesperson, the incident started when two young white males were seen dropping a widescreen television and taking off on foot. "They then they got into, we believe, a silver or light-colored Ford Focus type car, so potentially it may have been a residential burglary although we do not have that confirmed yet," the spokesperson said.
There was no lock-down at Indian Trails Middle School. Rather, a school spokesperson said, because law enforcement informed the school that the individuals were either surrounded or contained, the school decided to let buses and car-rider pickup proceed as normal (release takes place at 1:40 p.m. at Indian Trails) but was holding back walking students, so they would not be walking into the B-Section zone with the heavy police activity.
Some 11 deputies have been deployed to the B-Section, where a perimeter has been established, along with two K-9 units, plus Flagler County Fire Flight, the emergency helicopter.
The individuals were described as young, wearing dark clothing, with hoodies, and bandanas. "They were on the backside of a fence on that street which made it even more suspicious," the sheriff's spokesperson said.
They dropped the television and left it behind before the arrival of deputies. It's not clear who spotted them, but it appears a B-Section resident called in the incident to 911.
A Code Red was sent to B-Section residents by phone and text advising them to stay indoors.
It appeared by 2 p.m. that deputies had at least one of the two individuals detained.
3 p.m. update: The two subjects being sought were apprehended and in the area, and the sheriff's office was breaking down the perimeter as of 3 p.m., reopening all roads in the neighborhood. "We don't believe there is any threats to the area," the sheriff's spokesperson said, but added that residents of the B-Section are urged to call the sheriff's office if they notice anything amiss in their properties that could be related to burglaries. "They don't think at this point that it was a string of burglaries," however, the spokesperson said. The two individuals are being interviewed, but further information remains scant, including whether the vehicle was recovered or if the individuals were working in tandem with anyone else.
If you notice anything suspicious in the area, please report it to the Sheriff's Office immediately at 386-313-4911. Note Case No. 2018-47428.