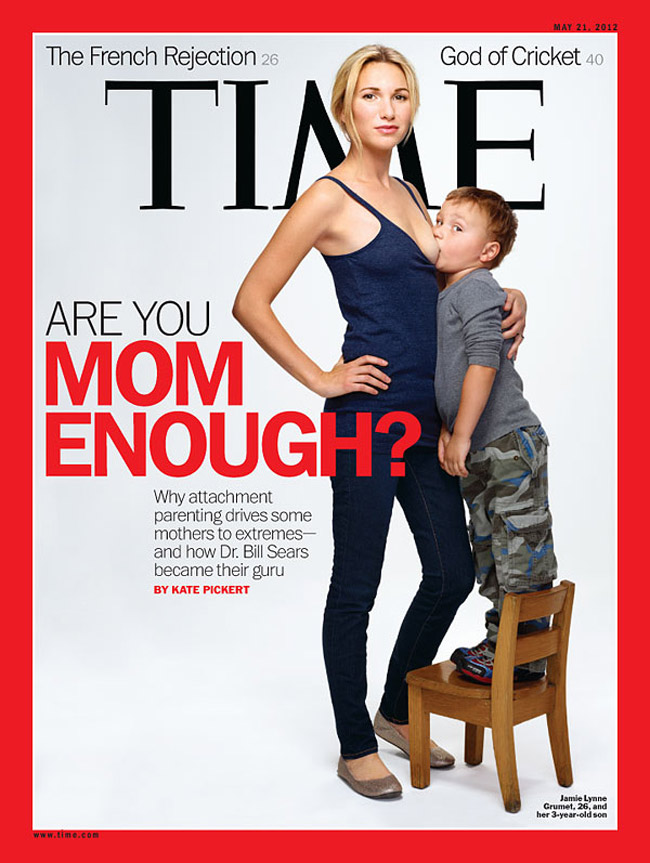 "Once the child has been permitted to live for a few days," Will Durant writes of tribal mores in the first volume of his Story of Civilization, "it was safe against infanticide; soon parental love was evoked by its helpless simplicity, and in most cases it was treated more affectionately by its primitive parents than by the average  child of the higher races." (Let's let that higher races bit pass: reading Durant requires a bit of indulgence for the way, let's not forget, even the likes of Thomas Jefferson and Abraham Lincoln used to speak.) "For lack of milk or soft food the mother nursed the child from two to four years, sometimes for twelve. One traveler described a boy who had learned to smoke before he was weaned. And often a youngster running about with other children would interrupt his play—or his work—to go and be nursed by his mother."
So Time magazine's latest buzz-swelling flirtations with the boob—that cover you see above, showing Jamie Lynne Grumet, a 26-year-old mother, giving the breast to her 3-year-old son—is a new or shocking concept only to those who think yesterday's prejudices and assumptions are as far as perspective needs to go. Breastfeeding always gets a few people excited for the wrong reasons. To this day there are people, a few too many people, who think a mother should not breastfeed in public. The same people would have no problem being seen in public stuffing themselves to the gills with double whoppers and artery-terrorizing Big Macs. Talk about needed discretion. The supposed difference in this case of course is that the boy is 3, almost 4. And that it is a boy: the editors at Time know their Sophocles, and therefore know very well that the shock value would have been diminished had it been a girl because it would have lessened the not-so-subliminal sexual element of little Oedipus there suckling on mama. She herself, incidentally, was breastfed until she was 6. And she has an adopted black son.
Critics have been looking for creative ways to bash the cover, often with the sort of crassness that plays continuo to small minds: "Even a cow knows when to wean their child (sic.)," one Arkansas mother of six twittered loud enough for the Associated Press to notice. The mother betrays what really bothers her. It's the boob. Not the distance from a cow's scheduling secretary: "Why would this even be out there? It's ludicrous. It's almost on the verge of voyeurism." Depending, of course, on what floats your voyeuristic boats. The comment belies one of those idiotic assumptions pseudo-prudes lord over breast-feeders: that breastfeeding should be a private act. It may be a private act of course, but it shouldn't have to be: a woman should be able to breastfeed her baby anywhere, any time the baby requires it—whether it's in church, at work, at school (yes, in front of other children), in the subway, in a public meeting. It is no different than eating an apple in any of these places, except perhaps in church, where one might refrain from eating, but a breastfeeding baby should not.
---
Editor's Blog
---
---
Voyeurism? The same woman would likely find it offensive for a Muslim to spread his prayer rug in a nook in an Interstate rest stop and pray there for all to see, particularly in Arkansas' more Baptist wards, or for two boys to French-kiss. What would the children say?
There is of course the matter of the breastfeeder's age, which is what gives this particular cover its extra nutritional value. Here's how the parenting blog babble.com (of "Sh*t! My Kid Is Cursing" fame) put it: "Is it extreme to breast feed a 3-year-old? That depends on how you feel about extended breast feeding, of course. But one thing is for sure: it's totally, totally hot. Or gross and weird. Or both." But it's not as if breastfeeding is a popularity contest that depends on how anyone feels about it, no matter how late a mother chooses to breastfeed. It's a personal choice that medically speaking comes down to a relatively simple the longer the better calculation, at least through the first 18 months, with—again, medically and psychologically speaking—certainly no harm done if breastfeeding extends beyond that. To call it "extreme" breastfeeding is itself silly. The Time article, at any rate, is actually a profile of Bill Sears, the Dr. Spock of the moment. (He wrote the very popular The Baby Book 20 years ago, and has written 40 books on the subject.)  Grumet, the breastfeeding mother, makes barely a cameo in the 4,000-word article, and only to say of Sears: "He has a very gentle spirit, and I find what he's saying to be nonjudgmental and relevant." She has a larger say in a Q&A.
Seth Myers on Saturday Night Live got off a few good slingshots ("Really—this photo doesn't say 'I'm a loving mother feeding my son.' It says 'I'm the crazy queen from Game of Thrones.'"). But his segment still felt forced, SNL having to address the buzz of the week without really condemning it, in a segment called, naturally, Really.
CBS News on its website, doing what a few news organizations have done, found a different way of being offensive to readers, by essentially insulting their intelligence and demeaning of the mother, and the point of the story: CBS digitally blurred the spot where the boy's mouth meets the breast, even though the original image, as you can see above, shows quite a bit less of the breast than your average, and usually graceless, annual Sports Illustrated Tittie Issue, that homage to church-approved porn. What CBS News and other puritanically minded news organizations are doing in essence is to continue to sexualize the breast precisely where it is as desexualized as can be. But the American mind is not yet developed enough to know the difference between the breast as an object of desire and a breast as a source of life. For that, we're better suited to go back to Will Durant's primitive societies for more intelligent approaches on the subject. Happy Mother's Day.
–Pierre Tristam