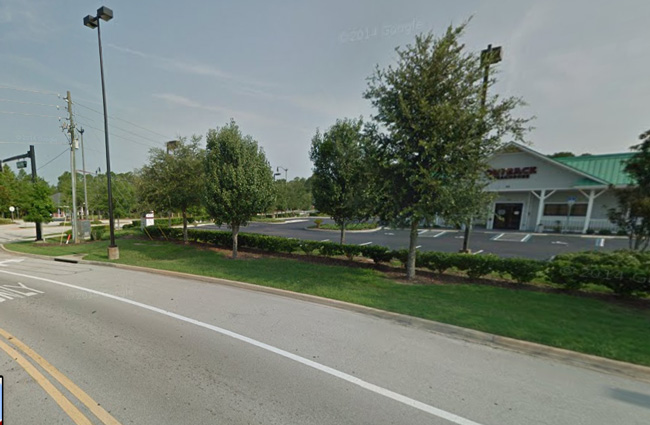 Mid-evening Tuesday at least six cars were vandalized, broken into or tampered with in quick succession in the Outback restaurant parking lot and in surrounding areas of Boulder Rock Drive in Palm Coast. The Flagler County Sheriff's Office is investigating but has no suspects yet.
The crime spree took place during dinner hours when the area is relatively well trafficked. Crimes of opportunity such as car break-ins top the lost of non-violent crimes in Palm Coast. But more often than not, thieves target vehicles that have been left unlocked. Violent break-ins are the exception, not the rule. Tuesday evening was different.
One of the damaged cars belongs to Outback Manager Kelly Miller, 52, of South Daytona. The front driver's side window on her 2013 Toyota was shattered and her pink purse stolen. "Nothing appeared to be touched in the vehicle and there appeared to be nothing of evidentiary value therefore this vehicle was not processed," the incident report states. But Miller told police that at least two of her employees' cars had been tampered with.
One of the employees' vehicles, a 2012 Ford, had prints all over it that were not there before the employee went to work, but it was not broken into. The second employee's 2003 Nissan had been more obviously tampered with: the driver's side door handle was "nearly completely broken off," according to the report. The moment the employee touched the door handle, it fell off. But that vehicle was not broken into either. All three vehicles were parked near each other.
About 90 minutes later two more victims reported their cars being vandalized and broken into nearby, in another parking lot at 260 Cypress Edge Drive. A 28-year-old Palm Coast resident told police that she'd arrived at Sakura Restaurant at 7 p.m. and noticed, when leaving two and a half hours later, that the rear driver's side passenger window on her 2013 Ford Explorer had been smashed out. A black canvass tote bag containing several books and paperwork was stolen from the back seat.
Leslie Carr, a 31-year-old resident of Palm Coast, had gone to Anytime Fitness at 8:30 p.m. As he left an hour later, he noticed that the rear passenger side window of his 2010 Cadillac sedan had been smashed. The suspect or suspects apparently entered the car and rummaged through his belongings, stealing $1,000 from the center console, a driver's license, a military ID, a credit card and a debit card.
It wasn't over. A deputy was on extra patrol in the area when, just before 11 p.m., he got a report of a silver Volkswagen Passat with a smashed out front passenger-side window. The car was also parked in front of Atlantic Fitness. Gladis Mobbs, a 49-year-old resident of Palm Coast, parked around 9 p.m., placing her black leather purse partially under the passenger side seat before going into the gym.
The purse was stolen, along with a black leather wallet with her driver's license, her Social Security card, her daughter's Social Security card and a credit card, a checkbook and $100 in cash. The damage to the vehicle is estimated at $500. "There was no physical evidence to collect and the damage to the vehicle was photographed," the incident report notes. "The parking lot area is under video surveillance but the video could not be accessed," the report adds. Investigators were to attempt to get the video when it would become available.
Earlier in the Outback parking lot, one witness told police that a dark Buick SUV whose occupants she suspected may have been involved in the break-ins was tailgating her as she was pulling into the Outback parking lot. When she tried to back into a parking spot, the SUV flashed its lights impatiently then whipped around her and parked in a parking spot on the side of the restaurant where the car breaks occurred. The witness, who was herself black, said the SUV was occupied by two young black men in their 20s. They stayed in the vehicle, and the witness kept observing them while on the phone, until she walked into the restaurant several minutes later, only to see the SUV pull out abruptly, hit a curb and go directly across Boulder Rock Dr. into another business parking lot.
The witness kept observing the SUV, which sat there for a few more minutes before speeding out of the area. The witness thought it all suspicious but did not think anything of it until learning of the car break-ins.