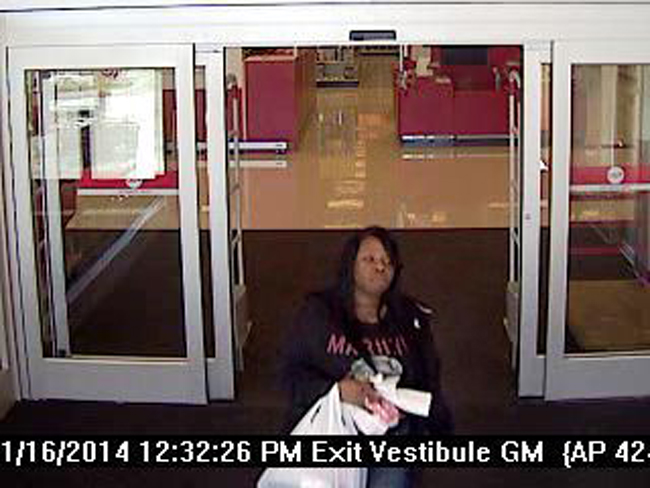 Flagler County Detectives are looking for the public's help in identifying a woman who broke into a parked car outside of Anytime Fitness located at 260 Cypress Edge Drive in Palm Coast just before noon on Thursday.
The victim and her friend had left their purses, wallets, cash and credit cards on the front seat of their car while they went into the gym–an all-too common practice Sheriff's officials, including Undersheriff Rick Staly as recently as Friday, decry, as numerous break-ins are crimes of opportunity, lured by property needlessly left in full view.
When the two victims were done at the gym, they went back out to the car and discovered that the passenger side window had been smashed out and their property taken.
A credit card belonging to one of the victims was later used to make several purchases at Target in the Town Center. Surveillance video obtained from Anytime Fitness showed the suspect driving into the parking lot and getting out of her car. The victims then come into the lot, park their car and walk into gym. The suspect then moves her car and backs in next to passenger side of the victim's car. About four minutes later the suspect is seen driving out of the parking lot.
The suspect was later captured on video entering the Target store and then walking out of the store with several packages in her arms at about 12:32 p.m. (See the image above.) The suspect is as a black female, 25 to 35 years-of-age, approximately 5'6" tall, weighing 170 to 180 pounds, shoulder length straight black hair. She was seen wearing a black shirt t-shirt with pink lettering, blue jeans and white shoes. She was driving what detective believe is a newer model black Toyota Camry with tinted windows and sport wheels.
Detectives are asking that anyone with information on this incident to contact Detectives at 386-586-4801 or call Crime Stoppers at 1-888-277-TIPS (8477). You can remain anonymous and may be eligible for a reward of up to $1,000.

---
Parking Lot Video[media id=365 width=500 height=400]
---
Suspect at Target Video[media id=364 width=500 height=400]