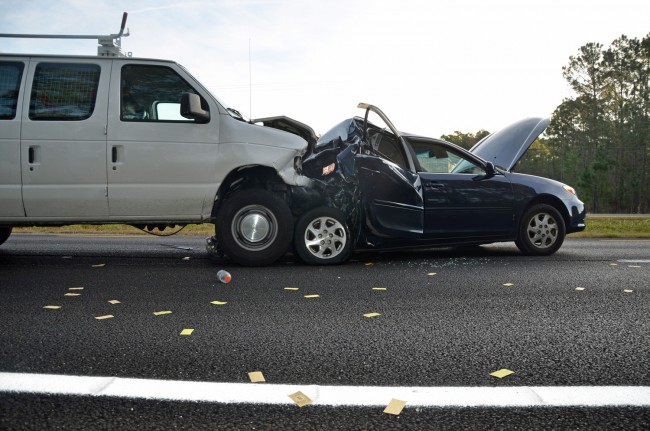 Just before 7 this morning 911 got a call from a driver reporting she'd broken down on U.S. 1. It was Olivia A. Braxton, an 83-year-old resident of Palm Coast's B-Section. She was at the wheel of a 2003, dark-blue Toyota, and she'd stopped in the right lane of the two southbound lanes on U.S. 1, just past the White Eagle Lounge. All her lights were off. A Flagler County Sheriff's deputy was dispatched.
Not long afterward, dispatch told the deputy that a crash was reported at the same scene.
Joseph David LaBruno, a 39-year-old resident of Palm Coast, was on his way to work, driving a 2005 Ford van. According to a Florida Highway Patrol investigator at the scene, LaBruno was driving in the right or outside lane at normal speed, seeing other vehicles cruise on in the left lane.
He never saw Braxton's Toyota. LabRuno's Ford rear-ended the car with such force that the Toyota's chassis ended up encrusted past the van's front axle. The rear half of the Toyota was as if obliterated, its contents, including playing cards and bills from a Monopoly game that had been either in the back seat or in the trunk, strewn all over US1.
Braxton was seriously injured, but was taken to Florida Hospital Flagler with non-life-threatening injuries. The FHP investigator said she was in stable condition. LaBruno was not injured, and was at the scene. Charges are pending–a routine status immediately after such crashes–but the trooper said charges are unlikely, as LaBruno appears not to have been in error: with the Toyota's lights all off and the road still being dark in early morning, the driver could not see until the last moment what was ahead. LaBruno, the trooper said, locked his brakes the moment he saw the Toyota, but it was too late.
"I figured it'd be a lot worse than what it was," the trooper said as a Roger's Towing wrecker separated the Toyota from the van, revealing the extent of the damage.
Both lanes of U.S. 1 were shut down for 90 minutes after 7 a.m., with traffic diverted onto South Old Dixie Highway at the White Eagle Lounge. In addition to the sheriff's office and FHP, the Palm Coast Fire Department, Flagler County Fire Rescue and the Palm Coast Fire Police responded. The scene was cleared shortly after 8:30 a.m.
If your vehicle breaks down or runs out of gas, turn on your vehicles emergency flashers and steer your vehicle out of traffic to the far right shoulder of the roadway.

The Flagler County Sheriff's Office provides the following safety tips in case of vehicle breakdowns similar to the one on U.S. 1 this morning:
If you can't get your vehicle off the roadway away from other traffic and you're not sure what to do, get out of your vehicle and stand a safe distance away.  Remain alert and keep a close eye on other traffic that may be approaching your disabled vehicle. If you have other passengers with you, make sure that you remain alert as well.
If you can't pull your vehicle off the road, turn on your vehicles emergency flashers. If you choose to remain in your vehicle make sure you keep your seatbelt on.
If you are driving on the interstate or another multiple-lane highway with a median, another option is to pull on to the left shoulder of the roadway as far away from other traffic as possible.
If you get out of your vehicle, be extremely careful and watch for other traffic, this is especially important at night or in bad weather, or when lighting may be poor and visibility limited.
Never stand behind or directly in front of your vehicle. Another driver may not see you or your vehicle could be struck.
Don't risk being injured trying to push your vehicle off of the roadway to the shoulder.
Call 9-1-1 and let the dispatcher know your location and what the problem is.