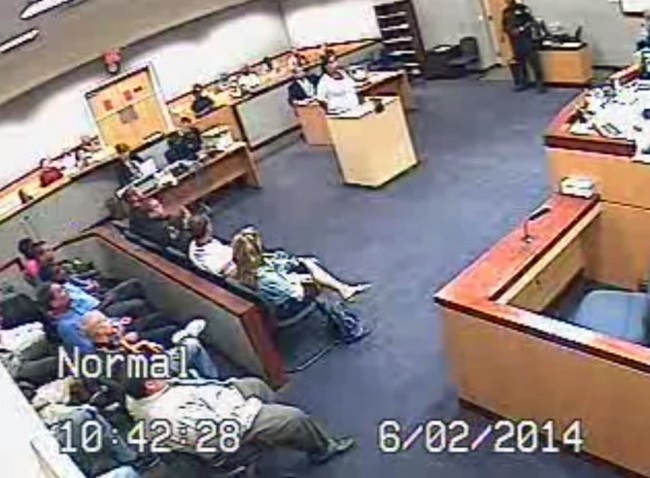 Calling his behavior "appalling" and "a national embarrassment," the Florida Supreme Court on Thursday ordered a Brevard County judge removed from the bench after his altercation with a public defender last year was caught on videotape and went viral.
The high court suspended Judge John C. Murphy in October — the first time in recent history that justices have removed a sitting judge while an inquiry was still pending — and asked him to prove why he should be allowed to remain on the bench after the June 2014 incident.
Murphy "threatened an assistant public defender with violence in open court, challenged him to a physical fight, engaged in the threatened struggle in which the two men had to be physically separated by a deputy, and reassumed the bench to handle cases where the defendants were without the presence of their attorney," justices wrote in a 23-page unanimous opinion. Justice James E.C. Perry was recused.
"Because of Judge Murphy's appalling behavior, we conclude that there is clear and convincing evidence that Judge Murphy engaged in 'conduct unbecoming a member of the judiciary demonstrating a present unfitness to hold office,' " the opinion said.
The conduct included Murphy giving public defender Andrew Weinstock a tongue-lashing during proceedings captured on a Viera courtroom camera.
"You know if I had a rock, I would throw it at you right now. Stop pissing me off. Just sit down. I'll take care of this. I don't need your help. Sit down," Murphy admonished Weinstock.
When Weinstock persisted, Murphy issued a challenge in front of a crowded courtroom.
"If you want to fight, let's go out back and I'll just beat your ass," Murphy told Weinstock.
After a scuffle in the hallway, a disheveled and panting Murphy returned to the bench and continued to handle the cases of several of Weinstock's clients, who appeared before the judge without an attorney after the altercation.
As discipline for the incident was pending, Murphy argued that he suffered from post-traumatic stress disorder from his combat experiences in Afghanistan, but that he was able to control his anger and should not be stripped of his judicial post.
A panel of the state Judicial Qualifications Commission, which oversees judges, recommended in May that Murphy be given a four-month suspension without pay and a $50,000 fine, but the Supreme Court is the final arbiter of punishments against judges and lawyers.
The October suspension and Thursday's order stripping Murphy of his post are examples of an increasingly stern Supreme Court, which is more frequently seeking stiffer penalties against errant judges.
The court acknowledged that Murphy had been a good judge since his election in 2006, but said that wasn't enough.
"Notwithstanding his prior judicial performance, Judge Murphy's total lack of self-control became a national spectacle — an embarrassment not only to the judge himself but also to Florida's judicial system. Given the clear erosion of public confidence in the judiciary caused by his misconduct, removal is the appropriate sanction," the order said.
Murphy's lawyers had asked the Supreme Court to go along with the recommendation from the judicial-qualifications panel instead of issuing a harsher penalty.
"Judge Murphy never sought to be excused for his behavior, and he remains adamant that his actions are his responsibility, to be blamed on no one but himself," Murphy's lawyers said in an Oct. 27 filing. "Judge Murphy knows he cannot make his remorse and regret sound sincere to those who would banish him from the profession. And he recognizes that public pressure can be immense. The conventional wisdom says that what he did is unforgivable. Certainly it is egregious and deserves reprobation. But what Judge Murphy has tried to convey through his words, actions, and court pleadings since last June is that the behavior of the person on that video was wholly out of character and never will recur. It was a moment in time that will not be repeated."
But the justices questioned Murphy's assertion that he did not pose a risk, saying "it is unclear" whether he "is likely to have another similar outburst."
The Veterans Administration found Murphy to be 30 percent disabled because of post-traumatic stress disorder caused by his combat experiences, according to Murphy's defense.
"Although Judge Murphy's doctors indicated before the hearing panel that his anger and stress were being managed through treatment, these assurances conflict with the VA finding that Judge Murphy is 30% disabled based on PTSD stemming from his combat deployment in Afghanistan," the justices wrote.
–Dara Kam, News Service of Florida