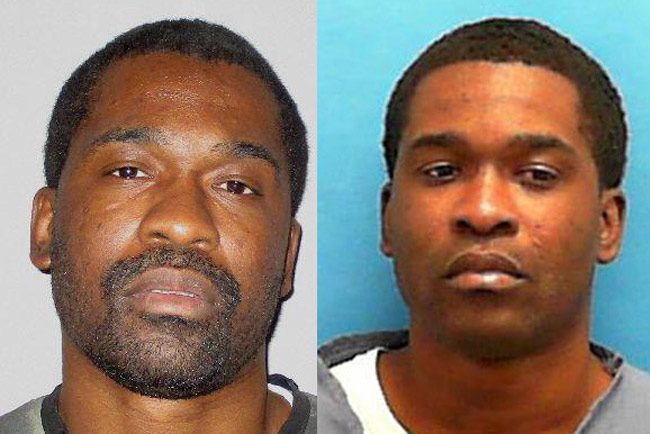 Brandon Washington, the Palm Coast Bloods gang leader arrested in 2008 and sentenced to life in prison in 2011, was back in a Flagler courtroom today, arguing that his sentences were improperly imposed. His chances of winning that argument—the latest in a series of appeals he's filed over the years—is slim. But Circuit Judge Dennis Craig is hearing him out.
And Washington's return to Flagler, while brief, revives memories of decade-old gang activity in the county before a lengthy investigation brought it mostly to an end.
They called themselves the 9-Tek Grenades and Brick Mafia gang and operated in Flagler County and Palm Coast. They were affiliated with the Bloods. They sold guns and drugs, committed robberies and home invasions, threatened and beat up people, according to court records. The Flagler County Sheriff's Office investigated them for four years between 2004 and 2008, when in late October that year, a warrant was signed for Washington's arrest, who was termed a leader of the gang. (See a list of his crimes as alleged by the State Attorney's filing here.)
Washington was charged and opted to defend himself during trial, with a succession of four court-appointed attorneys who sat as his co-counsel, three of whom withdrew. Fernando Iglesias made it through trial. In November 2011, a jury found Washington guilty of second-degree murder in the death of Rashaun Pugh during a home invasion, among five guilty verdicts that also included racketeering and armed burglary.
Washington did not pull the trigger on the gun that killed Pugh. Pugh's intended victim, Sean Christopher Adams, did, during an attempted home invasion on Pheasant Drive in Palm Coast in 2007. But Washington was deemed the mastermind of the operation.
Judge Raul Zambrano, who has since moved to Volusia County, sentenced Washington to concurrent life terms on four charges, and 15 years on a fifth. There is no parole in Florida. If Washington's sentence stands, he will not see another day's freedom.
Washington appealed to the Fifth Circuit Court of Appeal, which upheld the life terms but scrapped the 15-year sentence. Washington then filed a motion to Correct Illegal Sentence, as it is called. The court denied the motion in March 2015. That December, Washington filed another motion, this one for post-conviction relief, a way for a defendant to broadly appeal a conviction and seek numerous ways to revisit the case, though it often approximates the spaghetti-hurling approach: defendants make numerous claims that errors or wrongdoing took place during trial, hoping that one or two claims stick.
That's what Washington did in this case, claiming an illegal sentence on 15 grounds, with many subgroups to each ground, and even exceeding a 50-page limit on such motions and incurring a caution from the court that it "will not accept future motions exceeding 50 pages" without good cause. (It was 67 pages long.) The gist of Washington's claims: ineffective assistance of counsel—a routine tactic of appeals but still a somewhat surprising claim since Washington insisted on defending himself, agreeing only to a second-chair assistant. The claims are all against Iglesias.
For example, Washington pointed to slight inconsistencies in the indictment (the title of the indictment charged him with armed burglary but the body of the indictment charged him with simple burglary) to claim it was vague and imprecise. He claimed the search and arrest warrants were based on false information, that Jason Lewis, the State Attorney's top prosecutor, did not support statements he made during his opening statement, that Iglesias made only a "boilerplate" attempt to motion for an acquittal, and so on.
The judge, Dennis Craig, threw out 13 of the 15 grounds.
But Craig found at least one ground to justify a re-hearing: Washington argues that when the jury was instructed regarding one of the counts against him—as a "principal" to a conspiracy—his attorney should have objected, because being a principal was one thing, committing a conspiracy another: Washington, however, was convicted of committing a conspiracy, not merely of being a principal to a conspiracy. "This ground is facially sufficient and not refuted by the record," Craig found.
Since the 15th ground had to do with no single problem but "the cumulative effect of all of counsel's errors," and since it took only one such potential error to make the 15th count valid, Craig retained that ground as well, reserving ruling on it pending the outcome of the evidentiary hearing on the one ground he did find valid for rehearing.
That rehearing took place today, with Washington back in Craig's Flagler County courtroom from his prison cell at Apalachee Correctional Institution in Snead, northeast of Tallahassee, on the Georgia border.
Craig did not rule on the motion but, as is usual in such cases, took it under advisement: he will render a written decision in the next few weeks or months.
It is unlikely that Craig will rule in favor of Washington, who is essentially seeking to invalidate all four of his sentences because of an inconsistency in jury instructions on some, not all, of the counts. Even if Craig were to find that Iglesias might have objected at one point and sought more clarity, the objection would not have changed the instructions (or the outcome) regarding other counts on which Washington was found guilty and sentenced to life. What is more likely, given Washington's history, is that should Craig deny the motion, another appeal to the 5th Circuit will follow. Washington, who is 30, has little to lose.