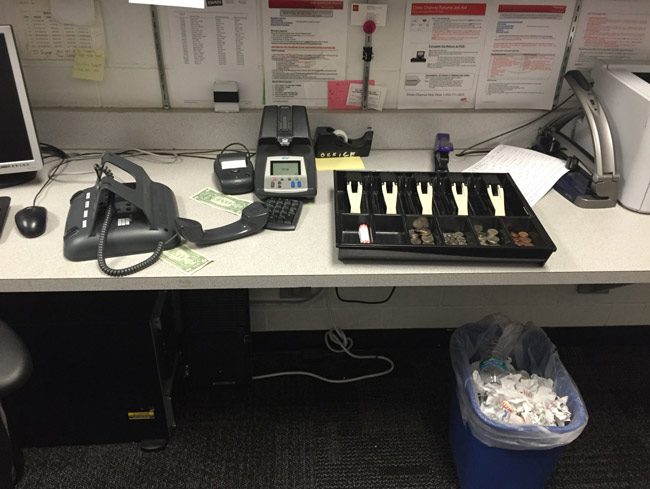 Last Updated: 5:45 p.m., with surveillance video footage.
By the time Brandon J. Hubbert walked out of the Flagler County jail a free man at 7 p.m. Wednesday, he'd spent nine months there on $110,000 bond, had turned 28 a few days earlier, had missed about a third of the life of his young daughter, and had maintained all along that he never committed the armed robbery of the Staples store off Old Kings Road in September 2015. He'd insisted to his lawyer that he wanted a trial despite what seemed, from his arrest report anyway, like an array of evidence against him.
"He was very quiet but very committed," said his attorney, William Bookhammer, an assistant public defender who mirrors that demeanor: unassuming, unpretentious, and very determined. "I always said he had a quiet faith in him to see this through."
Hubbert was facing a minimum of 10 years in prison and a maximum of life if found guilty of armed robbery, armed burglary, tampering with a witness and aggravated assault with a firearm. In Flagler County, guilty verdicts rarely result in minimum sentences. Hubbert wouldn't waver. His was the 14th criminal trial of the year before Circuit Court Judge Dennis Craig.
Less than ninety minutes before Hubbert's release from jail, a jury of three men and three women (five white and one, like Hubbert, black) took barely 20 minutes to agree with him at the end of a two-day trial. The jury acquitted him on all counts.
Hubbert, who'd never been in trouble a day in his life until those charges, in his attorney's words, put his head in his hands and wept. Numerous members of his family, much of it from Bunnell, some of it, including his girlfriend, from Jacksonville, quietly cheered behind him in the courtroom.
The case against him had been entirely circumstantial.
According to the Flagler County Sheriff's investigators, Staples had been robbed of $1,500 on Sept. 11, 2015, shortly after the store closed at 9 p.m. The perpetrator had been seen walking into the store before closing time. He had hidden in a back storage area. He'd then surprised an assistant manager in an office as the assistant manager was counting money, pointing a small black semi-automatic gun at him, ordering him on the ground, taking his phone, and exiting the store from the rear, without being noticed by other employees, and by kicking the rear door, causing damage to it. There were three other employees in the store at the time. The assistant manager never saw his face as it was covered by a gray hoodie "with an unknown emblem on the front," according to the investigation.
There was no surveillance video inside Staples, or outside it, for that matter. There was video from nearby Bealls, which caught a grainy-looking person walking by the store with a Florida State Seminole sweatshirt hoodie tight around the face, at 7:54 p.m. A store employee told investigators she saw a person with a similar hoodie walk into the store and toward the back, though the time for that was not in the report.
From there, investigators pieced together what prosecutors at the trial described as the "pieces of a puzzle." The video from Bealls was grainy and dark, but a store employee looking at it connected the person in the video to Hubbert, who had worked at the same Staples store two years earlier. With that information, investigators found that Hubbert's cell phone had pinged a cell tower at 55 Old Kings Road nearby at 7:44 p.m. and 8:09 p.m. the evening of the robbery. The next day, the phone had been pinged in Jacksonville. They also saw Hubbert in a picture, with a Florida State hoodie, on his Facebook page. And when he showed up for his hour-long interview with investigators, he was wearing a type of shoes whose print was similar to a print found on a cardboard box at the store.
"It was circumstantial and they didn't have real direct evidence," Bookhammer said.
---
The Bealls Surveillance Video
So he went to work deconstructing the case against Hubbert. There was no proof that Hubbert's shoe had made that mark on the cardboard box at Staples, or that it was made that day, as the type of shoe is not uncommon. Hubbert could have been within a large radius of the area when his phone was pinged—a phone that did not function except in wi-fi zones, his attorney said. The last ping of the phone was an hour or more before the robbery. As to the hoodie, "We don't know how many of those things were sold, how common that design was." The video from Bealls was blurry. "You couldn't even tell if it was a man or a woman or if the person is black or white," Bookhammer said. And robbing a store where he'd worked previously would have increased the chances of his being recognized.
The two-minute video angled from outside a Bealls store entrance shows an individual walking down the sidewalk with a lit cell phone in the left hand, exercising both his arms a few times as if ti limber up. The individual appears very briefly in the camera's angle, at the 40-second mark. It appears to be a man but the appearance is far from certain, and the face is invisible. At the 52-second mark, the individual, who is walking at a normal pace, walks out of view.
"It just didn't add up," the attorney said. "In my opinion whoever did this was a pro. They were able to get into the store somehow undetected either before closing or after closing." Employees are moving around the store after closing time. "This person is able to get into the cash office which is in the front, rob this guy, and get out, and nobody heard or saw anything."
The jury took little time to decide, and when it delivered a not-guilty verdict on the first count (armed robbery), Hubbert knew that the other three counts would have to be not guilty, too. He was right, and for the first time in nine months, his decision counted for something.
"I'm glad the jury acquitted him on all the counts and he can finally put this behind him and he can move on," Bookhammer said.