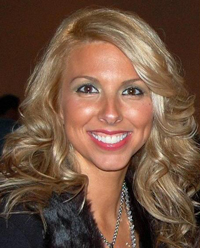 Marketing 2 Go, the marketing company Cindy Dalecki founded a little over a year ago with an emphasis on social media, is adding Brandi Fowler to its team.
Fowler has been a Flagler County resident for seven years. "Since opening a little over a year ago, we have grown rapidly and Brandi is a great addition to Marketing 2 Go's continued success," Dalecki said in a release. "She knows quite a few people in Flagler County from working for almost five years here as a top-performing real estate agent."
Fowler's title is Community Manager – which refers to a business' social media community. Brandi is passionate about marketing and enjoys helping local companies flourish. "We are diligent in crafting a solid social media strategy to help create a buzz for our clients," Fowler said. "Marketing 2 Go has a great reputation and I'm very excited to join their team," she added.
There are now over 640 million Facebook users worldwide, more than 175 million people and brands on Twitter, over 100 million people on Linkedin, and there are over 2 billion video views on YouTube every 24 hours. Not every business is equipped to manage their social media internally, and that's where an outside social media firm is beneficial.
Marketing 2 Go is a social media strategy, public relations, and marketing firm based in Volusia and Flagler County. Its clients include Palm Coast Heating & Air, Conditioning, Intracoastal Bank, Coquina Bowling Lanes, and The United Way Women's Initiative, among others. The company is dedicated to helping business owners create buzz about their business. Marketing 2 Go offers social media management and training, and can be reached at 386/566-3466 or online at www.facebook.com/marketing2go, and www.twitter.com/cindydalecki.