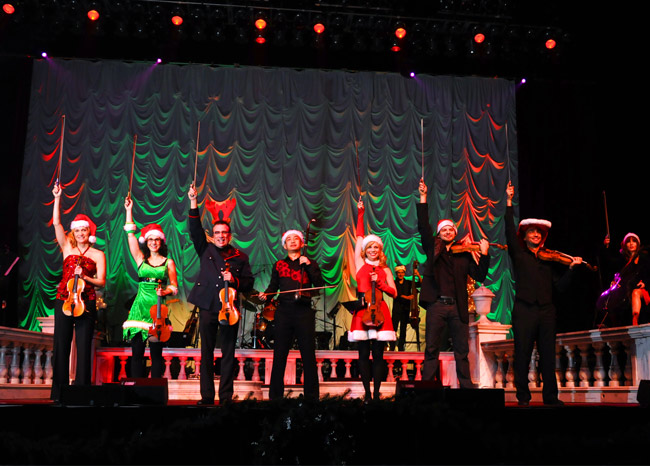 Great violinists are naturally possessed: more than pianists or guitarists or brass blowers, violinists become their music the way great dancers vanish into movement and shape. There's something almost demented in watching an Itzhak Perlman make minced splendor of a Sarasate showstopper, or a Joshua Bell make Vieuxtemps sound young again. Imagine then an entire troupe of demented violinists exploding every known musical genre before your eyes in a cavalcade of hyper-caffeinated performances of familiar tunes strung together in a vaguely cultural arc.
That's Bowfire.
At the Flagler Auditorium
---
The Ten Tenors on Broadway at the Flagler Auditorium for two back-to-back performances, Saturday April 5, at 3 and 7:30 p.m. Tickets are $42 for adults and $32 for students. For more information, visit the auditorium's website or call 386/437.7547.
Click On:
---
And Thursday, Bowfire returns to the Flagler Auditorium, this time with its new Holiday Heart Strings show, a first from Lenny Solomon, the group's artistic director, pop and jazz violinist and creator. Get set for a few piercing arrows of flaming cheer.
"We're greatly looking forward to playing at the Flagler Auditorium and we're hoping fans will come and support us as they have in the past for the regular Bowfire show," says Solomon. That said, Bowfire traditionalists, or Grinch loyalists for that matter, need not worry. "We still do the tried and true Bowfire hits."
Solomon will have his gang strumming up traditional holiday favorites like "Sleigh Ride," "Christmas Song," and "Carol of the Bells," played through the adrenalized mix of genres that the regular show is famous for. This includes Celtic, Blue Grass, Rock, Texas Swing, Gypsy and Klezmer, the Roma style of Eastern European style violin playing that emerged in the Jewish ghettos of Eastern Europe. Bowfire will twirl up the old "Dreidel Song."
The string players are backed up by an ensemble of keyboard performers, percussionists, guitarists, a cello, a Chinese Erhu, a singer, and step-and-tap dancers "Two fiddlers play and step-dance at the same time," Solomon says. "That in itself is a show stopper." A holiday show wouldn't be complete without the big red chimney diver. Accordingly, a hearty and of course jolly Santa Claus, presumably fresh from his latest angioplasty, drops in on Holiday Heart Strings.
All in all, the effect is dynamic and organic. "The show appeals to many types of people," Solomon says. "Purists like it because of the extremely high quality of instrumental playing and newcomers become absorbed in the excitement and energy."
As far as the artistic and cultural meaning is concerned, he says, like the purpose of the Holiday season itself, "the show connects cultures in a very lovely and peaceful way. We bring together people from disparate backgrounds, and share beautiful music, experience, and artistry. We like to tell a story in every tune we play, and the emotional content comes out in the way we perform."
One example of the disparate styles interweaving is a number called "Fiddler in the Hood," where Celtic melodies are incorporated into Hip Hop rhythms. Another is "Father Fug" where Solomon combines the Baroque grandiloquence of the Flugel horn with Jazz and Swing in wonderfully connective ways.
If there's something you don't like during the show, Solomon has an answer for that, too. "I liken the show to Hawaiian weather; if you see something you don't like, just wait five minutes."
He adds: "Remember, all our players have solo careers. I tell them, give me the best five minutes in your show. That way, you really have six or seven shows in one concert experience. It's all about ensemble match-styles and working to keep everything excellent and tight."
It's not unusual for parents to write Solomon after seeing the show to thank him for inspiring their children to return to the practice room. The show locally has had a particular impact with the students of the Flagler Youth Orchestra, the school district's collection of string ensembles—and some 320 performers—who will themselves be on the same Flagler Auditorium stage, for their first performance of the year, on Dec. 12. "Over the past several years any FYO students who have attended these Bowfire concern have come back even more excited about playing these instruments," says Cheryl Tristam, the youth orchestra's executive director. Keeping in mind that the emphasis of the youth orchestra is on the purer forms of classical performances.
Solomon doesn't take all the credit for his stringed medleys. Like many disciplines, the composing and choreographing process always breaks down to extensive and meticulous writing behind the execution. He writes. So do other musicians in the group., So do commissioned musicians beyond it.       As for choosing the on-stage players, technically, there's no audition process because Solomon knows whoever he may be considering is already good. He keeps tabs on performers. From there, Solomon—a traveled and classically trained violinist who played in a hit Canadian rock group in the 1970s—often has the opportunity to sit in a room with a musician he's considering and strum out, a way of sticking his foot in the door.
Solomon describes the improvisational effect as an "admiration society." Players learn from one another and cherish an experience unlike any they could have on their own, like an impassioned conversation. "We all really love playing and interpreting together and that comes out on stage and that energy is transferred to the audience. It's like we're all banded together by a fiddle link."
Solomon first formed what would later become Bowfire in June 2000, at the International Expo in Hanover, Germany. The Canadian government wanted Solomon to commemorate Canada Day with an eclectic show. A few New York entertainment producers were in the crowd. They approached Solomon and told him he and his team should go on tour. Bowfire, originally called "World on a String," hasn't stopped since—China, Taiwan and Germany are, aside from the Flagler Auditorium, common stops—and with many of those original players from Hanover still in tow.

Bowfire's Holiday Heart Strings is in performance for one night only, Thursday, Nov. 29, at 7:30 p.m. at the Flagler Auditorium. Tickets are $42 for adults, $28 for youths. Call the Auditorium box office at 437-7547 or visit the auditorium's website.