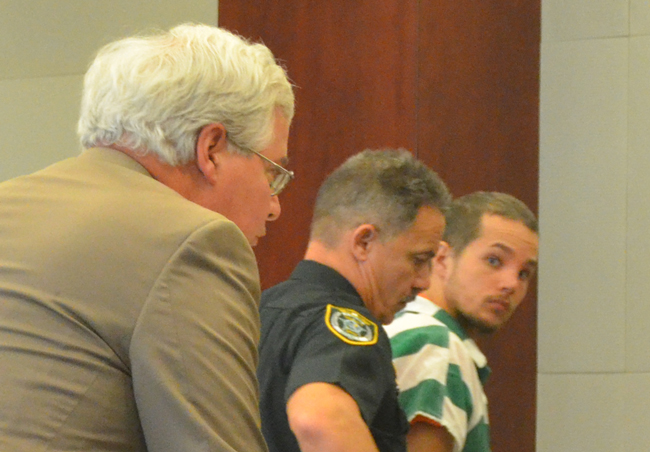 When he was led in from the holding cell at the courthouse, to stand before Circuit Judge J. David Walsh for a brief pre-trail conference Tuesday afternoon, Joseph Bova bore a slight smile. And when he was escorted out less than six minutes later, he briefly looked over his shoulder at cameramen, his eyebrows raised as if inquisitively. He didn't say anything for the duration of the conference, his first since his arrest. The pre-trial conference raised more puzzling questions than it answered.
But that's been the case since Bova was arrested in mid-September, while he was living in his car in Boca Raton, for the Feb. 21 murder of Roman Rosado as the mother of six young children worked the late shift at the Mobil Mart store on State Road 100 in Palm Coast. There is no motive for the execution-style murder, caught on a video surveillance camera and showing a man, his face covered, quickly pointing a gun at Rosado and firing. The man wore the exact same clothes and shoes as a man, believed to be Bova, who had entered the store earlier that evening, briefly looked around and headed to the ATM machine to withdraw cash. The gun used in the murder was traced to Bova who, according to police, said he'd always been in possession of the gun.
Bova has pleaded not guilty to a first-degree murder charge. If convicted, he may face the death penalty.
Members of Rosado's family were in the audience, including her mother, Carmen Rosado, and her father, Jose Gonzales. Two of Roman's children–her youngest, a toddler, and her second-oldest, Kaily Roman, who is 16, waited outside the courtroom.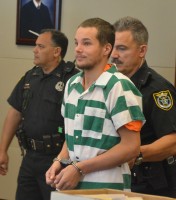 "I almost didn't recognized him, and he's very skinny," Carmen Rosado told reporters in Spanish afterward. "I am satisfied because I know that God has brought justice. God has put him in front of the judge, and the judge did what was needed to be done. He looks like he wasn't doing well in jail. I don't know if he knew her, I don't know if he didn't know her, and we don't know why he did it. Why would he have killed her? He had no reason. And me of course, as a mother, I don't understand it: if he didn't know her, why would this happen? He didn't know her, he didn't know us. Why would he kill her? And if there was a reason, please, tell the judge so that we can know."
At this stage of course the judge merely approved a continuance. Another pre-trial date was set for Feb. 4 because his attorney, Ray Warren, a public defender assigned to the case in place of private counsel that was previously disallowed, was not ready to go to trial yet. And there's been a few issues with Bova in jail.
That private attorney "initiated a request for a psychological evaluation for either competency and or sanity, and I have seen the order that you entered on that, and this was a court order," Warren told the judge. The doctor went to the jail to see Bova. Warren was there. Bova refused to see the doctor. Later that evening, after the doctor saw other inmates at the jail, he returned to Bova. Bova turned him down again.
"On three different occasions I've attempted to have medical releases signed," Warren said. "I have been unsuccessful."
Something also happened on Thanksgiving Day. As with so many things involving Bova, it's cryptic. But it required an intervention, and it involved medical issues, which means that they may not even be released to his own attorney without Bova's approval. Bova, so far, has refused to sign over the records. Just as he's refused to see a doctor. His attorney is left to rely on hearsay. The incident, he told the judged, "involved some loss of control."
Warren has been in contact with Bova's father. But the suspect is talking to the attorney as well. "He has met with me on a number of occasions, so I can report that, but I am not ready for trial," Warren said.
Judge Walsh asked Warren to schedule yet another appointment form the doctor to see Bova. Then, turning to Bova, Walsh said: "Mr. Bova, I'll just make one comment, I would suggest that you speak with a doctor when he comes. It's something that would be very important to your case, as I'm sure Mr. Warren would have discussed with you."
Jaquelyn Roys, the prosecutor on the case, said Bova was violating a court by not meeting with the doctor. Walsh noted a nuance: "He may be meeting but the question of his speaking is the problem. So you have to converse with the doctor."
Bova was then escorted out.
Speaking outside, the courtroom, Kaily Roman said that "on the way here I was kind of scared to see him." The family, she said, is doing "better than we were doing before." She was referring not only to the trauma of the murder itself, but to the dislocation of the family that followed, with just two children in Volusia County. Three are in Miami, her older sister in in Puerto Rico.
Carmen Rosado said of her daughter: "Although she is dead now, she's not here with her mother and her children, I am happy with the justice system. God permitting this will become clear in one form or another. I am also appreciative of the help of God. I know that by one way or another, everything will be made whole."
Erick Niemi, who faces a first-degree murder charge in the May 29 killing of Leonard Lynn, 76, his roommate at the time at their Ryken Lane home in Palm Coast, had also been scheduled for a sentencing today on a grand theft charge dating back to 2012, and for a pre-trial appearance on the murder charge. Both cases were continued today.