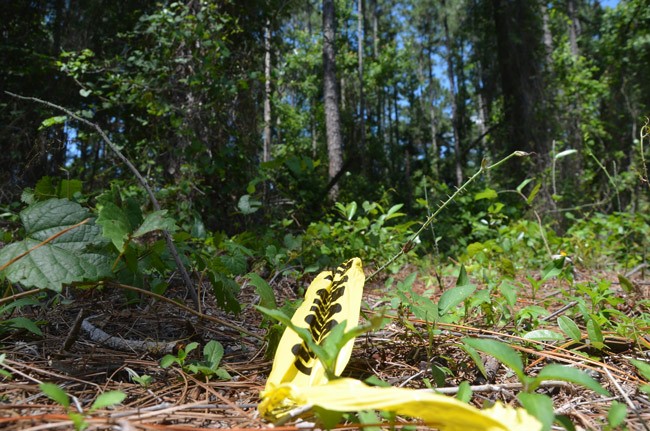 A man was found dead and with some degree of decomposition Thursday evening in a vacant lot at the north extremity of the Boulder Rock Drive loop. Authorities believe the cause of death to have been suicide, but were not certain. The body is in the possession of the medical examiner.
The body of the 25-year-old man was found after a resident in a nearby house called 911 to report a foul odor and buzzards circling about the neighboring lot. An incident report indicated that the 59-year-old neighbor himself had actually located the body.
Shortly after 7 p.m., several units of the Flagler County Sheriff's Office were in the area, including the Crime Scene Investigation unit and a detective. The empty lots where the body was found are on the heavily wooded west side of Boulder Rock Drive, between lots 161 and 171. A canal runs parallel to the lots a bit further west, between Boulder Rock and Beachway Drive. The lots were roped off Thursday evening as sheriff's deputies worked the scene.
"It doesn't appear to be a homicide. It appears to be a suicide at this point," Sheriff Jim Manfre said later Thursday evening."That could change." He said the body showed "some decomposition." Although no positive identification had been made at the time, he said there was a likelihood that the body was that of a person reported missing recently. The person was from the area.
The scene today had been cleared, though there remained in the air an occasional stench of decomposition. A fuller incident report from the sheriff's office was heavily redacted, as the case remains an active investigation. The identity of the man is known. But the incident report points out that a next-of-kin notification, attempted Thursday evening, had failed.