Giuseppe Verdone Jr. is an 18-year-old student who's already had his troubles in the the county. Last May he was charged with burglary and briefly jailed. He also had his troubles with the school district. He was attending Pathways Academy, the district's alternative school for students with disciplinary issues. He's not likely to attend it anymore.
Monday morning, Verdone ended up at the Flagler County jail after preparing and setting off a "bottle bomb" at a bus stop on Bird of Paradise Drive and Biscayne Drive in the northern part of Palm Coast. Another student and his mother were also at the bus stop and witnessed the incident.
The device is known to chemistry students and to particularly stupid pranksters who may not gauge the danger of the device, which can wound if it goes off within close proximity of people, though a police officer describing the bomb's effects after a recent incident in New York State downplayed the device's consequences. (See the video below.)
As About.com's David Emery describes it, "homemade 'bottle bombs' have been around for at least two decades, though they've been known by a variety of different names, including 'acid bombs,' 'Drano bombs,' 'works bombs,' 'pressure bombs,' and 'MacGyver bombs.' They're a favorite of teenage pranksters because they can be made with common household ingredients, but police warn that the devices are unpredictable and dangerous. Would-be bottle bomb makers should be aware that if caught they can be charged with a felony. Penalties can be quite severe if injuries or property damage result."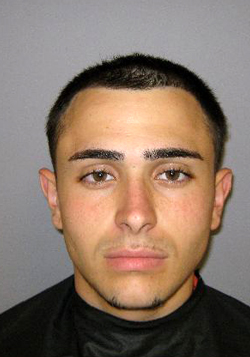 Verdone didn't get that memo. According to a sheriff's office report, he was at the bus stop waiting for the Pathways bus just before 7 a.m. when he allegedly took a plastic bottle and mixed toilet bowl cleaner with aluminum foil, then closed the bottle cap. He put the bottle in the grass. When the solution mixes with aluminum, a chemical reaction follows, releasing gas that pressurizes the bottle. Within minutes, the bottle exploded. Plastic shards can travel several feet–and cut bystanders.
Verdone was taken into custody at the Home Depot parking lot in Palm Coast. After questioning by investigators, the sheriff's report states, "he admitted to making and setting off the device." He was charged with two felonies: possession or discharge of a destructive device at a bus stop and discharging a destructive device. He was booked into jail on $500 bond.
"Teenagers often fail to realize the dangers of experimenting with these homemade explosives. Unfortunately, bad decisions such as bringing the device to a bus stop, could have put other teenagers and youngsters at risk for serious injury," said Flagler County Sheriff Don Fleming.
Below is a video of a report from Buffalo's WIVB News on a mid-July bottle bomb incident in a suburban town there.