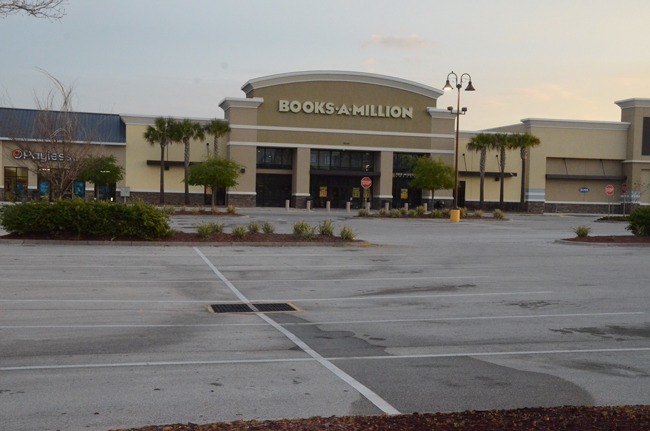 As far as Birmingham-based Books-A-Million Inc., its Palm Coast store is already history. The 6-year-old store in the Target shopping center in Town Center no longer appears on the company website's list of stores, nor does it show up on a store-locator map, though it remains open for a few more days.
The store itself on Wednesday announced an everything-must-go sale ahead of closure, ending Palm Coast's very brief romance with a bookstore larger than an attic. It is the latest in a series of store-by-store closings this year: In the last six weeks alone, Books-A-Million closed stores in Hoover, Ala., Columbia, S.C., and Roseville, Mich. Barnes and Noble, the only other large bookseller left, is closing 20 stores a year nationwide. Borders went bankrupt in 2011.
"Im disappointed, I hate to see any business go out of business," Palm Coast Mayor Jon Netts, himself an avid reader, said this morning. "I think the closure is a sign of the times. Even my wife has gotten accustomed to her Kindle, and you can go on Amazon and download books for free or for 99 cents. I've been reading books on my tablet also, but the other day I borrowed a book from a friend of mine, a paperback book. It's just more enjoyable to read a real book."
The company has not told Palm Coast why it was closing the store. Flagler County Chamber of Commerce officials heard about the closure on Wednesday, but did not know more about it. Calls to the company's headquarters were not returned this morning.
Online competition from Amazon, where books are it is virtually impossible not to find a title, and where books are sold more cheaply than in stores, the rapidly rising popularity and immediate availability of digital and audio books, and even the renaissance in the popularity of public libraries, which now make digital and audio lending routine, have all demolished the box-store bookseller business model. In larger towns, independent and specialty booksellers have weathered the shocks and downsizing they experienced in previous years and are showing signs of vitality. But with isolated exceptions, Palm Coast will have no bookstore of note to pick up where Books-A-Million will leave off.
Last week Books-A-Million announced its fourth quarter and year-end financial results. They were poor. Fourth-quarter revenue was down 3.7 percent, to $157.9 million. Operating profits fell 7.5 percent, to $13.5 million. For the 52-week period ended February 1, revenues decreased 5.6 percent, to $470.3 million, with comparable store sales declining 6.8 percent. The company had an operating loss of $1.5 million for the year, compared with a $7 million profit the previous year, and a net loss of $8.7 million, compared with net income of $2.6 million the previous year.
Terrance Finley, the company's CEO, had a strikingly more upbeat reaction to the numbers. "We were pleased with our performance in the fourth quarter," he said. "We saw our core book business improve from the trends we experienced earlier in the year driven by a strong lineup of new titles. Our new business initiatives also performed well supported by consumer enthusiasm in pop culture, movies and media. Our team executed our plan admirably despite the challenges presented by the weather in both December and January."
Netts remembered how, in his days in high school and college, Keuffel and Esser, the slide rule company, dominated that market. "In the twinkling of an eye, the business was gone with the advent of a hand-held calculator," Netts said.
Big bookstores are the 21st century's slide rules.