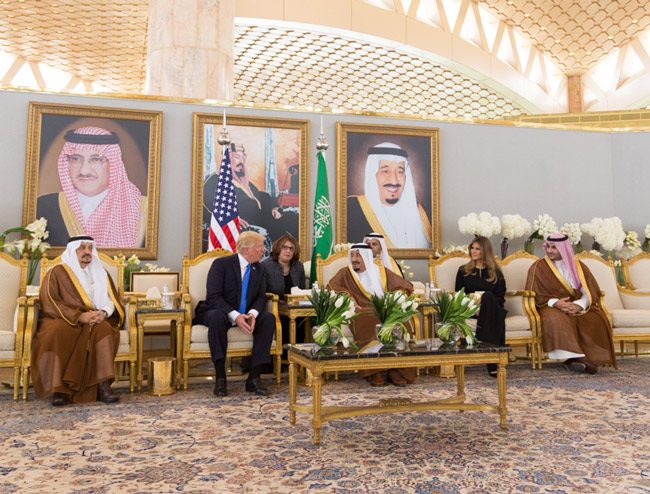 Still buttered up from his last tango in Riyadh, President Trump now says the official Saudi story of the murder of Washington Post columnist and Saudi national Jamal Khashoggi is "one of the worst" cover-ups he's heard, presumably from outside his organization.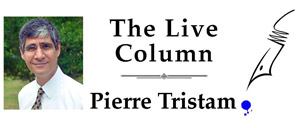 That's after he sent two cabinet members to bow and kiss the ring of Crown Prince Mohammed bin Salman, who ordered the hit. It's after Trump cheered as a role model the criminal Montana congressman who pleaded guilty to assaulting a reporter. It's before, during and after Trump has incited and continues to incite violence against reporters covering his rallies and declaring "enemy of the people" any reporter who suggests Trump may not be the greatest, the grandest, the most fabulous dear leader in the history of dear leaders.
And in fairness, it was all before pipe bombs were sent to enemies of the people in various liberal guises. But forgive me if, as with Trump's 5,001 other documented lies (so far) in his first 641 days in office, I don't buy his latest fabrication: "Acts or threats of political violence of any kind have no place in the United States of America." How rich: The mobster sadist whose daily apologies for thuggish leaders gave Saudi Arabia the greenish light to murder a journalist and resurrected the lynch-mob mentality between tweets about Democrats' "mobs" is now pretending to channel Marcus Aurelius.
Trump is certainly not alone as the House of Saud's favorite princess: American presidents have been whoring themselves out to the kingdom since FDR's faustian submission before King Ibn Saud aboard the USS Quincy in 1945. Trump is merely aligning his "nationalist" anatomy accordingly, adding assassination to the list of barbaric behavior he is willing to condone. Who needs NATO when you can have Saudi Arabia?
The Middle East is an orgy of hostile and dangerous nations, deadly ideologies, bigoted regimes: Iran, Syria, Egypt, Israel, the United Arab Emirates, Algeria, Bahrain. But none of these combine Saudi Arabia's capacities to be all evil to all people. The Saudi Arabia we call a friend and ally launched and financed Osama bin Laden, made 9/11 possible, has been funding the Taliban and Islamic extremism throughout the Middle East since 1979, and through its nihilistic Wahhabist ideology made ISIS possible when al-Qaeda started collecting social security.
Saudi Arabia is the most regressive, repressive and brutal regime in the Middle East. It may not be exterminating its own citizens like Syria, but it's been exterminating Yemen's for years, it invaded Bahrain to stamp out a democratic uprising, it kidnapped the Lebanese prime minister, it's been gunning for a nuclear program, and it's been desperately trying to drag the United States into a war against Iran.
Saudi Arabia is not our friend. But president after president has been as addicted to Saudi pretenses of friendship as American gas guzzlers have been addicted to Saudi oil and Saudi cash buying back American weapons.
Now we have the murder of a world-renown journalist ordered by Mohammad bin Salman, the Saudi crown prince people like New York Times columnist Thomas Friedman had been fawning over as the great reformer, romanticizing him as "M.B.S." and excusing his excesses until Kashoggi, a friend of Friedman's, was killed. But just because he finally let women drive in Saudi Arabia, in 2018, and said a few things about Islam not being as backward as his own country makes it out to be, doesn't make bin Salman less criminal. Kashoggi walked into the Saudi consulate in Istanbul some weeks ago only to be set upon by the prince's goons, have his fingers severed, his head cut off, and his body dismembered with a bone saw.
Kashoggi's crime? He'd been critical of the Saudi regime. He was an enemy of the people.
If that gruesome execution on foreign soil wasn't disgusting enough, Trump initially tried to cover up the murder, playing Saudi Arabia's game, until the evidence became too overwhelming. But just blaming Saudi Arabia in the abstract for the murder isn't enough from a president who partly enabled the murder through his daily and still-unrelenting vilification of journalists.
He can't be lavishing praise and smiles on tyrants, as he and his son in law Jared Kushner did with the Saudi Prince, and think it's not another way of saying, as he did of white supremacists last year, that "some of them are fine people." He can't be equating journalists with scum and not have blood on his hands. And not just journalists, of course, as today's pipe bombs suggest.
You'd think the torture and murder of Jamal Kashoggi would be a turning point against the most dangerous nation in the Middle East, and the last country the United States should be calling an ally. But it won't be. Mohammad bin Salman is just the sort of man Trump admires and likes to deal with. Kashoggi, in other words, is not the only truth-teller being dismembered, and Saudi Arabia is not the only one wielding the bone saw.

Pierre Tristam is FlaglerLive's editor. Reach him by email here or follow him @PierreTristam. A version of this piece aired on WNZF.