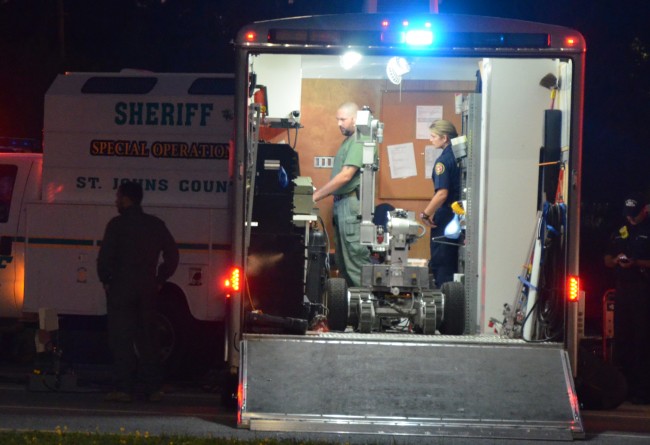 Last Updated: 9:41 p.m.
The intersections of Palm Coast Parkway and Belle Terre Parkway were closed to traffic for more than an hour this evening after an object that looked like a grenade was found in the road.
At 8:30 this evening, Flagler County Sheriff Jim Manfre confirmed that it was a live Mk 2 pineapple hand-grenade.
The St. Johns County Sheriff's Office's bomb squad was called in and took possession of the object at 7:35, with its robot, called Frosty. The grenade was taken to an undisclosed location where it was to be detonated. A report that it was going to be detonated at Hargrove Grade could not be confirmed.
At 9:28 p.m., Undersheriff Rick Staly said the device was taken to Hargrove Grade and detonated there.
"It did explode, which would indicate to us that it was a live grenade and not a replica, so we notified ATF and we notified the FBI because when we have incidents like this it goes into their domestic security system," Staly said. "We're fortunate that the passer-by called it in, and our people did a great job, great help from the Palm Coast Fire Police who helped divert traffic from a very busy location,"
There is no one in custody at the moment in connection with the incident, nor any persons of interest: the sheriff's office is investigating and trying to find out whether the object was dropped there or intentionally placed there.
Cmdr. Mark Carman, who oversees Palm Coast operations for the Sheriff's Office, said a passing motorist was stopped at a light around 6 p.m. when she noticed the grenade on the ground, just east of Belle Terre on Palm Coast Parkway. She called it in. Carman was on his way to the Palm Coast City Council meeting at the Community Center.
"I've had this happen to me only one time in my career, and it was real," Carman said, referring to an incident about a decade ago when a live grenade was found in the back of a car at the Exxon station on Palm Coast Parkway. "I was on the way to my council meeting, so I stopped and looked at it and thought, wow, we need to call the bomb squad," Carman said.
"I'm still waiting to hear whether it was real or not. It looks real and it was probably real at one time," Carman said. "The pin was still in it. It could have been real. You've got to take them as real." The grenade, he said, could have been hollowed out. That was the case when a grenade was found in the hollow of a tree in Palm Coast's Woodlands in January 2012.
"They're going to blow it up one way or the other," Carman said, at which point authorities will know what sort of device it was. "We treat them all like they're real." At 9:12 p.m., Carman said the device was found to have been, in fact, a live grenade.
The intersection is not only among Palm Coast's most heavily traveled; it is also under heavy surveillance from cameras, and authorities are likely to very soon analyze red-light camera footage from the vicinity.
"They had the road blocked off for about two hours until the bomb squad got here with the little robot thing," Kayla Siler, an employee at the Citgo gas station's convenience store, said, soon after the grenade was removed. "I guess it was right there. We were watching through the window, they'd told us to go inside." From where Siler spoke, the grenade would have been a few dozen yards away. She said a sheriff's deputy told the people at the station that it was an actual grenade. "They just had it all shut down and finally a sheriff's deputy came over here and told us what was going on," Siler said.
She said at least 20 cop cars had converged on the area. "Yeah, I was scared, it was like I was in a movie. I've never seen one of those robots," Siler said.
Roads were being reopened at 7:45 p.m. The nature of the object was not determined at that time, but in the overwhelming number of cases–more than 99 percent–the bomb squad determines the object to be non-threatening.
St. Johns operates the only bomb squad in the tri-county area that includes St. Johns, Flagler and Putnam. The squad was last called into Flagler on May 26, when a suspicious ammunition box was found near a sidewalk in Flagler Beach. The box turned out to be a tackle box. Four days later, the squad helped local authorities clear Flagler Palm Coast High School, after a weekend bomb threat had been left on in a voice mail to a school employee. The squad very rarely turns up actual explosive devices, though in every case of a reported suspicious object that could be a bomb, authorities, including the bomb squad, take no chances.
The squad's star is usually its robot, called "Frosty," a Remotec Andros F6A that sports a color surveillance camera with powerful zooming capabilities on a 24-inch camera extender, grips with versatile rotations and heavy-duty tracks allowing it to cross ditches and obstacles in rough terrain. (The robot's nickname takes after that of Tanner's father, Lt. Wayne Tanner, who created the bomb squad in 1973 and died in retirement in 2001.)
Belle Terre southbound at CVS, Belle Terre northbound at Cypress Point, Palm Coast Parkway east at Station 21 and the entire southeast intersection of Palm Coast Parkway and Belle Terre were closed to traffic beginning around 6 p.m.
Traffic was flowing again in all directions at 7:50 p.m. as the Palm Coast Fire Police, which had been diverting traffic, restored normal flow.
Oddly, the Sheriff's Office distributed a news release at 8:48 this evening, but only news release to come out of the Sheriff's Office this evening, but not about the grenade. It was a reminder about the new ban on texting while driving. A news release about the grenade was emailed at 10:18 p.m.