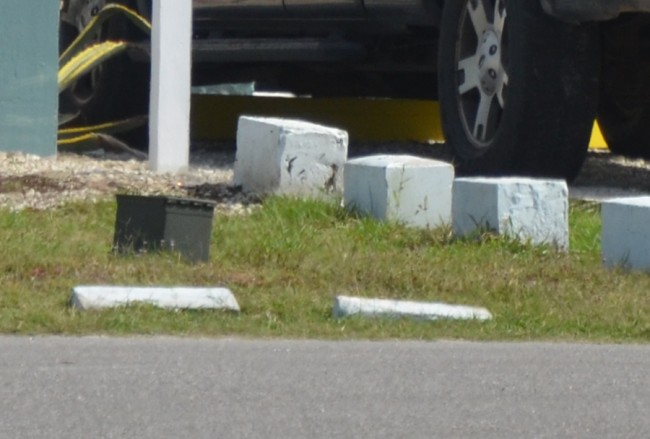 Last Updated: 7:14 p.m.
7:06 Update–As it turned out, it was not a bomb. It was a tackle box. Full of "fishing plugs, sinkers, and things like that, so there was no indication that was related to a bomb," Flagler Beach Police Sgt. Frank Parrish said just after 7 p.m.
The ammunition box in the grass at the foot of the Barracuda Bay motel had the south side of the city alternately frightened and entertained for the latter part of the afternoon, and had prompted the dispatch of the St. Johns County Sheriff's Office's Bomb Squad. Fortunately for everyone involved, "believe it or not it was a tackle box, or used a s tackle box," Parrish said.
Nobody is regretting the excess of caution. "When we called them and they say we'll be there within driving time, that means they're concerned about it too," Parrish said. "It was good training for everybody, if nothing else."
State Road A1A between 10th and 13th Streets was closed to pedestrian and vehicular traffic from 3:45 to 7 p.m. All traffic returned to normal after that.
The previous story is below, with additional pictures at the foot of the story.

You can see it. The familiar-looking green, military-style ammo box. It's sitting in the grass, at the foot of the Barracuda Bay Motel in Flagler Beach, at South 12th Street and State Road A1A. The box is being treated as suspicious, and it has triggered a bomb scare, shutting down A1A between South 11th and South 13th.
The no-traffic zone was later extended to South 10th Street to enable bomb-squad units to stage south of that block.
The box was discovered and reported to police at 3:45 Sunday afternoon, causing evacuations of the Barracuda and the Beachhouse Beanery, which is immediately next door.
Most likely it's nothing: more than 95 percent of bomb scares turn out to be false alarms.
But authorities in Flagler Beach are taking no chances. The bomb squad from the St. Johns County Sheriff's Office, which has an automated, remote-controlled vehicle that can retrieve packages as well as a mobile detonating chamber, is on its way. At least one St. Johns unit had arrived by 5:50 p.m., but not the remote-controlled device.
The emergency hasn't entirely disrupted the Memorial Day weekend: beach-goers are not letting it alter the serenity of their sunbathing, or children's water-waddling and sandcastle building, even in the stretch of beach that, at street level, has been shut down to vehicular and pedestrian traffic.
The Flagler Beach Police Department, the Flagler Beach Fire Department and the Flagler County Sheriff's Office are at the scene. Some of the fire department's personnel is in full gear, and sheriff's deputies are donning enormous flack jackets and other gear. Traffic has not backed up, and the situation will likely be resolved by late afternoon.
The robotic unit arrived at 5:10 p.m.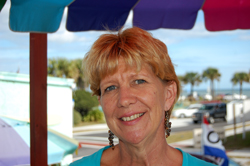 Carol Fisher, owner of the Beanery, was not at the business when the incident unfolded, having left about an hour earlier. "I got a phone call from Kayla, our girl who was working, and we closed at 3," Fisher said, "she was the only one left, she was going through the closing process. The police came and told her there was a suspicious package and they were closing down the place and she had to leave immediately."
There had been no odd activity all day at the Beanery or around it. "We were very busy there today, I left at about 2," she said. "No one ever noticed anything going on in the neighborhood."
When the robotic bomb-squad unit arrived, the package was going to be X-rayed by the unit before being taken possession of and placed in a bomb-proof container. It would either be detonated or further analyzed–for example, by having the robotic arm open the lid.
The incident by 5 p.m. had gathered dozens of people at the corner of South 10th and A1A, who lounged in beach chairs and did the obligatory thing at such scenes: took pictures with their iphones, Facebooked, Tweeted and reflected on the contrast between their sleepy town's nature and such a potentially noisy–but most likely non–event.
Nevertheless, for Flagler Beach, between this scare, the Flagler Beach City Commission's latest bout of cage-fighting and the just-concluded Paul Miller murder trial, Flagler Beach's "small-town" monicker was not quite an accurate fit this week.