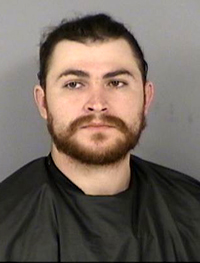 These random shootings are eventually going to hurt someone.
Last last month a resident of Burma Place in Palm Coast reported that someone had fired a .22 at the back of her 2001 Chevrolet S-10 pick-up, which was parked in her driveway. An investigation revealed that six shots were fired at or into the truck. Four shell casings were discovered in the roadway, but the shooter was never found.
Friday morning, Pavel Bolotnikov, 26, of 75 Riverview Bend South, between the Intracoastal and Palm Harbor Parkway, was arrested on charges of driving drunk, using a firearm while drunk, and discharging a firearm from a vehicle. The shooting took place within close range of homes.
Deputies said Bolotnikov fired several shots from his van as he drove along Riverview Bend in the gated community of Tidelands in Palm Coast around 2:30 Friday morning. Witnesses were able to give deputies a description of the Bolotnikov's vehicle.
Bolotnikov was observed by deputies driving at an estimated speed of 50 miles per hour in a 30 mile per hour zone on Longview Way. Deputies reported the man had a moderate odor of alcohol on his breath when they stopped him. A .45 caliber Ruger handgun was recovered from inside the vehicle along with ten spent shell casings.
"We were fortunate to have witnesses at such an early hour, and their help is appreciated. This man was taken off the road before he could harm anyone," said Flagler County Sheriff Donald W. Fleming.
He was held in the Flagler County jail until he posted $1,000 bond.