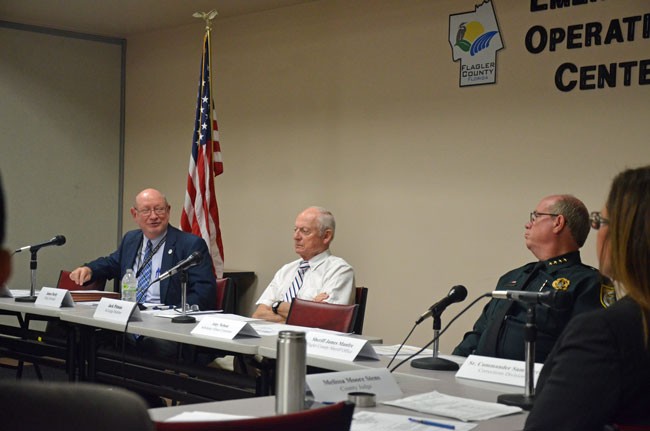 Two months ago Public Defender James Purdy told a group of local public safety, court and government officials that while the new trend of equipping cops with body cameras was a plus, it was creating unintended consequences that neither state nor local governments are prepared for. The cameras, he said, are creating new data on a colossal scale, requiring prosecutors and public defenders to spend a huge amount of time reviewing them, if they are to be diligent about addressing their cases. There are neither enough hours in a work day nor enough attorneys in either the State Attorney's Office or the Public Defender's Office to properly review all the data. That's before addressing such matters as privacy, storage and public record requests.
On Wednesday, Sheriff Jim Manfre, addressing the same panel—the Public Safety Coordinating Council, which meets monthly—provided a full-fledged defense of the cameras and downplayed their effect on his budget or the effect they've had on public record requests, which have been small. The discussion took place as the Legislature moved this week toward requiring all police agencies that use body cameras—not many do in Florida, yet—to adopt policies regulating their use. The policies would not have to be uniform throughout the state.
Since the high-profile shootings by police of unarmed suspects in Ferguson, Mo., New York City, Cleveland and, now, North Charleston, S.C., the Obama administration has also been pushing Congress to appropriate $263 million to pay for more tha50,000 body cameras (with states matching the grants).
Cameras such as the ones worn by every Flagler County Sheriff's deputy, manufactured by Taser, are on all the time: they are constantly recording. But they do not save the recordings all the time. A deputy must press a button to activating the saving mechanism, which then goes back 30 seconds and records from that point forward. In other words, a camera may record something unrelated to law enforcement matters, such as casual conversations in a restaurant, but those moments are not saved. They are altogether eliminated. Taser will also provide the sheriff's office with free cameras three years from now in an acknowledgement that the technology is changing rapidly, forcing agencies to adapt. That adaptation will not burden the department with additional costs, Manfre said.
Deputies upload their relevant footage at the end of each shift to a secure server even the military uses, the sheriff said, where footage is tamper proof. The footage can easily be disseminated to state agencies: the state attorney's office has access to the server. And when the public makes a request, rather than cutting a costly CD or incurring mailing costs, a police agency can make a dedicated link available  to download the relevant footage.
"This is not new technology," Manfre said. "The only thing that's new about it is rather than the fixed dashboard camera, which gave you only limited view, you only saw what was in the purview of that vehicle, if things happened outside of the purview of that vehicle, it was not on camera, and that often was a problem for prosecutor." Body cameras, the sheriff said, give the point of view of the officer. "You see exactly what he's seeing, and you cans see why he makes the decisions he's making while he makes them."
---
Seemingly unanimous support for cops' body cameras, but not enough attorneys to do the data, or defendants, justice.
---
"Since we've implemented them, it's been a terrific success from our point of view, from the Flagler County Sheriff's point of view, and from anyone I've discussed it with they've had the same stories. All the studies on body cameras have shown very similar results we've seen here."
Complaints from the public go down, because once people who might have complained find out that there's footage of an incident, they are likelier to choose against complaining. "The same thing with use of force," Manfre said, describing how one of his corporal, who'd been very skeptical of the cameras, several months later approached him and told him that he'd reversed his opinion. The corporal told Manfre—according to the sheriff "has done everything you said it does."
"It's not a panacea there's no one technique by law enforcement that's better than the other," Manfre said, stressing that treating members of the public with respect "should never be replaced by any technology."
More pointedly, he said the cameras have not caused more paperwork, or caused a surge in time-consuming public record requests. "It's the same, you'd either be giving requests of paperwork or videos," Manfre said. "Downwind it will help all of us in terms of less depositions, less trials." He added, "This does not mean that this should not be open to comment and analysis by the judiciary or the bar or the state attorney's office to make sure we have this right, because it is transforming how the entire justice system deals with law enforcement issues."
Purdy said his original points in February may have been misunderstood. He is categorically not opposed to the cameras. "I'm 100 percent in favor of police body cameras. The issue is not the existence of technology. I look forward to having these benefits from that. The problem is the manpower issues that are going to result."
For example, Purdy said, if police were investigating a shooting in an area where a large crowd had gathered and two dozen cops had responded, each one of them with a body camera on, every one of those cameras' footage would have to be reviewed to be judicious in the case. That creates an enormous workload no office is capable of addressing at current staffing levels. Again, Purdy was not opposing the use of the cameras. "It's going to be a benefit that way, but it's going to be a huge increase in workload," he said.
Jason Lewis of the State Attorney's Office echoed the concerns. "It's a big encumbrance on all of us, I don't think anyone realizes how much time it's going to take, and effort, and if you look at the funding this year through the Legislature, they've added nothing," Lewis said. "At the end of the day something is going to get missed if you're not watching. It really is going to take, like you said, your attorneys to listen in the background, but at the end of the day something is going to get missed if you're not watching it, because a picture is worth 1,000 words. It's going to be tough and we're all going to have to figure out the best way to doing it with the resources. In a perfect world, give me 10 more attorneys would be great."
That's not happening, nor is the local county commission going to fund whatever speculated manpower burdens are on the horizon. (The Daytona Beach Police Department, for example, generated 15,000 hours of such footage in a single month in criminal cases, Lewis said.)
"When I started doing the math on that, there aren't enough hours in the day for one attorney to handle that kind of caseload that he's going to have without working nights or having it playing in the background constantly," Purdy said. "We are in favor of it, the Public Defenders Association is in favor of body cameras, everybody is in favor of anything that makes things better, and this definitely makes things better. It's just, it's going to be more labor intensive. That's the only issue."