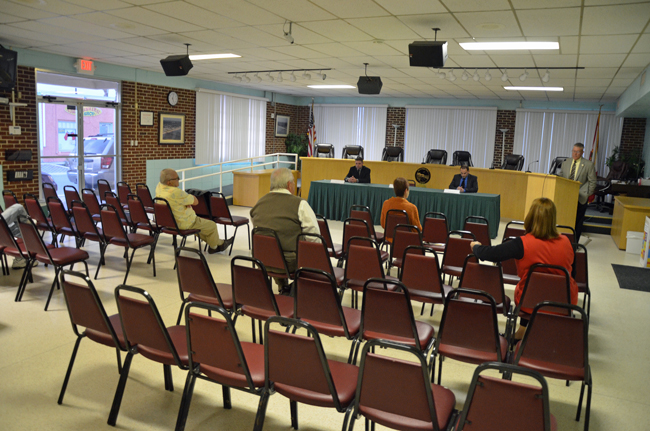 When Flagler Beach held its town-hall style meet-and-greet for the three finalists vying to head the police department last month, the commission chambers were more than half-full, every city commissioner and the mayor showed up, and a certain icy distance separated at least some of the candidates from each other, reflecting the stakes and interest surrounding the appointment.
It was a different story Thursday evening as Flagler Beach held a similar meet-and-greet for the remaining candidates looking to head the city's fire department. For all the tempests of the last 18 months that have whipped about the fire department over the last 18 months—some of them in teapots, some of them in highballs—it was an oddly muted, barely attended event.
For starters, one of the three finalists—Sean Crofutt—was a no-show: he told City Manager Bruce Campbell last night that he'd withdrawn. That left just two: Bobby Pace, an eight-year veteran of the department, and Brandon Seymour, a former firefighter in the city who now works as a firefighter and inspector in St. Augustine. Just three of the five city commissioners showed up—Jane Mealy, Steve Settle and Marshall Shupe—along with Mayor Linda Provencher. They sat at considerable distances from each other. The empty room allowed it. Only a handful of other people, including a few firefighters, attended, as did two reporters.
Pace and Seymour, for their parts, looked like best buddies.
"I wish you the best, man," Pace told Seymour after the evening's formalities.
"Absolutely," Seymour said. When Seymour made his pitch, he went so far as to anticipate Campbell's decision: "If it's Mr. Pace, I genuinely wish him good luck with it."
Seymour's remark summed up the anticlimactic town hall, perhaps because there's little doubt that Campbell long ago made up his mind to give the job to Pace, but also because it appears that, for now, the Flagler Beach Fire Department is no longer a storm cell. The appointment to the $52,000-a-year captain's position will take place before Thanksgiving, but it will largely be an afterword: the public, judging from tonight's turnout, has moved on. And commissioners put as neutral a spin as they could on the inevitable appointment.
"Two great candidates. We can't lose," Commission Chairman Steve Settle said.
Shupe says he's worked with both candidates and sees little to distinguish one from the other. Shupe is a volunteer fireman who's run a fire department in New York and insists he's not been running Flagler Beach's in Pace's absence (Pace was appointed acting fire chief before being charged with a misdemeanor obstruction of justice charge that just got dropped, pending his completion of a deferred prosecution agreement).
The selection process started with 11 applications, either men were scheduled for interviewed but just five were actually interviewed. The interview panel was made up of four men: Palm Coast Fire Department Deputy Chief Jerry Forte, Flagler County Fire Rescue Training Chief Lenny Ensalaco, Flagler County Schools Transportation Director Bruce Preece, who has a long career in public safety and law enforcement and is a Flagler Beach resident, and Campbell. The four winnowed the applicants to the three finalists. Next week, Campbell will spend several hours with each of the remaining two before making the appointment.
Thursday evening Seymour and Pace spoke in that order, for about 12 minutes each.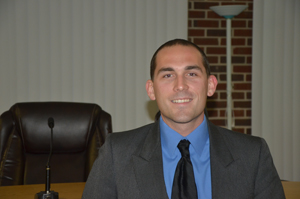 Seymour described his career as a firefighter, which started in 2004, and as a volunteer firefighter in Flagler Beach in 2005 before he became a paid firefighter in 2006, until 2009. He's now a full-time firefighter and fire inspector in Flagler Beach, and the part-time fire inspector in Flagler Beach. He emphasized the importance of training and spoke of the 60 hours a month firefighters in St. Augustine log, month after month, a regimen he wants to institute in Flagler Beach. He referred to his current fire chief's principles as his own: "His two biggest things are training and honesty."
Of himself personally, Seymour said: "As firefighters we deal with people who aren't always dealt the best hands in life, and I was raised in a stable home, I came from a long line of civil servants, police officer, firefighters and so forth, so you could say I was bred for this job and that certainly helps. I came up in the Boy Scouts of America, chief Eagle Scout, and those are values and morals I hold today, every day that I put on a uniform." Seymour has been working on a fire science associates degree and plans on getting a four-year degree from Flagler College in public administration.
Alluding to the department's recent troubles, Seymour said: "It's really ground zero. We hit a real low point there within the past year, and here's our opportunity to make it right, and I would like to make that opportunity as the fire captain."
Pace, like Seymour, spoke without notes, though his presentation was as systematically outlined as if he were reading off a teleprompter. He began by speaking of his four years in the Navy, when he was attached to a boat unit trained in shipboard firefighting, ending his service as a petty officer in charge of a crew of six. "I believe my military service has served me well in department issues, specifically departmental organization, considering that we are a paramilitary agency." (The description of the Flagler Beach Fire Department as a "paramilitary agency" may not have been what Pace intended to say, assuming that its members haven't recently been armed and deputized as an adjunct and unaccountable police force or militia.)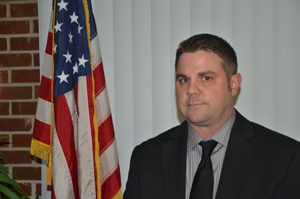 Pace has been a member of the fire department for almost eight years, during which he was appointed acting chief a half dozen times. He has a series of state certifications in the field, and is planning to earn a bachelor's degree in business administration. He placed articular emphasis on his managerial and business skills, not just in the department—where he says he worked up savings of $80,000 in the last budget, with Campbell—but in the running of a family business for 13 years. He prizes training, but also the seeking of grants as he pictures a permanent, and eventually larger, department.
"I don't think it's any secret that the Flagler Beach Fire Department has not always had the best reputation," Pace said, "but the department is in the process of making very many changes, and changing some of our past practices. And I believe that this starts with the little things. I've always preached to the guys to take pride in our house, that we make the change, we make the difference, and I believe it's important for every member to have pride of ownership in that department. I think this breeds motivation." He intends that approach down to the shine on the boots of his crews, but he also spoke of the "untold stories" of firefighters who, paid or not, volunteer their time in the community to help residents in need.
"It is my goal to see the department to continue to improve in all aspects, specifically training, preventative maintenance and public relations," Pace concluded. "I love this department. I have full confidence in the staff that we have in place. And I believe with hard work and accountability that there's nothing that we can't accomplish. I've seen where we've been, and I know what we've accomplished thus far, and I believe that I carry the motivation to get us where we want to go."