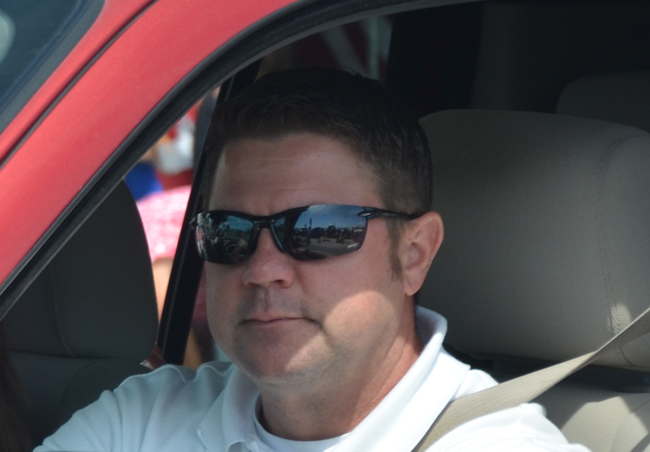 Bobby Pace can return to work. He may even get a promotion.
The acting Flagler Beach Fire Chief was placed on paid administrative leave at the end of July, when the State Attorney's Office filed a first-degree misdemeanor charge of obstruction of justice against Pace. A Flagler Beach Police investigation had found that he'd falsified the records of a probationer working community hours at the fire department and tampered with evidence.
Wednesday afternoon, in a pre-trial hearing before County Judge Melissa Moore-Stens, the State Attorney's Office said it would not be prosecuting Pace, but had rather agreed to a deferred-prosecution agreement. That means the charge will be dropped pending Pace's completion of the terms of the agreement, which have not yet been disclosed. Such terms usually entail remaining crime-free for a set period, and fulfilling a number of community service hours. Pace was not in court today.
"The case is fully resolved," his attorney said. The entire proceeding took less than 30 seconds.
"Now that That's dropped, there's no reason that Mr. Pace can't return to work," City Manager Bruce Campbell said.
Pace is one of the five remaining candidates being interviewed for the newly created top post of captain at the fire house. Pace is to be interviewed Friday. The other four candidates are:
Sean Timothy Crofutt
Langford Van Every
Jason Michael Hughes
Brandon Kori Seymour
"What We've got to do is receive something formal from the State Attorney's office that this thing has gone away and we'll proceed accordingly," Campbell said. The manager was not sure whether Pace would return as the acting fire captain or as a firefighter. "I've got to go through the paces on that–no pun intended," he said.
Meanwhile, the hiring process will carry on, similarly to the process that led to the appointment of a police captain earlier this month. "The way this thing is going to work, we've got the interviews this week, I plan on announcing the final three, hopefully around the 14th of November we'll have the meet and greet, then I plan to make the choice there the next week from all those data points," Campbell said. The meet and greet will take place at the Flagler Beach City Hall, giving the public and the city commission a chance to interact with the last three candidates.
Pace, however, is a clear favorite.
Campbell plans on making his choice known at the latest by Dec. 1.