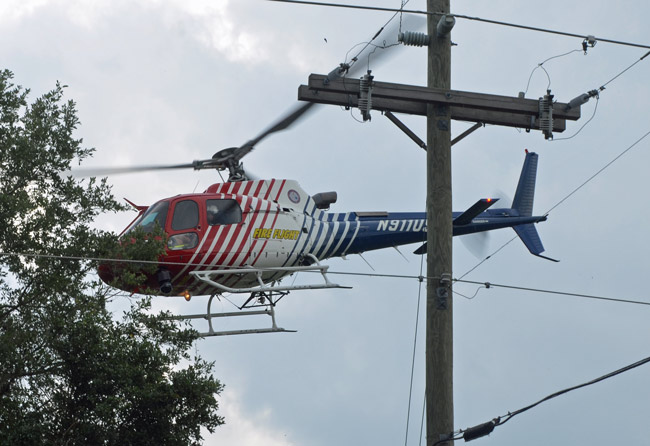 Kathy MacDonald, the wife of well-known and long-time Flagler Beach police officer Robert "Bobby" MacDonald, was airlifted to Halifax Hospital with a gunshot wound to the head Friday evening under suspicious circumstances that the Flagler County Sheriff's Office is investigating.
"I don't think we have honest proof at this point that he shot her or that she shot herself," Flagler County Sheriff Don Fleming said, referring to Bobby MacDonald. She has been in and out of a coma since, Fleming said, either unable or unwilling to give a statement. "We just don't know what we have at this time," the sheriff said.
Reports are sketchy, even from the sheriff, who did not have the details of the actual shooting. Rumors of the shooting began spreading over the weekend, with suggestions that it was being kept quiet because of the circumstances, and the involvement of a Flagler Beach cop. Fleming said there was no attempt to keep anything under wraps, only that an investigation was continuing.
"We're not able to get too much information at this time," Fleming said. "We're working the case with the State Attorney's office."
Bobby MacDonald is not in custody, Fleming said. He couldn't say what his work status is with his department. "That's up to Flagler Beach. We didn't charge him with anything."
Dan Cody, the Flagler Beach police chief, could not be reached Sunday and Frank Parrish, his second in command, had not returned a call and a message left on his cell phone by the time this story posted. Bruce Campbell, the Flagler Beach city manager, was non-committal. Nor would he mention the name of the officer. "I know there's been an incident, and it's under investigation by the Flagler County Sheriff's Office. That's all I know and can say at this point," Campbell said. "There's been an incident. One of our officers is somehow involved. I don't know how. It's under investigation."
Pressed for details, Campbell said: "You'll have to read the investigation." He dismissed a rumor about Bobby MacDonald having gone missing. "The officer is not missing," he said.
Campbell noted, however, that all Flagler Beach city commissioners had been informed of the incident. Authorities, in other words, from the sheriff's office, the Flagler Beach city administration, its police department and the state attorney's office were all well aware of the shooting, but no information had been released publicly. In contrast, the sheriff's office published three news releases this weekend about the convenience store robber, who was finally caught Sunday evening, immediately after his third robbery. (The sheriff's office did not send out an official press release about the shooting until Monday at 12:30 p.m., almost three days after the shooting.)
Bobby MacDonald, a Vietnam veteran (he reportedly served in the 101st Airborne Division), 58, was hired on June 15, 2000. He makes $37,575. He is one of 13 uniformed officers in the Flagler Beach Police Department, Chief Dan Cody included. He's worked at Bunnell's Ace Hardware store as well. The couple married within the year and vacationed in Tennessee. They live in the area of the Mondex. Kathy MacDonald was airlifted from the northeast edge of the Mondex, or Daytona North.
"She was pretty much under the influence of alcohol I believe," Fleming said. "He came home, he found her like that." Bobby MacDonald told police that he'd gotten off work at 6 p.m. and returned home to find his wife on the ground with the gunshot wound to the side of the head. He then placed his wife in a car and drove her to the intersection of County Road 302 and County Road 305. Fleming said the weapon used may have been a Derringer, but that was not confirmed.
Kathy MacDonald, who's in her mid-40s, has for the past year worked at Oceanside Beach Bar and Grill in Flagler Beach (the restaurant that used to be the old Manny's on State Road A1A). Co-owner John Lulgjuraj had, like others, heard the rumors of the incident, but only sketchily.  He described her as a good worker he and his family had known for a long time, as they had Bobby.