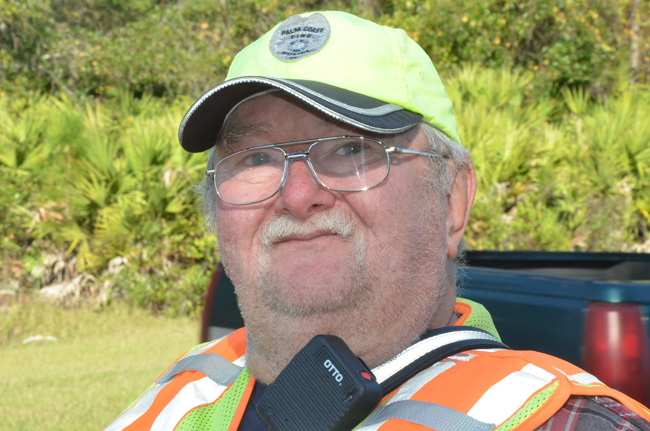 You can see him at car wrecks, at fire scenes or other emergencies that require traffic control: Bob Hudak is imposing in his yellow and orange Palm Coast Fire Police getup, even more imposing with a look somewhere between gruff and defiant—in that he defies drivers not to follow his instructions. Better follow them. The outcome if you don't, verbal or otherwise, might not be too friendly, though beneath those bearish looks and Northeast jargon lurks a man with a great sense of humor and an automatic disposition to help.
It's in large part why Hudak, who looks 50 but is actually 70, was named the 2014 Fire Police Officer of the Year Saturday evening (Feb. 15) as part of the Palm Coast Fire Department's annual awards banquet. Firefighter-Paramedic David Faust was named Career Firefighter of the Year, and Lt. Paul Matarazzo was honored as Volunteer Firefighter of the Year.
---
The award highlights one of the lesser-known and least rewarded but essential aspects of emergency scenes.
---
Palm Coast Fire Chief Mike Beadle and Fire Police Captain Steve Garnes picked Hudak as the Fire Police's best this year, by way of recommendation letters. He's been with the department almost three years. Hudak had not expected it. He welcomed the award, not least because it highlights one of the lesser-known and least rewarded but essential aspects of emergency scenes.
"It lets people know there's an accident ahead or there's major problems within the city that we're helping with," Hudak said of the Fire Police. "We're all volunteers, we all have private vehicles. It's a good feeling to just help the fire department and the emergency workers."
Hudak had a 45 percent response rate last year—reporting to 84 calls out of 186 incidents. It's a thankless job, really. Fire police members get just $6 a call, though they may be on each call three to four hours. They can be called at all hours, day or night, holidays included, if not especially (drivers tend to go wild on holidays). They pay for their own gas. "Despite that I do it," Hudak says. "But it's the fun of doing it and helping out."
Fire police officers also take their lives in their hands: at many scenes, such as on I-95 or U.S. 1, where traffic barrels by at upwards of 70 miles per hour, they're the only line of defense between missiles on wheels and the emergency personnel and cops working the scene a few dozen feet behind them. Hudak is an old hand at navigating the dangers, the "people trying to drive around you, getting called all kinds of crazy names and whatnot."
Hudak was a firefighter in Plainsville, N.J., before being sidelined by a knee injury. He's been in Flagler County for years. "I was talked into joining the fire police by a couple of guys," he says. "I've known chief Beadle since 1998, with the brushfires in '98. Worked with the U.S. Forestry Service for a week, seven 14-hour days." Despite his age, he has no plans to stop working. "I don't sit around," he says. "I like protecting the citizens and helping the fore department."
Beadle congratulated all the winners at the annual event at the Elks Lodge.
"This annual event is extra special, as most of the awards are employee-driven, selected by an awards team based on letters of recommendation submitted throughout the year," Beadle said. "This year was somewhat larger in that we also recognized those who assisted with the tornado response. We have many other city employees that we will recognize and thank through their respective departments this spring."
Faust received the department's top award for his efforts to save the City $30,000 in EMS costs in the annual budget. In addition to Faust and Matarazzo, nine other Fire personnel were honored for exceptional service and performance. Fire personnel who responded to the Starlight Tornado in December also were awarded a tornado ribbon for their service in the emergency.
Other awards included:
Administrative Commendation Ribbon – awarded to Firefighter-Paramedic Robert Ballou, for his work with the City Safety Committee and the tracking of injuries of firefighters in the performance of duty.
Administrative Commendation Ribbon – awarded to Capt. Mark Valentik and Lt. Kyle Berryhill, for their success in securing a $96,000 state grant to purchase new cardiac monitors.
Exceptional Duty Ribbon – awarded to the Station 24 B Shift squad of Lt. Jennifer Cohen, Firefighter-EMT Chris Cottle and Firefighter-Paramedic Eric Robinson, for going above-and-beyond to cheer a mourning resident on her birthday.
Fire Associate of Year – awarded to John Pascucci.
Most Improved Volunteer Firefighter – awarded to Anthony Darkes.
"It feels good," Hudak said.