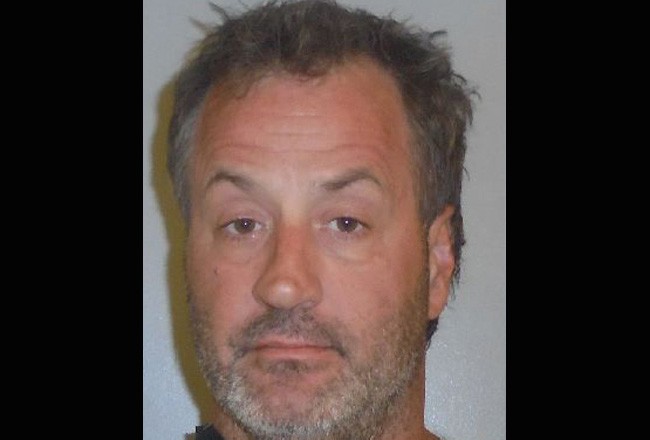 Scott Boardman, a 50-year-old resident of Palm Coast's F-Section twice arrested for disorderly intoxication and once for domestic violence in the last three years was again arrested Saturday evening after allegedly exposing himself to a child, a woman and three cops, in that order.
The incident, which resulted in charges of disorderly intoxication and indecent exposure for Boardman, took place in the Kangaroo convenience store and near the pool of the nearby Best Western, off Old Kings Road just south of Palm Coast Parkway. Boardman was so drunk when a breathalizer test was conducted at the Flagler County jail–he registered a 0.4 percent blood-alcohol volume–that he had to be taken to Florida Hospital Flagler for clearance, in accordance with jail regulations.
The incident took place just before 6 p.m. on July 18 when three Flagler County Sheriff's deputies responded to the Kangaroo station after a report that Boardman, who was wearing just a towel, had exposed himself to a child in the store. The victim was no longer at the store when the deputies arrived, but as the deputies were pointed in the direction of the Fairfield Inn nearby, they spotted Boardman in a white towel in front of the Best Western.
As soon as Boardman saw the cops he turned and walked to the pool area of the motel. Before long, a 40-year-old woman told the deputies that as Boardman came around the bushes near the pool, he had his towel open "all the way" and allegedly exposed himself to her. Another woman related a similar occurrence, though in her case it wasn't clear if she happened to see him expose himself to the first woman or if Boardman intended to expose himself to her as well.
More clearly, according to the report, when the three deputies approached the deputies and advised him to secure his towel properly around his waist–"as it was barely on him," the report notes–he instead exposed himself to all three. A Best Western clerk told the deputies that Boardman was not a guest there.
At the jail, Boardman told deputies that he had consumed what he described as "a shitload" of alcohol before being taken to the hospital. He remained at the jail Monday evening on $1,000 bond.