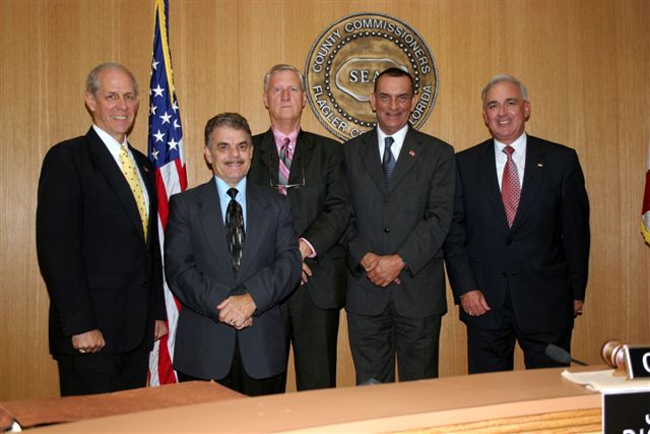 Blair Kanbar had been a purchasing director for the city of Newton, Mass., the Greater Boston Police Council and Metro (Boston) Fire for years before retiring and moving to Flagler County in 1996, living in the Sea Colony development since. Two years later, he ran for the County Commission–and won, defeating Mike DesParte in the Republican primary and Democrat Arnold Levine in the general. Kanbar won again four years later, with strong backing from developers and the real estate industry, as his eight-year tenure on the commission coincided with the county's fastest-growing years. He was defeated in a landslide by Milissa Holland, the first woman and the youngest person to serve on the commission, in 2006.
---
Memorial Service:
11 a.m. Friday, Jan. 28, at Trinity Presbyterian Church, 156 Florida Park Drive (at Palm Harbor Parkway)
---
---
Kanbar died Saturday morning (Jan. 22). "Blair, as many of you already know, had been courageously battling cancer for many, many months," Nancy Prizer, who chairs the executive committee of the Flagler County Republican Party, told members in an email. "He fought this losing battle with dignity and always his infectious smile."
Kanbar was 66.
Retirement was not high on his agenda. Just last spring Kanbar was among six applicants seeking to serve on the Daytona State College Board of Trustees. Two years ago he ran for Supervisor of Election but lost to Pam Richardson in the Republican Primary (Richardson lost to Kimberle Weeks in the general). Kanbar's local influence, however, was evident in eight years on the county commission, where he was a friend and advocate of the local chambers of commerce and the Committee of 100 (the predecessor to Enterprise Flagler, the public-private economic development agency). He had a reputation for being strongly–too strongly–pro-development at the expense of planning, but he was also a supporter of the county's environmentally sensitive lands program (he supported the property tax that pays for it) and the Scenic A1A initiatives.
George Hanns, a Democrat, served half his tenure on the commission with Kanbar. "One of the few accolades I received as a commissioner since 1992," Hanns said Sunday, "he proposed a motion to name an artificial reef after me, since I was the founder of the program. It was especially meaningful coming from a Republican commissioner." Fishermen and divers love reefs, which foster richer marine habitats near shore. Hanns said he started the program in the early 1990s. On Monday, the commission plans to name the 11th such reef after the late Capt. Grady Prather Jr., who died in November 2009 and served more than 30 years with the Flagler County Sheriff's Office–and scouted many of the county's artificial reefs.
"I really respect people who later in life decided to retire or semi-retire, come to a place like Flagler County, and want to contribute something to make it better," Hanns said. "To me it's very overwhelming and beneficial for our county."
Kanbar lost in 2006 in a significant shift at the commission, as he and Hutch King, another Republican, lost bids for third terms (King lost to Bob Abbott, who was just replaced by Nate McLaughlin).
Holland had first met Kanbar before deciding to run, when she established her Holland Foundation in 2004 and went around the community, interviewing leaders on their perspectives about what was working and not working for youth programs. Holland decided to run to mend relations between the county and the city, which had frayed considerably during the mid-90s over water and annexation issues. She defeated Kanbar with 65 percent of the vote.
"The political climate and timing had a lot to do with it," Holland said. "We'd undergone a tremendous amount of growth in the community, development was the main economic driver, and the feeling and the sense that I got from speaking to many residents in the county was that it was too much, too fast, and they weren't entirely pleased with the growth patterns, and felt their community was changing too much. At the end of the day, politics aside, this is a human moment, and I think maybe will bring a bit of reflection that we are all human, and this is a significant loss, particularly to his family. I've been there, I can certainly feel their loos."
Jim Darby, who also served eight years on the commission with Kanbar, often as an ally, "always found him to be gentleman like," Darby said Sunday. "I never knew him to be aggressive in any of his political opportunities. He was always fair-minded, it appeared to me. He weighed the issues, and I was very pleased to know him." Darby added: "He brought an air of sophistication that I thought was worthy of consideration. He brought leadership in terms of kind of staying above the battles that go on from time to time in political circles. He stayed out of those arenas. I thought it was a good value he brought to the board."