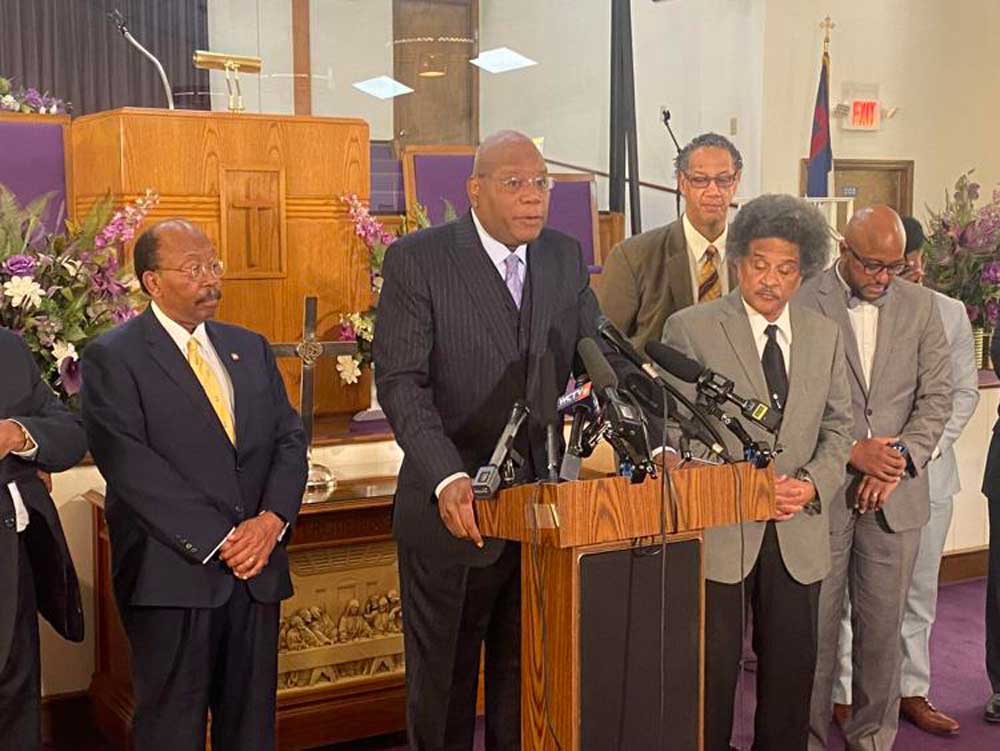 Saying that an African-American studies course "lacks educational value," Gov. Ron DeSantis' administration is defending its rejection of the curriculum, while Black religious leaders and elected officials are pledging to "fight like hell" against the decision.
Black lawmakers, religious leaders and local elected officials are organizing events to speak out after the state Department of Education's Office of Articulation on Jan. 12 sent a letter advising a senior director at The College Board that the Advanced Placement African American Studies course won't be offered in Florida public schools. The College Board develops Advanced Placement courses.
House Minority Leader Fentrice Driskell, D-Tampa, said Monday the DeSantis administration's decision is the "first of what I believe will be many attempts to whitewash history in order to suit emotionally fragile people."
But during a news conference in Jacksonville, DeSantis defended the rejection, which has drawn national media coverage in recent days and criticism from the Biden administration.
"We believe in teaching kids facts and how to think, but we don't believe they should have an agenda imposed on them. When you try to use Black history to shoehorn in queer theory, you are clearly trying to use that for political purposes," DeSantis said.
Advanced Placement, or AP, courses are college-level classes offered to high-school students.




The Department of Education last week published a list of "concerns found within" the course and focused on five topics: "intersectionality and activism," "Black queer studies," "movements for Black lives," "the reparations movement" and "Black study and Black struggle in the 21st Century."
"Intersectionality is foundational to CRT (critical race theory), and ranks people based on their race, wealth, gender and sexual orientation," one of the listed concerns said. DeSantis frequently decries critical race theory, which is based on the premise that racism is embedded in American society, characterizing the theory as a vehicle for the indoctrination of students.
The department said a concern about instruction related to the reparations movement is that all "points and resources in this study advocate for reparations."
"There is no critical perspective or balancing opinion in this lesson," the department said.
The department also took issue with several authors whose works would have been required reading in the course.
But the rejection has drawn widespread criticism from Democrats and Black leaders.
"It is incomprehensible to see … this ban, or this block, to be more specific, that DeSantis has put forward. If you think about the study of Black Americans, that is what he wants to block," Karine Jean-Pierre, White House Press Secretary, said during a press briefing Friday.
Meanwhile, the NAACP said in a statement Monday that it is "outraged" about the education department's "'whitesplaining' of Black history and culture."
Also, state Sen. Shevrin Jones, D-West Park, announced a news conference will be held Wednesday at the Capitol with Black leaders, including prominent civil-rights attorney Ben Crump.
A coalition of Black religious and community leaders in Tallahassee gathered Monday at the city's Bethel Missionary Baptist Church to announce a Feb. 16 rally that will include national civil rights and faith leaders.




"Black history matters. Black history is not inferior. And Black history does not lack educational value," the Rev. R.B. Holmes, pastor of Bethel Missionary Baptist, said.
"We're organizing a campaign to have a real conversation, a positive conversation, on the quality of teaching and learning about all people's history — and not at the expense of erasing and eliminating Black studies," Holmes added.
Tallahassee City Commissioner Curtis Richardson, who joined Holmes at a news conference, said Black leaders would prefer to open a dialogue with the governor.
"We welcome a conversation and dialogue with the governor, if he is amenable to that. If not, we will fight like hell to make sure that African American history continues to be a part of American history," Richardson, a former state House member, said.
But DeSantis press secretary Bryan Griffin said in a statement that, "As submitted, the course is a vehicle for a political agenda and leaves large, ambiguous gaps that can be filled with additional ideological material, which we will not allow."
Griffin also pointed to parts of Florida law that require teaching Black history in public schools.
"Instructional materials shall include the vital contributions of African Americans to build and strengthen American society and celebrate the inspirational stories of African Americans who prospered, even in the most difficult circumstances," one part of the law says.
–Ryan Dailey, News Service of Florida
Reader Interactions