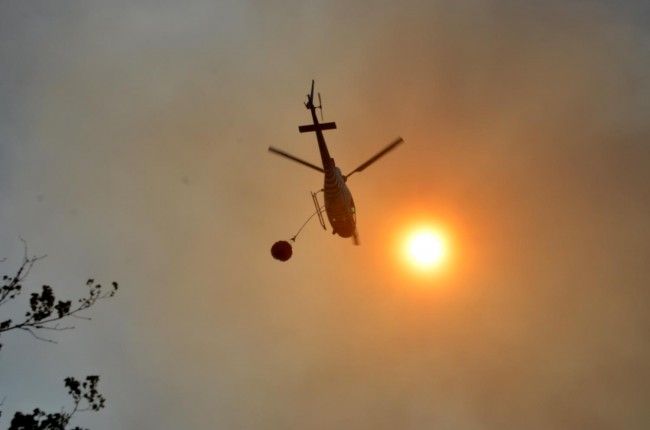 Last Updated: 2:34 p.m.
Update, 2:34 p.m.: Mike Kuypers, the the district manager for the Florida Division of Forestry who just this morning was warning of a very active fire season ahead, credited Flagler County's Fire Flight and fast-acting ground crews for bringing what could have been a dangerous, fast-moving wildfire under control. Kuypers said just after 2 p.m. that the fire, which had started before noon, was now under control.
"Hopefully this is contained now, dozers are widening the lines, Fire Flight did a great job keeping it cool" so ground crews could dig the lines without fearing further spotting, or fire leaps to new spots," Kuypers said, standing at a corner of Black Point Road as a much thinner column of white smoke rose behind him, several hundred feet into the woods.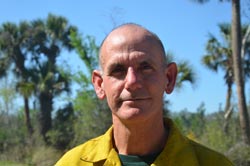 The air was still thick with the smell of smoke, but it had fallen quiet as Fire Flight's mission here ended about 45 minutes ago. "Once we had it secured and the fire burned to the dozer lines, he left," Kuypers said of the Fire Flight pilot, "he actually discovered another fire in Volusia," just after 2 p.m., south of State Road 40 in the Tiger Bay State Forest.
Kuypers cast doubt on earlier reports of the fire being around 50 acres. He was estimating it at closer to half that size. "It could have been worse," he said. Dozers at the moment are "widening out the lines so brush trucks could run around it and start what we call mopping up." Kuypers said days like this, with low humidity and no precipitation, heighten the chances of fires, though the cause for this one has not yet been determined. Kuypers said it's likely a lightning strike from the storm 48 hours ago might have smouldered underground until today.
The fire burned to the edge of a pasture, but did not damage property or farm land. It's all timberland and dry swamp. "You can see these ditches, there's not a spec of water in any of them," Kuypers said, underscoring precisely the message he had for the Flagler County Commission this morning, when he laid explained why this could be a more active fire season than last year's, and could be as bad as 1998. (See that full story here.)
Kuypers was estimating this fire to be the largest yest this season in Flagler County. It was the second time in less than 24 hours that local fire crews quickly and ably limited damages from a fire. Sunday evening, Palm Coast Fire Department crews limited a fire that had broken out in a bedroom at a house on Federal Lane to that bedroom.
1:45 p.m. Update: The size of the fire is around 50 acres at this point, according to Carl Laundrie, the county spokesman. The fire is not yet under control. There are four houses in the vicinity, though none of the houses is immediately threatened. A fire truck has been posted near the house closest to the fire, in case defending the structure becomes necessary.
The wind is not helping: it's blowing at around 11 to 15 miles per hour, initially blowing north, now south. Fire Flight is still making runs above the fire.
Previously:
Barely an hour after Mike Kuypers, the district manager for the Florida Division of Forestry, warned before the Flagler County Commission that this spring's fire season could be worse that last year's, and as bad as 1998, a wildfire broke out off Black Point Road in western Bunnell.
Flagler County Fire Rescue, units of the Bunnell Fire Department and tractors from the Division of Forestry are converging on the area, as were two helicopters, including Flagler County Fire Flight, armed with its water bucket. The size of the fire has not been determined, but at 12:44 p.m. it was fiercely spewing dark smoke over the area. Fire Flight is making repeated runs over the fire, picking up water from a nearby source and returning at five-minute intervals.
The fire is located between the East and West sections of Black Point Road, a six-mile dirt road. There are perhaps 10 households along the road. The road itself is now closed for all traffic except emergency personnel and residents. The location is about half a mile from Deen Road.
At 1:25 p.m., Fire Flight was still making runs over the fire, albeit at a slower pace, and tractors had dug lines around some of the fire, though more tractors were being deployed still, including at least one from the Flagler County Division of Public Works. Like last year, county resources from all departments are assisting state and county fire units.