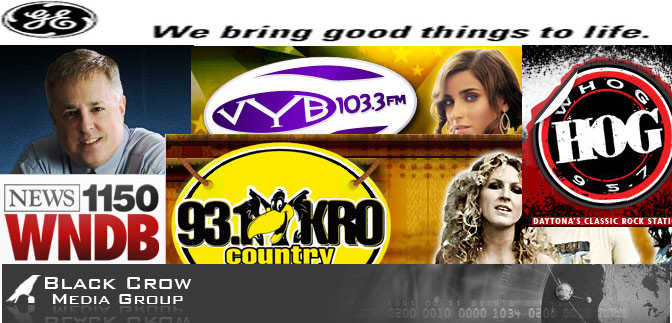 In October 2003, GE Capital bailed out Daytona Beach-based Black Crow Media with a $48 million loan. Black Crow had ended 2002 with a pretax loss approaching $10 million. In January 2009, Black Crow quit repaying the loan according to its agreement with GE. Earlier this month, GE sued Black Crow for $38.9 million, not including interest and fees, in federal district court in the Southern District of New York.
The complaint claims Black Crow Media is bankrupt. Black Crow businesses, the complaint states, "do not have sufficient funds to continue to operate their businesses and as a result there is imminent danger that the collateral will diminish in value and, as a result, GE Capital will be irreparably harmed."
Black Crow dominates the local-radio market in Daytona Beach with four radio stations, including WHOG-97.5 FM (the "hog," rock), WVYB 103.3 FM (pop), WKRO 93.1 FM (country) and WNDB 1150 AM, which provides standard right-wing talk from 10 a.m. to midnight (Boortz, Limbaugh, the local and enthusiastically sadistic ("Tell us who you want to be Tased!") Marc Bernier, Hannity, Savage and Bohannon). Black Crow also owns 17 radio stations elsewhere in Florida, Alabama, Georgia and Tennessee.

GE Capital isn't looking to dissolve Black Crow, at least not yet, but to appoint a receiver, Larry Patrick of Maryland-based Patrick Communications, to ensure as much return on GE's loan as possible before possibly moving toward dissolution.
"GE Capital does not have control or ownership over the defendants' assets," the complaint charges in reference to Black Crow, "and cannot assure their continued operation where the defendants' [sic.] are not cooperative. As such, without the appointment of a receiver, the legal remedies available to GE Capital are inadequate to allow GE Capital as a secured creditor to realize on the value of the businesses as a going concern as opposed to liquidation value."
In English: Let us run the business with our own man so we can get as much cash back out of this thing before getting rid of it.
Black Crow has battled ethical issues as well as financial issues. In Georgia last June, the Valdosta-Lowndes County Parks and Recreation Authority was compelled to take out a newspaper ad in the Valdosta Daily Times to clarify that the authority, not Black Crow Media, was sponsoring a July 4 fireworks display. Larry Tobey, vice chairman of the authority, said the media company was taking advantage of an event sponsored by the authority and taxpayers.
Black Crow and another Georgia government agency (the Central Valdosta Development Authority) battled a year earlier over the intellectual ownership of the Jingle Bell Festival. The two sides settled their dispute in November 2008, with each side hosting its own Jingle Bell Festival event. "After the conclusion of this year's event, the CVDA will relinquish the service mark to the name 'Jingle Bell Festival' with the State of Georgia. At that time, Black Crow Media may pursue its rights to the service mark with the state. In the future, the CVDA will continue to host an annual Christmas celebration but under a different name."
A list of Black Crow Media's patents, trademarks and copyrights filed as part of the GE Capital complaint (including registrations for such marks as "Big Toys for Big Boys," "Rocket 95.FM" and "Family Fest") does not include the Jingle Bell Festival.
Patrick, GE's proposed receiver, has served as a federal or state court-appointed receiver or bankruptcy trustee in six cases involving 19 stations. He owns 14 radio stations in Wyoming, is an investor in 26 others in Missouri and Iowa, and operated 12 stations of his own from 1982 to 1992. "Patrick has handled over 500 radio and 150 television broadcasting deals worth over $6.5 billion," according to court papers. The IRS regularly uses Patrick's firm on broadcast station valuations. Along the way he's been a communications professor at the University of Maryland and the University of Tulsa (he holds a doctorate in communications from Ohio University and a law degree from Georgetown.) As court-appointed receiver, Patrick stands to earn considerable sums no matter the shape of the business he's overseeing. James Hopson, court-appointed receiver for the Daytona Beach News-Journal, was paid $2,000 a day.