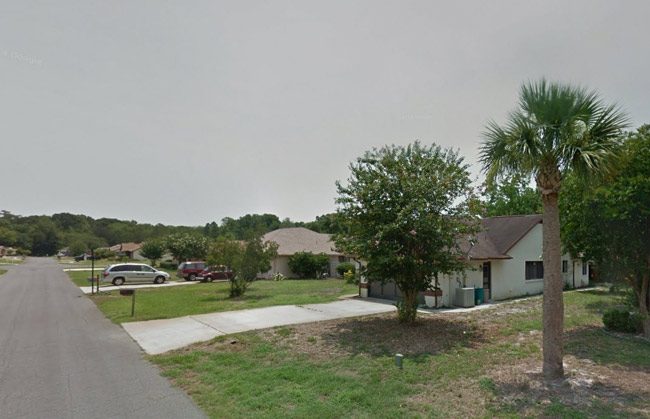 Three people, two of them firefighters, were transported to Florida Hospital Flagler Wednesday afternoon following exposure to household chemicals that had been mixed in an apparent suicide attempt at 108 Black Bear Lane in Palm Coast's Woodlands.
The victim at the house was identified as Anthony B. Schneider, 45.
The Palm Coast Fire Department was responding shortly after 1 p.m. to what initially was a medical call at the Black Bear Lane house, which is currently occupied by renters.
"A gentleman there attempted suicide, was inebriated, he mixed bleach, ammonia, a few other things and was inhaling them, causing chemical burns," Chief Mark Strobridge of the Sheriff's Office said. When the firefighters went in the house, they were "overcome by some of the fumes being mixed together."
Initially, there were fears that the house was a meth lab, and what followed was an emergency response to that effect, involving the sheriff's office, Flagler County Fire Rescue (from whom a second rescue unit had been requested), and the closing of some streets by the Palm Coast Fire Police.
While the fear proved unfounded, two firefighters and the apparent attempted suicide victim were all taken to Florida Hospital Flagler. The man had chemical burns in his mouth, Strobridge said.
An incident report the Sheriff's Office released Thursday indicates Schneider was one of several roommates and occupants of the house, including a young child (which necessitated contact with the Department of Children and Families). The child was in the house at the time of the incident.
Flagler County Fire Chief Don Petito has recently been giving local first responders classes on just that topic–the potential danger of chemicals, usually ordinary household chemicals, when responding to calls. He said the mixing of household chemicals was a trend that came over from Japan a few years ago, ebbed, and is now being seen again as a suicide method, particularly in Orlando and South Florida.
"It's more of an awareness to watch out for it, because it's coming," Petito said. "They mix the household chemicals together and it creates hydrogen sulfide, it's a deadly gas, it stops you from breathing instantly. It takes over your metabolism and shuts your body down."
Usually those who attempt suicide by that method do so in an enclosed space, a closed room or inside a car, Petito said.
In the Black Bear Lane case, a call came into 911 that a man was lying on the bathroom floor with blood coming out of his mouth, and that he had been drinking heavily. He was breathing "slowly," and there were cleaning fluids everywhere. The man was not responsive.
A sheriff's special investigations unit was called in and took over the scene. Based on the limited amount of immediate information, the scene they encountered and the sounds they were hearing, including hissing, they decided to evacuate the house–there were other occupants–until the scene could be secured.
At 3:24 p.m., the scene was declared safe, though sheriff's detectives were still there as of 4:45 p.m.
"We transported the person from the house and the two firefighters that went in," Petito said. "They said they were complaining of stinging eyes and throat, they felt they were exposed so they went to get checked out."
Mike Beadle, the Palm Coast fire chief, said it was a precautionary measure, as occasionally happens the moment a firefighter doesn't feel right. "Luckily they're both back to work and they're doing fine," he said just after 5 p.m., referring to the lieutenant and the firefighter involved. He did not disclose their identities. "Unfortunately we live in a different world than when I did when I came up through the ranks," Beadle said, noting that firefighters are occasionally running into such situations these days.
Officials at the Sheriff's Office or the two fire departments did not have an updated condition of the resident of the house on Black Bear Lane. On Thursday, an incident report indicated that Schneider was "transported to another hospital because his injuries were greater than initially thought."
Petito referred to the method as "detergent suicide" or "chemical suicide," which Wired, the magazine, reported had become "a grisly fad" in Japan in 2008, when 500 Japanese men, women and children reportedly killed themselves through the method in the first half of that year. They had followed instructions posted on the web. "Now," the magazine wrote in 2009, "it's slowly seeping into the United States over the internet, according to emergency workers, who are alarmed at the potential for innocent causalities."
The fear may have been overblown. There's been scattered reports of chemical suicides in the country this year, but nothing pointing to a trend or a crisis. In Flagler County, the frequency of suicide–whatever the method–has been alerting public health officials for the past two years.