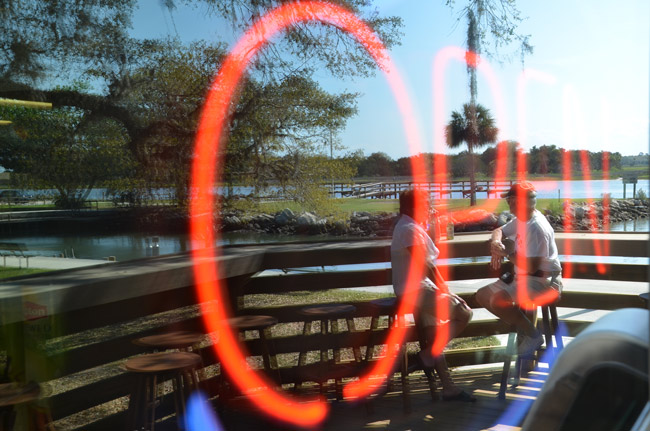 Flagler County hasn't had much luck with its concession vendors at Bings Landing. In May 2009 the county signed a five-year lease with Amy Habelka Brown of Palm Coast to run the shop in exchange for a mere $500 a month's rent. Brown was the only bidder when the county asked for proposals. The arrangement didn't last.
On Monday, under a cloudless sky but air rich with barbecue smokiness and before a cluster of local politicians and camera clicks, the county cut the ribbon on a new lease, this time with Mike Goodman, Chris Herrera and their Captain's BBQ. The county hopes that Goodman's experience running a 20,000 square-foot wholesale bakery called Junior's in Maspeth, N.Y., will make for a more solid, lasting relationship.
"It's something the park has needed for a long time," Barbara Revels, who chairs the county commission and emceed the ribbon-cutting, said afterward, between bites of barbecue.
That barbecue may be the key to the shop's success. "It was to work in not only bait and tackle but to give it another dimension," Goodman said, showing the new barbecue pit behind him, "because without that dimension, you couldn't really make it."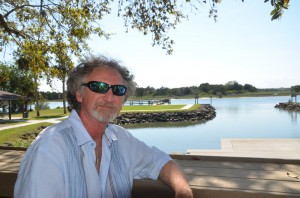 Bings Landing is a 7-acre park in the Hammock, on the Intracoastal side of State Road A1A. It happens to be the county's very first land buy under its taxpayer-supported environmentally sensitive land program. It proved to be the seeding buy of several additional purchases north and south of Bings Landing. The park has a boat launch, picnic areas, a fishing pier and an archeological dig known as the Mala Compra Plantation (once the home of Joseph Hernandez, Florida's first congressman).
On April 5 last year, after another round of requests for proposals, the county opened just two bids for the shop: one from Captain's BBQ and one from Captain Mike's Bait and Tackle. The administration settled on Captain's BBQ. "Staffing, financial stability, business knowledge, customer service, and additional public services are all problems that the county staff had experienced with the previous vendor," the administration wrote in its memo to county commissioners. Captain Mike's "did not appear to be customer friendly nor genuinely interested in running the facility," the administration concluded.
The other vendor's financial backing, and his willingness to invest at least $60,000 in the facility, were also tipping points. The county provided the labor for the rebuilding of the facility. Goodman says he put in somewhere around $120,000 in improvements, a figure Revels termed "unconfirmed." On Aug. 1, the commission voted 4-1 to approve the lease with Captain's BBQ. Rent will remain $500 a month the first year, increasing each year by $30 a month. It's a five-year lease with options for two 5-year renewals.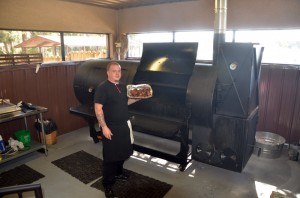 The 2,000-square-foot business must stay open seven days a week from 6:30 a.m. to 7 p.m. from April through November, and from 7 a.m. to 4 p.m. from December through March. It can close on Thanksgiving, Christmas Eve and Christmas day, and for a week's vacation any time during the year. Captain's sells packaged food, drinks (including beer), ice, cigarettes, it'll provide kayak, canoe and bike rentals, and it'll offer various fishing lessons.
Word of the demise of an old oak tree on the site, which caused a little concern during a town meeting last year, was slightly premature: a palm tree was cut down, but the oak was preserved, with additions to the building built around it.
County Administrator Craig Coffey defended the low rent as part of the effort to build a tourist attraction incrementally. "You don't do it necessarily to get rich in the public sector as much as you're doing it as an amenity and a public attraction," Coffey said.
The lease includes an interesting paragraph that appears to have County Attorney Al Hadeed's fingerprints all over it: Hadded is the county's environmental conscience, and a leading force behind the development of the Greenway along the Intracoastal. Captain's BBQ, the lease reads, "acknowledges that Bings Landing Park is a unique environmental, recreational and historical park facility that: is located on the A1A Scenic Byway; is part of the Flagler County Coastal Greenway; is within the National Estuarine Research Reserve of the United States; includes historical resources that are listed on the National Register of Historic Places; and has received national and state awards for its historical, environmental, and scenic qualities. [Captain's BBQ] acknowledges that [Flagler County] has achieved these characteristics and attributes with substantial investments of its funds and staff, numerous grants from the State of Florida and the federal government, and broad based volunteerism from its citizens and civic groups. [Captain's BBQ] further acknowledges that it will operate its facilities and services to the public in recognition of and in respect for these attributes and the park's importance to the citizens of Flagler County and the State of Florida, and accordingly will not compromise or harm the quality or reputation of this unique park or its resources."