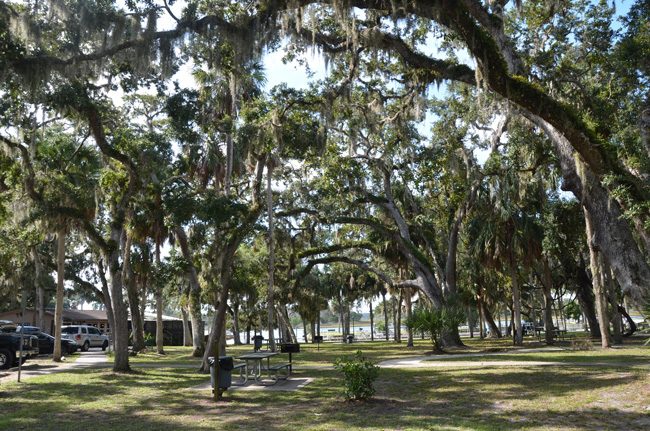 Bing's Landing in the Hammock, before the current controversy over Captain's BBQ's proposed expansion in the public park, could have been sold off to developers in the late 1980s. It wasn't, thanks to one woman's vision. Her daughter tells the story.

By Charlotte Tomey
Bing's Fish Camp had two motel buildings, a mobile home, bath house, pavilion, laundry house, motel office, bait house, snack bar and two boat docks. Some of the shrimp boats would come in, take on clean water, dump their tanks, moor overnight. The shrimpers would sell their bait to Bing's bait house for reduced cost and Bing's would in turn moor them overnight for a fair price.
Most of what existed from the fish camp is now gone. There are still enough memories that my two sons, now 45 and 43, bring their families here whenever they come to visit me. They tell of days when they would come to Grandma's for a two-week summer visit. They tell how they would help in the bait house, get in some fishing and tour some of the bigger boats and shrimp boats that would stop in to take on fresh supplies. The boys would tell me when they came home that they just couldn't figure out how some of those shrimp boats even floated.
I now see much of my family history and the history of many others in this area being sold off to private enterprise. The history is worth recalling as we now witness the fate of Bing's Landing hanging in the balance, between a rich history of preservation and a more recent history of commercializing the park.
I didn't live in the Hammock at the time all of this was happening, but I heard every word. Geraldine Bing passed away sometime in 1979. That is when my step-father, Charles Yant, and a business partner, John Hesseldenz, bought Bing's Towncienda Motel and Fish Camp, later to be known as Bing's Fish Camp and Resort. Hesseldenz was a silent partner, so he never actually worked at the campground. My mom, Dolores Yant, and Charlie, worked and lived here full time. When they first moved here, the address was Rt. 1, Box 134, St. Augustine. A few years later their address became Marineland, then Hammock, and eventually Palm Coast: They lived in four towns but never moved once.
At first, they lived in the motel office, overseeing everyday operations and being available to rent rooms to weary travelers. They later moved into a mobile home, still on Bing's property, and had the old motel demolished.
My folks continued as caretakers of the land for a little more than 10 years until they decided to retire. So as the business partners Charlie and John discussed selling to developers, my mother had a different idea. Selling to developers would divide the land into lots to be built on. The view of the Intracoastal Waterway could possibly be blocked. The boat ramp could be eliminated. Local residents would surely lose a gem that truly helped define the hammock community.
As Charlie and John saw developers' dollar signs circling the property, Mom's vision was green of a different kind. So Mom approached Flagler County government concerning the purchase of Bing's. Negotiations followed. The rest is history. Flagler county was able to make the $1 million purchase using Environmentally Sensitive Lands dollars approved by voters through a special property tax levy. Sure Mom, Charlie and John could have made a lot more money selling off parcels to builders. But Mom just wouldn't hear of it.
So, when Mom got her wish, she was thrilled. When she and I would talk she would tell me: "Better plan a trip soon, you're just not going to believe how beautiful Bing's is".
Of course, I would plan a trip to Florida and help Mom watch the progress. Mom was so happy that she didn't give in to greed. My mother left this world feeling that she made a difference in the Hammock.
Now a bait house & snack bar of days gone by have given way to Captain's BBQ. The building has been renovated and built up, but not to the point of blocking the public's view of the river and beautiful surrounding scenery of this historic land. I'm certain the archeological dig that started in the center of this area has just scratched the surface of what is yet to be found.
We must realize that moving Captain's and enlarging the restaurant's capacity also means a much larger drain field and a bigger parking area. All this obliterates a huge chunk of the middle–the heart–of this beautiful park.
To those involved in this deal: Please think this idea through. There are other sites available that would enable the restaurant's plans without sacrificing any part of this land that we all thought was "our park." It's time the owners of Captain's find a new location. They may not get the sweetheart deal of a lease that they have been enjoying from the county. But, especially when preservation of public land is in the balance, that's the cost of doing business.

Charlotte Tomey is a Hammock resident.