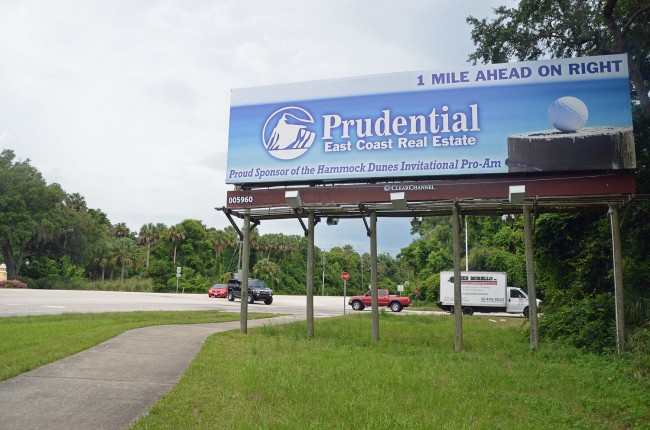 They loom large and ugly. They splinter views and assault the eye, screaming messages as discordant with their surroundings as they are intentionally distracting. If they're not vulgar for what they blare, their existence is vulgarity enough. But billboards in most states are a fact of road-life, as they have been in Flagler County.
This morning, a few were read their last rites.
It's been a long-awaited demise: 10 of the 26 billboards on State Road A1A in Flagler County will be gone in about three years.
In what amounts to a novel way of using public dollars for environmental enhancements, the Flagler County Commission Monday voted unanimously to spend $140,000 to acquire 11 billboards in all, including one on I-95, and remove all but one or two of them by the latter part of 2016.
"Removing 10 out of 26 billboards on A1A is a rare opportunity, probably once in a lifetime," Dennis Clark, a member of the Scenic A1A Pride and Friends of A1A groups , said, "to make a real difference to our local national treasure that gives us a glimpse of old Florida, and is an inspiration to us all, and will be for generations to come."
Both groups as well as the Hammock Conservation Commission—whose president, Abby Romaine, endorsed the billboard-acquisition plan—have been striving for almost two decades to get rid of as many billboards as possible, with little success despite what appeared to be an anti-billboard victory a few years ago.
In September 2009, the county passed an ordinance that would restrict billboards or electronic signs to I-9, at least in unincorporated territory, phasing out the rest. But the phase-out period could be decades-long. The ordinance prohibits re-permitting abandoned signs or repairing signs at a cost of more than 50 percent of their value (in a two-year period), but its enforcement has always been foggy. Cities along A1A (including Flagler Beach, Palm Coast, Beverly Beach and Marineland) could each opt to stick with billboards. In 2009, there were 59 billboards in unincoroporated Flagler County, and 127 in all.
Most billboards haven't budged.
Jim Cullis, the local developer, is buying 14 of the billboards on A1A and I-95, and will be selling 11 of them to the county. (Cullis is the Grand Haven developer who last year appeared before the Palm Coast City Council to win approval for an assisted-living and medical complex near the Woodlands. He was successful.) The county will pay $80,000 for 10 billboards on A1A (four large billboards for $12,500 each, four smaller ones for $7,500 each; two billboards will be acquired at no cost).
Keep in mind, not every billboard is a separate structure. For example, the billboard at the intersection of A1A and the road that leads to the Hammock Dunes Bridge, one of the more massive and ugly ones–it stabs out from the wood-line across six pylons, literally sundering the view into the Hammock–counts for two billboards under the county's acquisition, each costing $12,500, because of its two sides.
The money will come out of the general fund, but only initially. The money will be reimbursed by close-out dollars from the completion of the Hammock Dunes Development of Regional Impact. In other words, the Admiral Corporation's responsibility under the DRI agreement mean its money will pay for the A1A billboard acquisition.
Last September, the Scenic A1A Pride group met and voted to recommend that closeout funds be used for that purpose, as billboard removal was ranked first on the group's priorities.
As part of the agreement with Cullis, and to keep the county's costs down, Cullis will still use the 10 billboards on A1A to generate advertising revenue for the next three years. Only then will the billboards be turned over to the county. The county may choose to keep one or two for its own advertising.
The county's acquisition of the I-95 billboard is part of the same agreement, but under different terms. The county could have acquired it for $20,000 and waited three years, or paid $60,000 now and acquire it immediately, and use it to advertise tourism or economic development matters directly related to Flagler County. Commissioners chose that latter option. The $60,000 will be paid out of either Tourist Development Council dollars (which are generated through the county's 4 percent bed tax supplement, levied on hotel, motel and other short-term rental bookings) or out of its economic development funds, which come out of the general fund.
"We started off by figuring out how to trade a greater evil for a lesser evil, which would be more billboards on I-95, and that really was problematic," Cullis said. "So we came up with this agreement, which gives us a much lower price than we anticipated but it also gives us three years to finish leasing out the boards before we turn them over, so I think it's a very good deal for everybody. I live on A1A so I'm happy to see the boards go."
Commissioners had no objections. "I think that A1A has a number of organizations that come together, work together to make that entire coastline more scenic, more enjoyable," Commissioner Frank Meeker said. "I find there's a place for billboards. I don't like the density that I see on I-95 or I-75 up into Georgia, so anything that can be done to reduce the density I think is a good thing, and I think that this is a fair agreement."  He called billboards "visual blight."
Carol McCleary, a resident of the Hammock immersed in its stewardship, told commissioners: "My highs School English teacher illustrated the terms 'dangling participle' with a sentence: 'While walking down the street one day, a billboard met my eye.' Far too many of them meet my eye when I drive up and down A1A. I've lived in the Hammock since 1995 and I don't regard them as attractive assets to our scenic highway, and my opinion has obviously been shared by the Hammock neighbors."
She added: "The county recently passed a new ordinance that prevents new signs, and we tried to figure out how to get some of the old ones to be phased out and put in some carrots for the companies to try to phase them out and move to 95. But it's time. Let's get rid of these billboards."