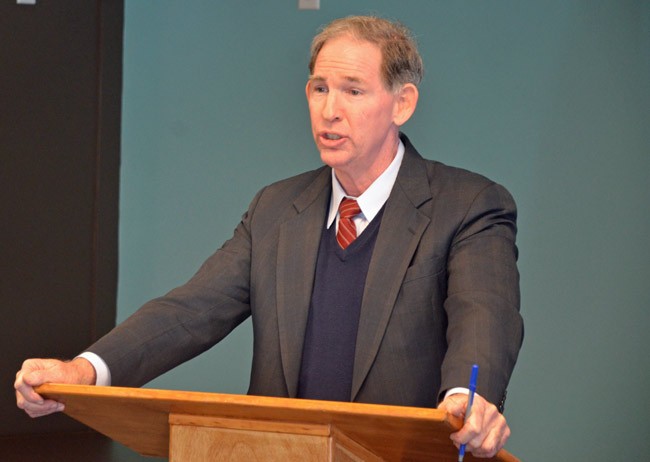 On two occasions during a Palm Coast City Council discussion about street lights last week, City Manager Jim Landon made fun of City Attorney Bill Reischmann's driving. "You have an attorney that can't stay on the road, wipes out one of the lights," Landon said by way of illustrating the approach to replacing light fixtures, again repeating the dig minutes later.
But the incident he was referring to was no joking matter to Reischmann. "I made a mess of one of your intersections," he later told the council, recalling the two-car wreck he was involved in a week earlier, the evening of Feb. 3, as he was driving to a council meeting at the Palm Coast Community Center.
According to a Florida Highway Patrol report of the crash, Reischmann, 56, a resident of Winter Springs, was driving his 2009 Hyundai west on Palm Coast Parkway, in the right (or outside) outside lane. John Butler, 66, a Palm Coast resident, was driving a 2003 Lexus in the inside lane, almost parallel to Reischmann.
As he approached the intersection with Culbhouse Drive, Reischmann made an illegal left turn to take Clubhouse, as he was in the outside lane. He "failed to observe" Butler's car, the report states. The Hyundai's left rear struck the Lexus's right front, sending the Hyundai spinning 180 degrees as it ended up in the grass, facing east, on the south side of Palm Coast Parkway. Butler was able to keep his Lexus on the road and brought it to a controlled stop a short distance further west.
Reischmann, who was taken to Florida Hospital Flagler, was cited for making an illegal left turn. Butler was not injured, though his car sustained some $3,000 in damages, as did the Hyundai.
On two occasions—at last Tuesday's workshop and again this morning—Reischmann thanked Palm Coast Fire Chief Mike Beadle and his crew. "I tell you what, when you do need those folks, it's wonderful to be in good hands, and I was," Reischmann said. "I want to publicly thank Chief Beadle and his crew, because as I was regaining my sense they were already knocking on my window and prying me out of there." Flagler County Fire Rescue also responded to the scene, and transported Reischmann to the hospital.
"You're not going to thank me for recognizing you earlier for this little incident?" Landon riffed for the third time. Reischmann was more courteous, moving on to an update on red-light cameras.