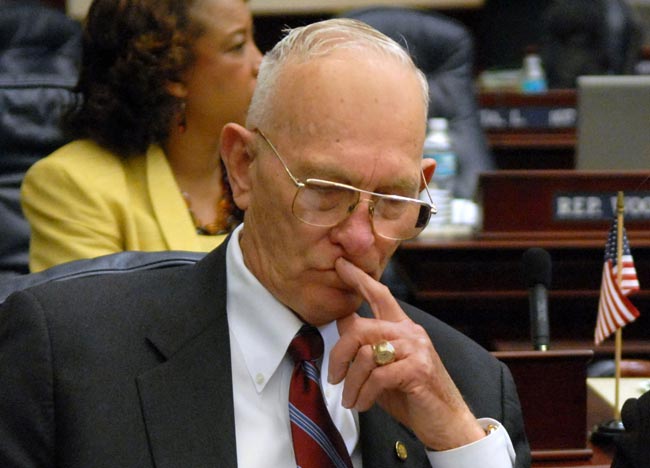 Bill Proctor, the head of the House education committee, is pushing for more discussion about raising university tuition above the capped amount of 15 percent a year.
Proctor, R-St. Augustine, wrote a letter in late June to the Higher Education Coordinating Council asking for its opinion on allowing up to three state universities to make "a major increase in tuition in order that these institutions might attain the national tuition average at an earlier date."
Proctor's letter was acknowledged during a council meeting Thursday. State University System Chancellor Frank Brogan said in response that the governing board for the system was examining the issue.
"That is something the Board of Governors has discussed, and continues to discuss as a possibility for moving forward with the legislative process," Brogan said. Some universities – such as the University of Florida – have been particularly outspoken about the need to dramatically increase tuition by as much as 30 percent in one year.
Proctor chairs the House Education Committee and is Chancellor of Flagler College, a private institution that charges $14,500 a year in tuition alone. His net worth, according to his financial disclosure form, is $2.56 million.
Proctor said in an interview with the News Service of Florida that shrinking state revenues have made universities rely more heavily on tuition dollars. But with a 15 percent cap in place, universities face a long slog to get to the national average.
Without bigger tuition increases, Florida risks losing ground in higher education, with faculty abandoning state universities for higher-paid positions elsewhere in the country, Proctor said.
"What is our choice? Do we raise tuition or do we stay at a lower number and say, well, we may lose some very good people," Proctor said. "Once you get up to a certain plane, if you drop back…it takes a long time to rebuild."
But along with tuition increases comes concern that the middle class is being left behind, as more of the financial aid focus stays on need-based aid and Bright Futures merit-based scholarships are being cut.
Four years ago, the Florida Legislature approved a policy of allowing universities to increase tuition only up to 15 percent for in-state undergraduate students each year. The idea was to give universities time to catch up to the national average. But Proctor says even then he believes 15 percent wasn't a high enough yearly increase.
A recent report by the State University System showed that if universities raised tuition by 15 percent every year, and the national average went up by about 7 percent each year, it would take about 10 years to catch up.
Even though all Florida universities have increased tuition by a total of 15 percent in recent years, what students end up paying at each university varies. That's because universities charge different fees, which can add hundreds of dollars to a student's tuition bill for things like campus maintenance and technology upgrades.
A News Service of Florida review shows that a full-time undergraduate, in-state university student would pay the least to attend Florida A&M University at $5,177 next year. But that same full-time student attending New College, a Sarasota-based liberal arts college, pays $6,060, a difference of nearly $900 a year.
A spokeswoman for New College said its tuition is higher than other state universities because full-time students are taking more credit hours, 16 hours as opposed to the usual 15, plus four credit hours over a winter mini-term.
With fees factored in, most universities raised the total amount students will pay next academic year by less than 15 percent. Florida Gulf Coast University Director of Admissions Marc Laviolette said most students will pay $5,532 in tuition and fees next year, an 11 percent increase over the year before.
The average tuition and fee bill for a full-time student across all Florida universities next academic year comes to $5,623, an increase of $606 from the year before. Though next year's national average for tuition and fees is not released yet, data from 2010-11 shows that even with tuition hikes, Florida still lags behind by about $2,000 a year.
"Some states have been hit hard and others not hit as hard as we have, which put them in a more competitive position," Proctor said.
–Lilly Rockwell, News Service of Florida, and FlaglerLive