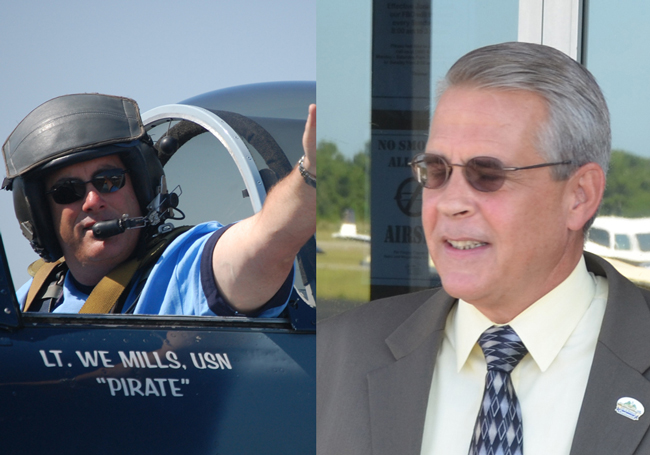 Update: Both individuals were found guilty but at reduced charges: Cuthbertson was found guilty of reckless driving with property damage, assessed fines and assigned community hours. Mills was found guilty of careless driving and assessed a fine. Adjudication was withheld.


Two separate incidents over the weekend led to the drunk-driving arrests of two well-known local leaders, one of whom helped lead the revived "Wings Over Flagler: Rockin' the Runays" fly-in at the Flagler County Airport on Friday and Saturday.
Bill Mills, a Flagler Beach resident, head of TBD Partners and a lead organizer, with WNZF radio, of Wings Over Flagler since the event's inception four years ago, was arrested just before midnight on Friday (April 25) on the Flagler Beach Bridge and charged with DUI after initially failing to slow down or move over for vehicles stopped on the bridge, according to his arrest report. The event at the airport had begun earlier that day.
Early Sunday morning—just before 4 a.m.—Mick Cuthbertson, the long-time community development director in Bunnell and a solid constant in an administration often in flux, was arrested on U.S. 1 near Ormond Beach and charged with DUI with property damage after being involved in a two-vehicle crash allegedly triggered by his driving in the wrong direction of U.S. 1.
"This is certainly not representative of the type of person that I am," Cuthbertson, 58, said this morning. "I am going through a very stressful situation and I reacted inappropriately." That situation, he said, "got the best of me." He added: "I'm going to learn from this and move on."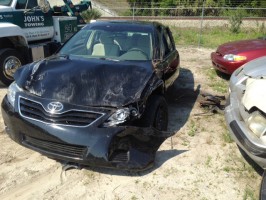 Cuthbertson was driving a Toyota Camry. A woman had been driving a Nissan Sentra. Both declined medical transport from rescue units at the scene. A witness told a Florida Highway Patrol investigator that Cuthbertson had been driving south in the northbound lanes of U.S. 1 just before the crash. When the trooper initially approached him, Cuthbertson was asleep in the Toyota. Asking him to walk with him to the scene to explain what had happened, the trooper then noticed Cuthbertson being very unsteady on his feet, that his speech was slurred, that his "accounts of the crash didn't make sense, and he didn't have any idea as to what had happened."
The woman driving the Sentra told the trooper that she had been at a stoplight at U.S. 1 and Plantation Bay when she noticed headlights coming at her. The Toyota then struck the Sentra.
At 5:39 a.m., the trooper began the series of field-sobriety tests that are routine during such DUI investigations. Cuthbertson was unable to follow instructions, was unable to stand in the starting position, and became so unsteady that he was in danger of falling, so two exercises were aborted for his safety. He was unable to complete a finger-count exercise. At 7:38 a.m. at the Flagler County jail, Cuthbertson provided two breath samples, which registered alcohol readings of .007 and .000 respectively. The trooper concluded the samples were inaccurate.
When the trooper told Cuthbertson that he was going to provide a urine sample kit, Cuthbertson, the report states, relieved himself before the kit was ready. The trooper had Cuthbertson go through several glasses of water to stimulate another sample. That proved unsuccessful. "I then informed the driver that I had no choice but to charge him with the refusal based on the fact that he knew I was going to get the urine kit, and that he had fully relieved himself anyway," the trooper reported.
Cuthbertson posted $1,000 bond and was back at work Monday morning.
Mills, 51, was back at the air show Saturday. "My attorney is going to be handling this," Mills said, stressing that the incident was not worth taking the focus away from what turned out to be a successful event at the county airport, with more to come in subsequent years. "We don't want this to be a black eye," Mills said.
Of the incident itself, Mills said: "It's an unfortunate thing. It shouldn't have happened, and we're going to have our day in court."
Mills was driving a Chrysler Town and Country when he passed by a trio of stopped emergency vehicles with their lights activated on the bridge. "The Chrysler was unable to move over to the left lane of travel due to another vehicle in the left lane," the arrest report states, "however, the Chrysler passed by the patrol vehicles at approximately 30 MPH in a posted 35 MPH zone instead of slowing down to 15 MPH." Mills said in an interview this morning that the posted speed limit is 45, not 35.
When the deputy made contact with Mills, the deputy reported that Millls had glassy and bloodshot eyes, with a "moderate odor of an alcoholic beverage emanating from his breath while speaking to him." Mills was then asked to perform field sobriety exercises, which he agreed to do. He was reportedly lacking "smooth pursuit in both eyes" in a horizontal gaze exercise, starting some exercises while the cop was still explaining instructions and missing some steps along the way. But to what extent he succeeded or failed to fulfill each exercise also appeared to be a matter of interpretation on the cop's part as minute details came into play (such as not whether, but where precisely, Mills touched his nose and with what finger).
At the jail, Mills provided samples of his breath that both yielded readings of .066 (the legal limit is .08). He was booked on a DUI count and released on $250 bond.