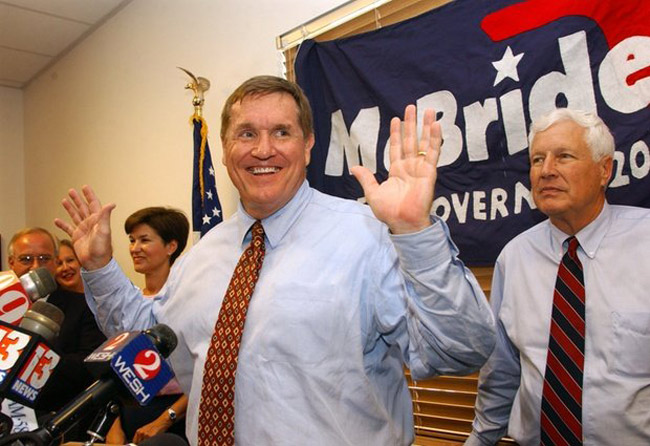 Bill McBride, a powerful lawyer who unsuccessfully tried to unseat then-Gov. Jeb Bush in 2002 and later watched his wife, Alex Sink, also run for governor, has died. He was 67.
McBride, who had a history of heart problems, suffered a heart attack Saturday in Mount Airy, N.C., the Tampa Bay Times reported. As word got out Sunday about his death, McBride was praised by political figures from both parties.
"All those who knew Bill knew he was not only a tireless advocate for the Democratic Party, but a leader and true public servant to the people of Florida," state Democratic Chairman Rod Smith said in a prepared statement. "We send our thoughts and prayers to Alex, her children and their family in this difficult time."
Gov. Rick Scott, who defeated Sink in the 2010 gubernatorial election, also issued a statement saying Florida is "no doubt a better place because people like Bill McBride commit themselves to making a difference in the lives of others."
"Bill McBride was a great lawyer, a devoted public servant, a veteran and a talented leader," Scott said. "Our family's thoughts and prayers are with the McBride family, and especially his wife Alex, at this time of great loss."
McBride, a Marine who earned a Bronze Star in Vietnam, was a powerful figure in legal and business circles before he ran for governor. He had been managing partner of the Holland & Knight law firm, long one of the most-prominent firms in the state.
But in 2002, with some Democratic Party leaders seeing him as their best hope of beating Bush, McBride jumped into the gubernatorial race. He narrowly beat former U.S. Attorney General Janet Reno in the Democratic primary but lost to Bush by a margin of 56 percent to 43.2 percent.
McBride, who had heavy backing from teachers unions, criticized Bush on education issues. But Bush portrayed McBride as someone who would raise taxes, and the incumbent combined his personal popularity with a finely tuned campaign to easily win.
Bush on Sunday sent a Twitter message saying, "Thoughts and prayers are with Alex and Bill's entire family."
Four years after McBride lost, Sink, a former banker, ran successfully for state chief financial officer. She followed in 2010 with the gubernatorial campaign, losing by less than 62,000 votes to Scott.
Sink has been the subject of widespread speculation about whether she might run again for governor in 2014, though she has not taken formal steps to enter the race.
McBride, who earned his bachelor's and law degrees from the University of Florida, had been a partner in recent years with the Tampa law firm of Barnett, Bolt, Kirkwood, Long & McBride.
In 2003, McBride underwent an angioplasty to open blocked coronary arteries that caused him to collapse while working out. At the time, McBride, who grew up in Lake County, described the bruises from his treatment and the use of defibrillator to shock his heart as making him feel like "somebody put me in a whip-up machine."
Steve Schale, a Democratic strategist, sent out a Twitter message Sunday night that said he had talked with saddened alumni of Sink's campaign.
"He (McBride) always loved keeping the staff fired up," Schale wrote. "Impacted so many. Just stunned."
–Jim Saunders, News Service of Florida