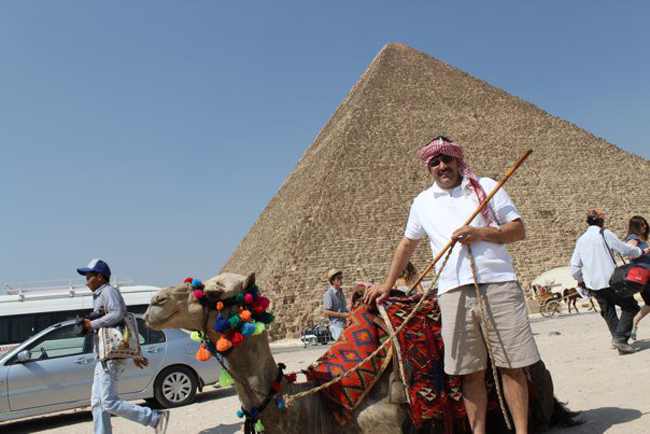 It was a matter of time. And now here it is. Bill Delbrugge, former Flagler County school superintendent, smoking out a camel at the foot of Giza's pyramids in Egypt. The picture is deceptive: it shows Delbrugge almost relaxing. That's not how it's been since "Mr. Bill," as everyone now calls him in his new old world, left Flagler to take over the American International School in Egypt. That's not how it's ever been with Mr. Bill, to whom relaxation falls somewhere between a mystery and a betrayal of whatever dozen duties he happens to be executing at any hour.
It's no different now.
Delbrugge is working 18-hour days. He misses the ocean and Flagler's greenery, but he loves Cairo, where he feels at peace. He's staying in touch with family back home through the wonders of Skype, while Cairo itself has been so Americanized that it's not as if he could miss American products—or Pizza Hut or Chili's, but no Woody's yet—even if he tried, though he does make a point of buying local stuff to experience it. And support the local economy. 'Local" has taken on a new meaning.
He loves the school he's taken over, where he sees and experiences a sense of unity toward a single goal—from faculty, staff, parents, students: excellence, and taking advantage of an opportunity few people have in Cairo, a city of 20 million where poverty reigns powerlessly and public schools can have 50 students to a room. No class-size amendment there.
More than anything, Delbrugge said in a half-hour conversation by phone earlier today, soon after he uploaded some 180 pictures to his Facebook account, he speaks of a new sense of mission and happiness unique to his surroundings—surroundings, he says, too often misunderstood back home.
"It's just sort of a fact," Delbrugge said. "People in the Middle East are very loving and kind people. Unfortunately I think we have hurt ourselves as far as knowing what the people of the Middle East are because we see some of the craziness on TV, and that's not what this place is here at all. It's a wonderful, wonderful group of people here. I guess one of the things I really hope to accomplish is share with the world that this is a good place."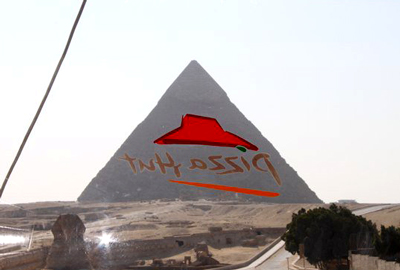 The trip to Giza wasn't unusual. Delbrugge has been making a point of driving by there about once a week (the pyramids are less distant from his school than Daytona Beach is from Palm Coast) to take in the ruins' awesomeness, rather than take them for granted, as the locals do. Conversely, what Americans take for granted—what parents and students take for granted in Flagler as in most school districts—is the quality of their schools.
"People are here are hungry for this. They really want the school to be the best American experience in the middle east, that's everyone's–the students, the staff's goal. Everyone is excited about it. That's pretty much my goal too." Parental engagement isn't something the school has to chase down. Parents are there. They're hungry for the school, too.  "A couple of things that have really struck me as being unusual," Delbrugge said of his meetings with parents, "first off they're very appreciative to have the opportunity to go to this school. For us it's expected, and sometimes, I don't know if it's necessarily respected that we have that opportunity. Here, in this particular school, they're excited that they get in."
Yes, it's an exclusive, private school: the 1,400 students there have to pay to get in. Dearly: $5,900 for pre-K, $7,000 for kindergarten, and from $8,600 to $10,300 a year for grades 1 through 12, depending on the grade. Transportation is $900 extra for non-nationals, $100 less for Egyptians. International Baccalaureate students pay an additional $700. Uniforms, which are extensive—down to required sweaters, sports cloths and swim gear—are extra too. Only goggles are optional.
So yes, it's a big deal not only to get in, but to be able to afford it. The school's education opens doors. Yet the quality of the education, even (or especially) in Flagler is not singularly different than it is at the American school in Cairo, Delbrugge said. Technologically, schools in Flagler are more advanced. Schools are also more advanced in fine arts education. Both have been a priority locally. The difference is in attitudes. "From the parents' perspective, they take the opportunity to be in this school a lot more seriously than some of our parents back in Flagler County. I think a lot of it has to do with, it's not a given here." Especially not for students. "If some students don't produce, we'll find somebody who will produce."
It's not just with students. "I don't have a board here that I really have to worry about," Delbrugge says, referring to the school board. "I had a great board in Flagler, but it's more than just that–as far as worrying about adults getting along or anything like that, it's nice here because no one has any hidden agendas. They can't because if anyone has a hidden agenda, they'll be gotten rid of." (Not that Delbrugge had issues with his board here: he was the permanent conciliator.)
A few things are taking some adjusting. "It's hard to describe to you how much I miss water, because there's nothing like that here, or greenery just to go in to, a yard that's full of grass and tress. I miss that." Delbrugge was making the point that what's nearest at hand is often what's most taken for granted—including good schools. The Mediterranean isn't too far, but he hasn't had a chance to make it up there yet. He plans to the moment his teen-age son Matt, who's still in Flagler County, joins him at month's end. Matt will be going to the American school in Cairo.
Then there's the poverty. "You see it, you feel it," Delbrugge says. "It hurts you, or it does me. It's hard to describe the poverty that's here, and that's frustrating because I wish we could do better here." Florida's GDP by itself is four times the size of Egypt's, a country with almost five times Florida's population. One in five Egyptians is below the poverty line, at least officially and by Egyptian standards. The unofficial rate is much higher. But that's one of the aims of his school: teaching the next generation how to deal with those issues, how to find solutions to the nation's wanting infrastructure and water and air quality. It's community problem solving on a mammoth scale.
Along the way, Delbrugge is discovering a culture at once seemingly so different from his Nashville roots yet intimately close to his heart, including his experience 0f one of the many things Cairo is famous for: its thousands—literally, thousands—of mosques and minarets, from where the call to prayer wafts and wanders across the city several times a day: "The call to prayer is beautiful, I actually enjoy it. It's amazing to see millions of people as you drive across the city are at any given time are praying for peace and happiness–it's very moving."
But is he missing home, really? This isn't 1970. It's not even 2000. Delbrugge has always had a thing for technology. He still does. The other day his family back in Palm Coast had a reunion. They set up a computer in the living room with a Skype connection all the way to Delbrugge's office in Cairo where he was, naturally, working. And there he was, with the family the entire time, live, as if he were there in person, hour after hour. Everyone spoke to him and saw him, he saw and spoke to everyone. He had the best of both his worlds—both continents, to be precise. He was with his family. And he was working. Maybe it doesn't replace the real thing. But the connection was there. "You can keep in touch with everybody if that's what you want to do," he says.
Mr. Bill is still Mr. No Excuses. About anything.
"I really love it here," he ends, repeating words he spoke throughout. "I feel there's a peace here that is really nice. I really feel at peace here."

Full disclosure: Bill Delbrugge is a member of the FlaglerLive Board of Directors.