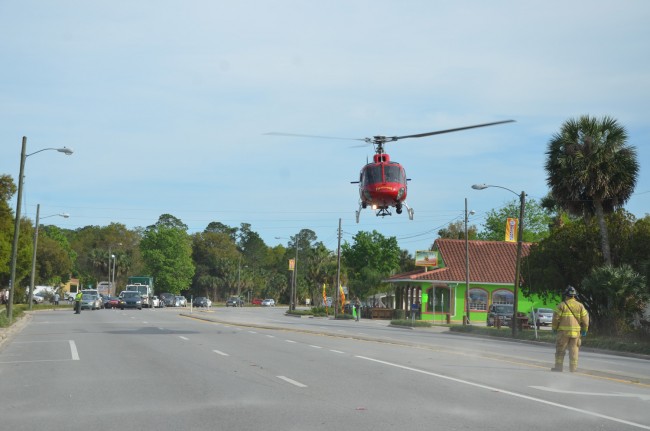 March 16 Update: On March 16, the Bunnell Police Department released a crash report indicating that the motorcycle was driven by Philip J. Ulan, 40, of Brunswick, Ohio. With him as a passenger was Patricia Graydon, age not included in the report, of Brunswick, Ohio. The report states that Ulan lost control of his 2003 Harley-Davidson as he was traveling south at about 45 mph, causing the bike to drop and "fling" him and Graydon onto the road.
March 12–U.S. 1–or State Street, as it's known through Bunnell–was closed for some 25 minutes late Thursday afternoon after a motorcycle wreck resulted in the trauma evacuation of two adults, a man and a woman. Their identities and home towns are not known. They were part of Bike Week's activities.
The four-lane highway through Bunnell was shut down in both directions from State Road 100 to East Drain Street just after the 4:30 p.m. wreck so Flagler County Fire Flight, the county's emergency helicopter, could land there and lift off with one of the patients. It did so at 4:48 p.m. Another patient was taken to Halifax hospital in Daytona Beach by ground.
Both patients had head-trauma injuries, Don Petito, the county's fire chief, said, requiring the evacuation, even though one patient was a 15 on the Glasgow Coma Scale and the other a 14, out of 15, with 15 meaning that the patient could walk of his or her own power. But neither was wearing a helmet at the time of the crash. Both were riding the same motorcycle, according to Bunnell Fire Chief Derek Fraser at the scene. They were traveling south on State Street. The wreck took place just north of the intersection with East Booe Street. Initial reports of the incident, relayed to county officials, indicated a relatively severe wreck.
As often happens after bike wrecks during Bike Week, a large group of bikers had gathered near the scene of the wreck and as Fire Flight was taking in one of the patients.
The Florida Highway Patrol was briefly at the scene, as were unites of the Flagler County Sheriff's Department, but the Bunnell Police Department is investigating the incident. Flagler County Fire Rescue and the Bunnell Fire Department responded. The scene was cleared and both sides of the avenue were reopened by 5 p.m.