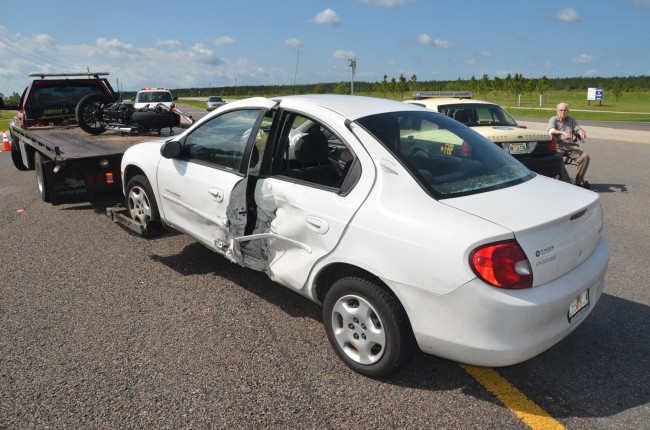 Last Updated: 4:34 p.m.
Bike Week is long over. Biker crashes aren't.
Robert O'Conner, 49, was on his Harley Davidson, traveling north on U.S. 1 around 10:30 this morning–wearing his helmet, not speeding, abiding by all road laws.
Richard Henderson Deeves, 88, of Bickford Drive in Palm Coast, was in his white Dodge Neon, driving on Matanzas Wooods Parkway. "I was coming out of Matanzas," he said at the scene, "and I was going to go south on 1, and I came across here. I saw the guy, he was way down the road. So I figured I would be be safe to get into the middle isle here and double-check south-bound traffic before I cut into a moving lane. And then all of a sudden–BANG. I got hit."
The impact took place about a foot and a half from the yellow line along the inside, northbound lane. There is a dark skid mark from the biker's tire. It's only a few feet long, suggesting O'Conner had very little time to react, a Florida Highway Patrol trooper at the scene said, and that Deeves had seriously misjudged the distance of the biker when he made the decision to cross the road. Charges against the driver–violating the biker's right of way–are pending. The air bags in Deeve's car deployed. Deeves himself, who was on his way to see his wife at Flagler Pines, the nursing home in Bunnell, was not seriously hurt, though he had a bandage on his right arm.
O'Conner, who is from Palm Coast, had no pulse when medics arrived at the scene. He was revived and airlifted in critical condition aboard Flagler County's Fire Flight Helicopter, to Halifax hospital in Daytona Beach. His helmet bore the marks of road scrapes.
The scene was cleared by 11:30 a.m. The bike and the neon were removed from the scene by John's Towing. The Florida Highway Patrol made the biker's identity available around 4 p.m. Friday.