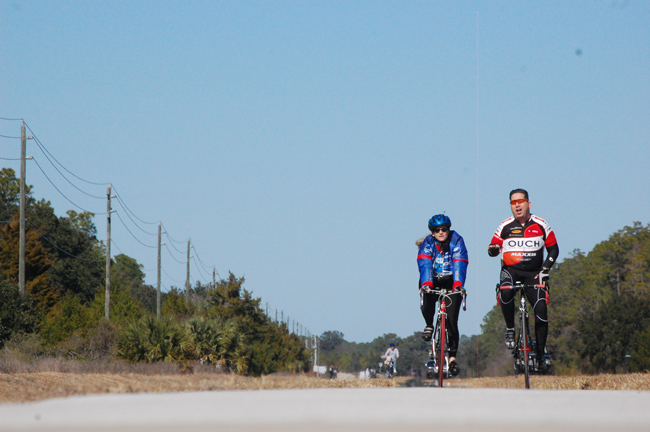 A 250-mile bicycle trail across Central Florida, a pet project of the next Senate president, is on the verge of getting $15.5 million in next year's state budget.
But another big-ticket project might have a tougher time getting money as lawmakers negotiate the transportation and economic-development portions of the $75 billion spending plan. Lawmakers have not reached agreement on a House proposal to spend $10 million for the proposed 1,000-foot-high waterfront glass and steel Skyrise Miami tower.
A joint House and Senate conference committee continued for a second day Tuesday to hammer out $12 billion-plus plans for the Department of Economic Opportunity, Division of Emergency Management, Department of Highway Safety and Motor Vehicles, Department of Military Affairs, Department of State and Department of Transportation.
Sen. Andy Gardiner, R-Orlando, thanked House members for supporting his Coast-to-Coast connector bicycle trail, which was vetoed last year by Gov. Rick Scott when lawmakers backed the project as a $50 million item.
"This is an issue that the Senate has felt very, very strongly about the last couple of years," Gardiner told House members during the first of three brief public meetings of the conference committee Tuesday. "It means a lot to us and especially it means a lot to me personally."
The money would be used to start filling in gaps between existing bicycle and pedestrian trails.
Gardiner, who has included the completion of the connector as one of his priorities as he prepares to become Senate president in November, remains optimistic as he has been working to assure Scott's support for the project this year.
Rep. Ed Hooper, R-Clearwater, noted the $15.5 million expenditure and replied to Gardiner's compliment with a half-joking "wait to you see what we want for it."
Among the projects the two sides have agreed to fund include the Historic Fulford Fountain renovation in North Miami Beach, $205,000; economic development offices in China and Japan, $600,000; Space Florida, $6 million; IMG Academy, a student-athlete training center in Bradenton, $2.5 million; Tampa Bay Baseball Museum at the Al Lopez House, $50,000; the Circus Arts Conservatory in Sarasota, $1 million; the gun training range in Palm Bay, $1 million; the Collier County Soft Landing Accelerator, $2.5 million; Miracle League Ballpark in Miami-Dade County, $150,000; St. Johns River Ferry, $1 million; Department of State historic properties maintenance, $500,000; Tarpon Springs Performing Arts Center, $500,000; Mahaffey Theater improvements, St. Petersburg, $500,000; St. Augustine Lighthouse and Museum, $400,000; and the Tallahassee Little Theatre, $475,000.
Other line items the House and Senate have agreed upon: $337 million for aviation development and grants; $139 million for seaport grants, access programs, economic development and investment programs; and $366 million for rail development and grants.
–Jim Turner, News Service of Florida