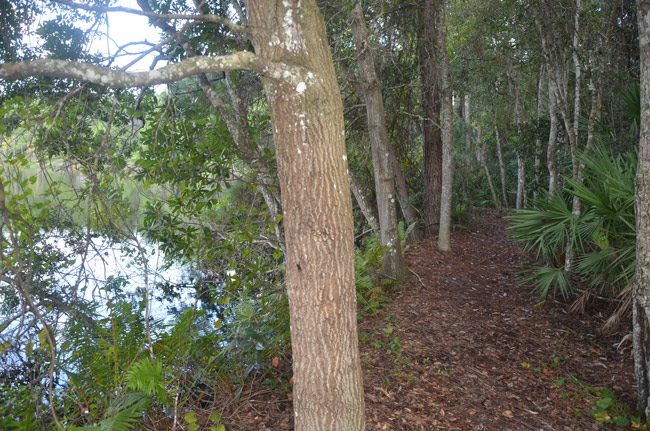 Flagler County government is planning a 1.6-mile, 12-foot-wide walking and biking trail through the forested greenery east of Old Kings Road, with a bridge for walkers and bikers only that will cross State Road 100, connecting the path to the future Bulow Trail south of 100.
The trail will connect Graham Swamp and Palm Coast's very popular, existing Lehigh Trail, expanding on the city's and the county's much-used path system. The bridge over State Road 100 will also serve to improve safety for pedestrians on the high-traffic, four-lane highway.
But the project, unveiled for the first time Monday during a county commission meeting, drew questions from commissioners after the item was pulled from the consent portion of their agenda–the portion of the agenda that commissioners usually approve wholesale without discussion, unless items are pulled for debate. This particular item was pulled by a resident and by three commissioners. 
The commission eventually approved the $1.5 million design portion of the project on a 4-1 vote. The dissenter was Charlie Ericksen, ironically the most avid biker among the commissioners.
The full cost of the trail will be over $7.5 million. But it is to be financed by state and federal dollars–still tax dollars to be sure, but drawn from the state Department of Transportation and from federal coffers, without the need for a match or a contribution from local property taxes or other funding sources. But while most of the money has been secured, the full funding has not necessarily been secured.
"Right now we do have approximately $6 million allocated for construction fees, also federal funds from FDOT," Faith al-Khatib, the county engineer, said. "Either we request more funding if it came above budget or we can decide to do this project in phases."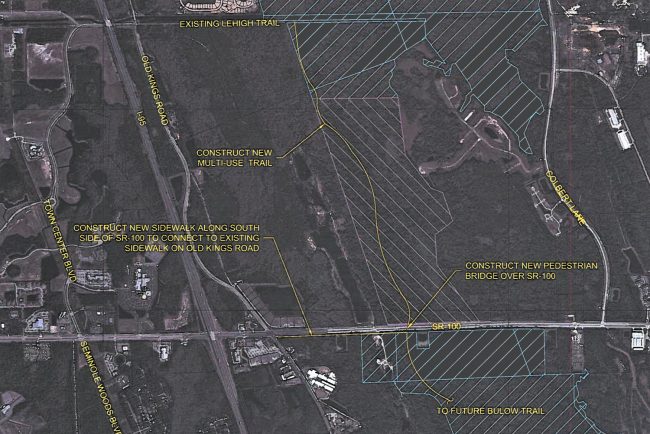 All the property through which the trail flows is owned by government agencies, so there will be no need for right-of-way acquisitions. Trails and bridges in the recent past have been paid for through state and federal grants, County Administrator Craig Coffey said. "These designs, you want to keep designing these and have them on the shelf so they're shovel-ready, ready to go permitted-wise, it takes some time when you have wetlands and multi-jurisdictions and all kinds of safety rules involved," Coffey said. "Faith has done a very good job her and her team to get us positioned to take advantage of opportunities as they come along."
Commissioners worried about financial exposure for the county. "After we get through the $1.5 million design phase, are we saying we will not go forward with this unless we have it fully funded from DOT?" Commissioner Dave Sullivan asked. But $6 million is appropriated already. What's not certain is that the construction cost may not necessarily remain at $6 million.
"If it came to be $7 million, we have two options. Option number one, to go back to FDOT, request the additional funding," al-Khatib said. The other option is local funding through gas tax revenue, or to divide the project in phases over different fiscal years in accordance with available funding.
Earlier this year the county had three projects that went over-budget. Some got the extra funding through the state, some through the local-option gas tax revenue. "It's not a threat to ad valorem," Coffey said, seeking to assure commissioners that money would not be siphoned out of general revenue, which is fed by property tax revenue. "We have been doing this for well over a decade now and we've been very successful. Sometimes you do have to add some money. So to say we wouldn't move forward without adding any money, that probably would not be a fair statement. If we have a downturn, it could actually come in well under $6 million. If things keep going crazy, it could be a $7 million project as Ms. al-Khatib has said. You never know, because you're in a multi-year planning process, what the construction cost will be until you bid it."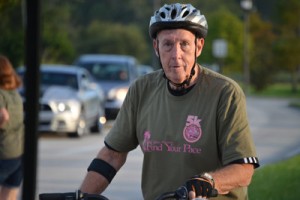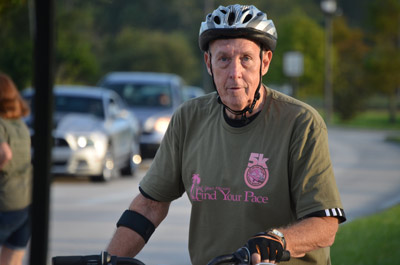 Palm Coast's much-vaunted big-ticket construction projects are an example: when the city administration first pitched its plan to renovate and largely rebuild the Palm Coast Community Center on Palm Coast Parkway, Palm Coast Manager Jim Landon in 2013 put the price at  $3 to $4 million." But as uncomfortable as city council members were with the vagueness, Landon was also as non-committal as Coffey. By the time the community center re-opened last March, it had close close to $8 million.
Landon and Coffey had used the same words to project costs: "But we really do not know," Landon had in 2013. "You never know because you're in a multi-year planning process what the construction cost will be until you bid it," Coffey said Monday.
"We want to make sure the public understands this is not coming out of their taxes," Sullivan said. (At least not property taxes.)
"These are bringing tax dollars home in a way, that are at the state, I guarantee if we don't use this, someone else will be more than happy to," Coffey said.
"Just because we've got the apple dangling in front of [us] you don't have to take a bite out of it," Commissioner Charlie Ericksen, a biker, said, questioning the swampy conditions of the land through which the trail would go, the hogs that he says are infesting the area, and the uncertainty surrounding the sort of bridge that would be built over State Road 100. "There was no picture about the design of the bridge," he protested, referring to the back-up material provided to commissioners ahead of the meeting. 
The county will be holding public hearings about the project, which has been in the county's strategic plan for several years, as it progresses. "It's just now coming up to where we can actually fund it and do it," Coffey said. "Hopefully we'll make you feel more comfortable when we get the details of the design, when they do the geotech and when they do the surveying and all that stuff right now. But you've kind of got to go from the old crystal ball, I always tell you guys, you've got to go from very cloudy to getting it clearer and clearer."

The Trail: Background Materials