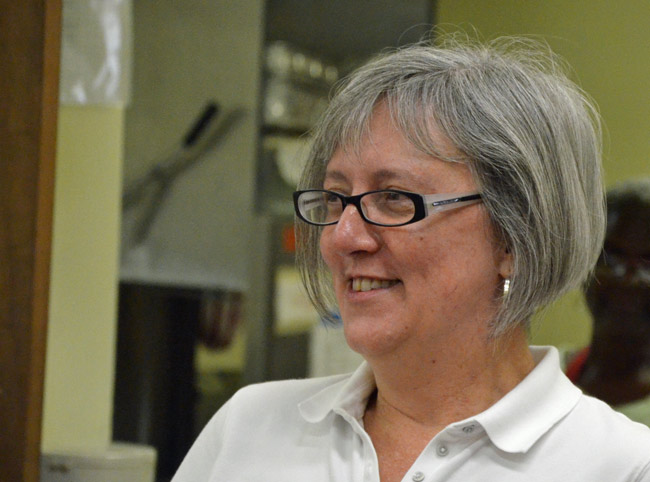 It might not have been news had Rev. Beth Gardner not made news only a week before, in the same room, for a different reason: she and her church–First United Methodist in Bunnell–were again the pretext of criticism over the church's works on behalf of the poor and homeless.
Last Monday evening the chamber was the site of the Bunnell City Commission's bi-monthly meeting. It was nearly full, mostly with supporters of Gardner and the church. She'd mobilized them as she had on occasion in the past few years to fend off complaints about the local homeless population–complaints that inevitably end up targeting the church as a magnet for the county's population. Last week, the criticism had even some commissioners raising questions about the church's work. They stopped short of criticizing it, however, hoping to find a solution with more support from other local governments. Gardner herself spoke to the commission, once again defending the church's mission as an obligation she cannot shirk.
It was a much different atmosphere in early evening today, at the beginning of the Flagler County Commission meeting. Gardner was honored for doing precisely what she had to defend last week. The commission awarded her the Pass-It-On Award, a bi-monthly recognition of an individual who makes a constructive impact on his or her community, with an emphasis on volunteer work. The previous recipient was also a pastor, Charles Silano, whose work on behalf of Flagler County's hungry and poor keeps the county's largest food pantry stocked and feeding hundreds of families every week, among other things.
The Pass-It-On Award is set up so that whoever receives it is responsible for finding and passing it on to the next recipient the following month. Silano chose Gardner, with whom he's worked for many years. "We want to recognize Beth for her work in the community with the homeless, with the hungry, making her church available, and just her commitment to her faith," Silano said, calling down the reverend.
"I just want to say that I'm really excited and pleased and grateful for this," Gardner said, "because a week ago I was in this room and called on the carpet, and so to be here and to be lifted up is right and good and appreciated. You can get whiplash in this room. It's been my experience, literally. But there's a song called 'Pass It On,' I learned it in college. It's probably one of those cheesy songs in that era. But it only takes a spark to get a fire going. We started a small fire that was gathering folks in to be warm, and it says, and soon all those around will warm up to its glowing. We have the support of a lot of other churches and citizens and civic groups and it's really been a wonderful thing. But it also kind of started a fire that some folks wanted to put out, and continue to want to put out. So I appreciate your lifting it up as something that's positive and helpful."
Part of Gardner's success has been to know who to mobilize and when. Her timing showed Monday. She did not let the occasion pass without suggesting to the commissioners that they, too, have a responsibility beyond passing out a recognition for her work.
"I know we're in Bunnell and Bunnell is not only a city but is the county seat," Gardner said. "We've been challenged to kind of broaden our way of getting assistance or support from other municipalities, and from you. For all of us. Because it is a county effort, and churches and folks from all over. So thank you, and I appreciate your support and encouragement."
The honor was not quite an explicit signal from the commission that it was hearing Gardner's (or Bunnell's) message. Silano chose Gardner. The commission was not involved. But it was a clear message from Silano to the county that the homeless issue does not stop at one Bunnell church's door. The honor could only buttress and help Gardner's cause.
"Thank you Beth for all that you do," County Commissioner Nate McLaughlin said. "I've known you for many, many years, you've opened up your church for everything from the homeless–I know we used to have our Boy Scout round-tables over there years ago when I was working with the district, and we're grateful for you."
The Pass-It-On Award had been a once-a-year honor handed down by the chairman of the commission at the end of a term. McLaughlin last month decided to make the award a monthly honor to highlight good works and community involvement.
In 2011, First United Methodist Church and Carla Traister, who heads the homeless shelter's non-profit organization that's based at the church, received the national Daily Point of Light Award, which honors individuals and volunteer groups who help meet critical needs in their communities.

---
Video: The Cold Weather Shelter [media id=150 width=500 height=400]