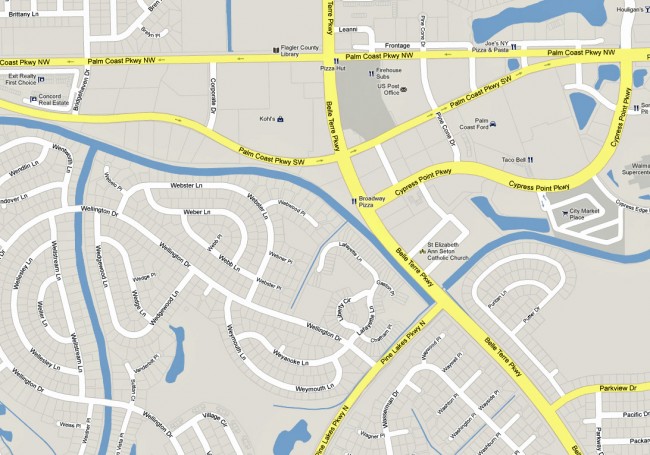 Bertram Ralph, a long-time resident of Braddock Lane in Palm Coast, was cycling along Belle Terre Parkway early this morning, not far from his home, when he was struck by a car as he crossed Pine Lakes Parkway. He was evacuated by air in critical condition, to Halifax hospital in Daytona Beach.
Ralph, 78, was cycling north on the west side of Belle Terre–on the walkway–when he was crossing Pine Lakes. Renee Kuprunas, 52, of Palm Coast, was driving a 1995 Mercury Sable, also going north on Belle Terre, when she attempted to make a left turn onto Pine Lakes at the very wide intersection. She did not see Ralph, according to a Florida Highway Patrol report, and collided with him, throwing him from his bike with the left-front end of the Sable, causing some $1,000 in damages.
The wreck took place at 6:20, about half an hour before sunrise.
Ralph was not wearing a helmet. Neither he nor Kuprunas were under the influence of alcohol, the report states. Volusia County's Air One took him to Halifax (Flagler County's Fire Flight was not to be in service until 8 a.m.)
A 73-year-old cyclist was struck and critically injured on Belle Terre Parkway, at Pine Grove Drive, on Oct. 22. A younger cyclist was struck on Belle Terre and Point Pleasant last week, but that collision was not as serious. And numerous motorcyclists have been injured or killed this year on Flagler roads.