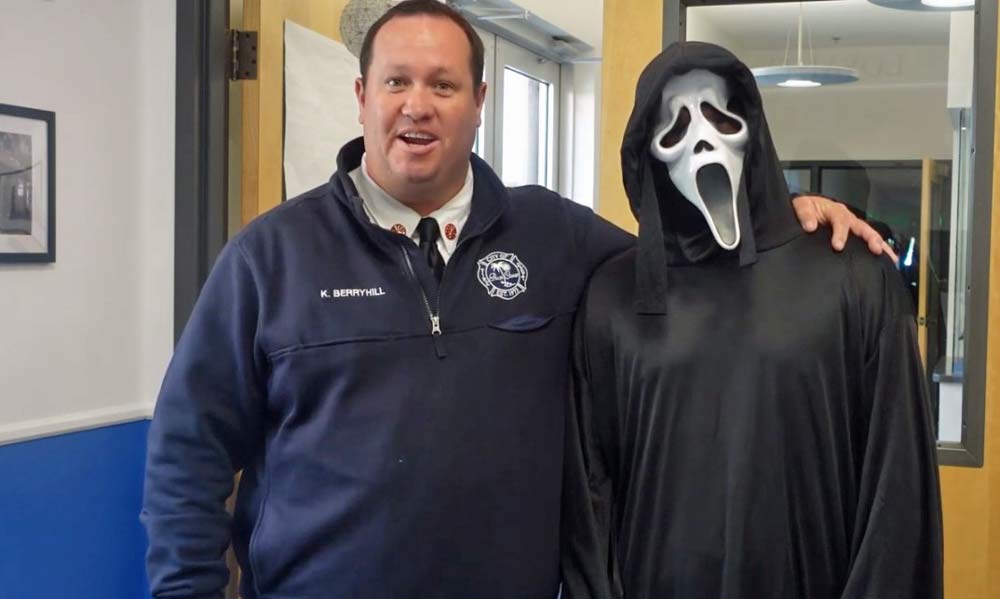 Fire stations are recognized safe spaces for children in crisis, or in fear of anything, and for anyone seeking help in an emergency.
In Palm Coast this year, fire stations appear to be safe spaces for ghosts as well: Palm Coast Fire Chief Kyle Berryhill, in footage documented on video and issued by the city today, agreed to let a scream of a ghost take refuge at Palm Coast Fire Station 21, apparently at taxpayers' expense, until the end of Halloween. Ghost writers aside, there are no documented reports of ghosts' upkeep being particularly costly. A city spokesperson said she doubted ghosts eat much of anything other than "maybe candy."




Berryhill had previously hounded and chased the ghost out of the station after getting tired of him/her/they during the videotaping of a public service announcement, even though the ghost did not appear to have been terribly ill behaved. "I think he was feeling remorseful," the spokesperson said of the irrepressibly kind-hearted chief (whose two young sons may or may not approve of their father giving aid and comfort to ghosts).
The chief referred to the ghost–a standard-issue Ghostface birthed by creator Kevin Williamson for his slasher movie of 1996–as "my new friend."
The ghost is expected to play a central role in the "Scream"-themed Halloween Hall of Terror the city is hosting the nights of Oct. 30 and 31 at Fire Station 21 at 9 Corporate Drive in Palm Coast. It is the 22nd edition of the free invitation to scare you out of your wits, with a maze replica of set locations from the "Scream" franchise, which has seven movies under its mask so far (the first four directed by Wes Craven). Last year's Hall of Terror drew 7,000 people and an unknown number of ghosts.
Meanwhile, Berryhill urged residents and Halloween-treat prospectors to give his safety initiative a look. The city accompanied the video with a few scaring bits of its own: Did you know that in the United States, approximately 800 home fires are ignited by candles on Halloween? Moreover, children "are more than twice as likely to be hit by a car and killed on Halloween than on any other day of the year.," the Centers for Disease Control, reports. It's enough to give the CDC a concussion.




The CDC's 13 tips are as follows:
Eat only factory-wrapped treats. If you have any doubt about the safety of a treat, throw it out.
Carrying a glow stick is one way to see and be seen as night wears on, but did you know that the luminescent liquid inside a glow stick is minimally toxic in small amounts? Do not allow children to chew on glow sticks. Symptoms of ingestion can include mouth or throat irritation and vomiting. Better yet take a flashlight.
Children are curious and put all sorts of things in their mouths. Confusing medicine with candies can make Halloween go from spooky to scary. Practice safe medication storage. Keep all medications and vitamins, including your emergency supply, up and away and out of reach and sight of children to avoid confusion with Halloween treats.
Halloween can be tricky for children with food allergies. Parents: always read labels (avoid treats without labels), carry an epinephrine auto-injector (if prescribed), and learn more about the Teal Pumpkin Project®, an initiative started by Food Allergy Research and Education to provide non-food treats, such as stickers, school supplies, and small toys, to kids with allergies.
Prepare your trick or treater with trick or treat safety items: a flashlight, reflective tape or strips applied to costumes and candy bags, and an emergency contact information card in case they get lost or separated from the group.
Trick or treat as part of a large group with a responsible adult.
Walk on sidewalks whenever possible, or on the far edge of the road facing traffic to stay safe.
Look both ways before crossing the street at a crosswalk or intersection.
Walk, don't run between houses to avoid trips and falls.
Do NOT wear decorative contact lenses without a prescription. Decorative lenses purchased without a prescription may not fit properly, leaving the eye more susceptible to scratches on the outer layer of the eye, or getting an ulcer (an open sore) on the cornea—the clear covering over the front of the eye.
Painting your face can be fun alternative to wearing a mask. Test novelty makeups in small area on the arm to test for an allergic reaction before applying it to your face. Remove all makeup according to the manufacturers' instructions before bedtime to prevent possible skin and eye irritation.
Make sure costumes fit well to avoid blocked vision and help prevent trips and falls.
Choose costume accessories that are short, soft (i.e., made of plastic or foam) and flexible.




Berryhill's video is more succinct and fun. "This Halloween we want to create a fun and secure environment for Palm Coast families," Berryhill says. "Our Halloween safety video provides practical insights on protecting your loved ones and your property, ensuring a safe, fun, and memorable holiday. "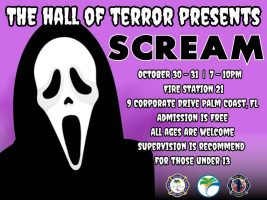 The Halloween Hall of Terror is back at Palm Coast Fire Station 21, 9 Corporate Drive in Palm Coast. Monday, Oct. 30 and Tuesday, Oct.31 from 7 to 10 p.m. This year's theme will see attendees coming face to face with Ghostface from the popular 'Scream' movie franchise inside a maze replica of set locations from the films, providing all the fun and scares that the series is known for. Parking is available in the lot adjacent to the firehouse on corporate drive, with overflow parking available in the Kohl's parking lot. A limited amount of 'RIP' fast pass tickets will be available to the public via the City of Palm Coast Facebook page during the week of October 23-27. Each day, the page will list a trivia question based on the 'Scream' franchise. Those that answer correctly will be automatically entered to win the fast pass tickets for themselves and their party, allowing them entry to the front of the line upon arrival to the event night of their choosing. Winners will be selected and informed daily. View the full video trailer to Hall of Terror 2023 here: https://youtu.be/RzzpXudBUrQ