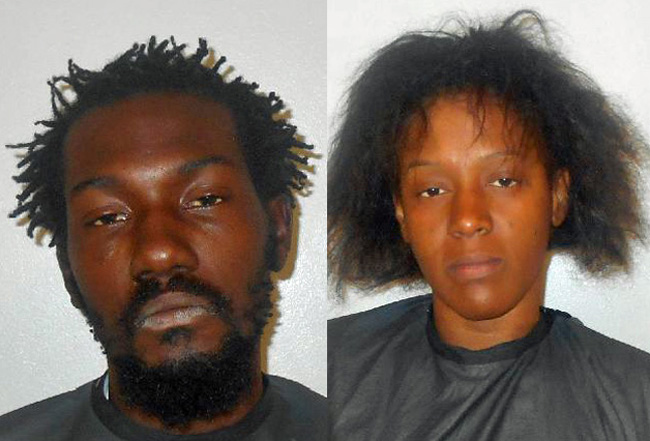 It got noisy at the south end of Palm Coast's P-Section early Sunday morning as a couple's confrontation escalated outside a house on Poinsettia Lane, including a shot fired from a semiautomatic, landing both at the Flagler County jail.
The confrontation involved Kurt Benjamin, 27, of 31 Poinsettia Lane, and Twila Woods, 30, of nearby Point Pleasant Lane. The couple have been dating for four years. They'd gone out Saturday night. They'd had a few drinks. Woods brought Benjamin home. Then the pair sat outside his home, arguing, according to their arrest reports.
"The argument became more intense and [Benjamin] began to kick [Woods's] vehicle," a black Ford Focus, the reports state. Benjamin told Woods to leave several times. Woods refused. Benjamin went into his house and left her outside. She did not leave, but instead "began to knock on the doors and windows." Benjamin again went outside and the confrontation resumed.
At that point, the arrest reports state, Benjamin went into his house, retrieved his Highpoint .45 semiautomatic gun and went back outside. Woods was in the Ford. She allegedly drove it into Benjamin's driveway and struck him on the right leg with the right side of the vehicle.
Benjamin "then fired one round into the hood of [Woods's] vehicle," the reports state. ":The round went through the hood and landed on the ground underneath [Wood's] car in the driveway of 31 Poinsettia Lane," a house located, as most houses in the densely built P-Section, within close distances of other houses. Benjamin then went back into his house.
Flagler County Sheriff's deputies responding to the scene handcuffed both Woods and Benjamin after getting to the scene, having received reports of a domestic disturbance. A crime scene was established around the residence.
A neighbor and Benjamin's mother, Sylvia Benjamin, provided witness statements. Sylvia concurred with the sequence of events, the arrest reports state. Woods has never been arrested in Flagler County previously. But in May 2013, Sylvia sought an injunction against Woods, court records show. Circuit Court Judge Dennis Craig dismissed the case on May 16.
Benjamin and Woods were arrested on aggravated battery with a deadly weapon charges this morning and taken to jail, where the booking took place by 8 a.m. No bond had been set as of Sunday night.
Benjamin had last been arrested a year ago, along with three other individuals, on kidnapping and rape charges that were eventually dropped as the prosecution's case fell apart amid conflicting testimonies.