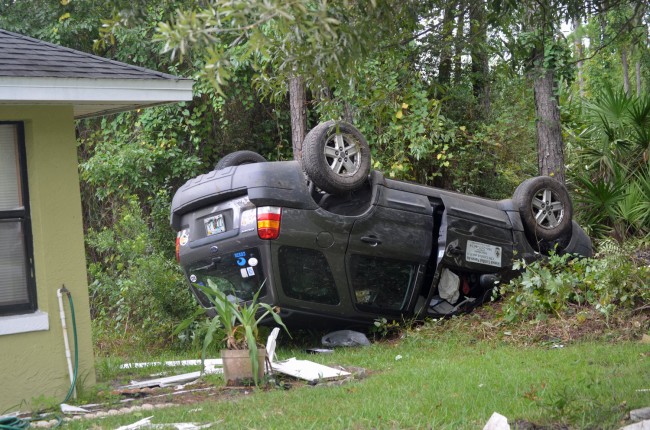 It could have been much worse. Lunchtime traffic was heavy on Belle Terre Parkway in both directions today.
At 12:30, Ana Maiato, a Palm Coast nurse's aid–as the magnetic sign on her SUV says–was traveling south on the Parkway. Just past Point Pleasant and before Royal Palm Parkway, something happened that authorities haven't figured out yet: the driver, who has a disability license plate, lost control of the car, a Ford Escape, which began crossing the median at a slight angle, then crossing the two northbound lanes of Belle Terre Parkway for 30 to 40 yards before slamming into the ditch.
The SUV somehow kept going, smashing into a white fence and flipping through the backyard of a house with a swimming pool. The SUV ended up on its roof, at the southeast corner of the property–and virtually past the property and into the shrubbery of an empty lot next door. Two trees appear to have played a role in finally arresting the car. Not a single other vehicle was involved as the SUV crossed into the path of northbound traffic.
Maiato was taken to Florida Hospital Flagler with non-life-threatening injuries, a Florida Highway Patrol investigator at the scene said. No one at the house, a 2,100-square-foot single-level residence owned by Lidia Colon, was hurt. The back of the SUV's sticker told a story: Daytona State College, Rymfire Elementary School, Keiser University, upward.org.
Authorities later learned that Maiato had suffered from a medical issue, possibly a seizure, when she was at the wheel of the car, triggering the incident. There will likely be no citation, the FHP investigator said, but she will face a medical review that would decide whether she may keep her driver's license.
A broad swath of fencing was demolished, but that appeared to be the extent of the property damage. Pulling the vehicle out of the backyard was not an easy job, even after it was righted. John's Towing was the wrecker, and by 2 p.m. it was still in the yard. The Palm Coast Fire Police closed the right, northbound lane of Belle Terre but for only about half an hour, and traffic was never seriously backed up. The scene, at least from the road-side, was cleared around 1 p.m.